A Christmas Carol: A Musical Adaptation
Adapted by Susie McKenna (Book, Lyrics & Direction)
Arts Theatre, London
(2009)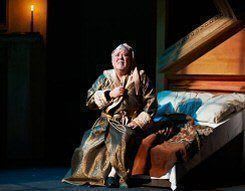 In a darkened theatre two audience members arrive late and try to clamber to their seats in the cramped auditorium. Bumping into disgruntled Painter/Decorator Sid (Gareth Hale) and his nephew, Danny (Simon Lipkin) finds them comparing theatrical aspirations and, with a stage and audience conveniently on hand, the makeshift production of A Christmas Carol begins. Luckily the theatre cat Bentolina (voiced by Sharon D Clarke) and stage mouse Charlie (voiced by Matthew White) are on hand to make up the parts and the audience is roped in for a few crowd scenes. This is theatre for the extremely young, and one hopes that it inspires them to go home and try their own version of 'living room theatre' for friends and family. That was certainly the feeling on this warm November evening.
With four actors and an ASM (Adam Dutton) to lend a hand, this accessible production of A Christmas Carol brings a song, a dance, a few 'old-skool' puppets, stilts and a electrifying wig to add to the tale and we set off on the journey through Scrooge's night of many ghosts. Pointless to recount the tale here, but a few touches remain in mind, such as the looming Ghost of Christmas Yet To Come, the Cratchit Family and certainly the audience participation (not an easy thing to do on an evening full of critics!). There is a full feeling of family in this production with the Musical Director (Ian MacGregor) and Assistant (Mark Dickman) participating as fellow ghosts and joyfully not left out of the action. Lotte Collett's design incorporates all the Dickens locations without excessive adornement and, like the story-telling device of Sid and Danny, frames are utilised throughout.
The famous story is, of course, a difficult piece to take to any great original heights in this small production in the Arts. However McKenna's simplistic parallel of the Christmas-hating Sid and his cheerfully enthusiastic nephew cajolling him into joining the family for Christmas works well to bring the essential story to children fresh to the tale. And, for all theatre-lovers, one can't help but enjoy his transformation through participation in theatre. Sadly, despite its Christmas Show status, this is not a piece that will add any subtlety to pantomime's carry-on reputation. Simon Lipkin has an excellent raport with the audience, and Michael Matthews works well in all of his apologetic parts, providing something of a contrast. Rebecca Thornhill's dance training brings a lively physicality to all her characters and Gareth Hale is, naturally, Gareth Hale. Older fans of Hale and Pace will be happy and the observant will catch glimpses of the traditional characters he has played in his many sketches in his portrayal of Scrooge.
Whilst this is doubtless a easy-going performance for very young children, accompanying adults shouldn't hold out for many lines thrown their way. This production provides a great introduction to young new-comers to Dickens' tale looking for a light Christmas show to wile away an evening.
Reviewer: Sacha Voit