A Christmas Carol
Phil Wilmott
MokitaGrit Productions
Kings Head Theatre
(2009)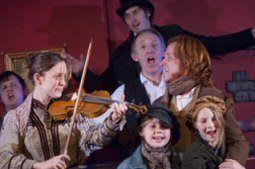 Phil Wilmott's adaptation of Charles Dicken's novella sets it in a London pub. There is a raucous scene in progress on stage with someone pounding on the old Joanna almost drowning out the carol singers further back in the audience belting out the familiar tunes. Here, when the lights go down, Dickens himself arrives, giving some money to beggar children outside who, when wished 'a Merry Christmas', tell him that's OK for the rich but they don't have much chance. Inside the pub he finds an equal lack of Christmas spirit: 'It's a time for paying bills with money you haven't got.' One person tells him. He responds by promptly thinking up a story which, he bets his publisher, will convert them all to the idea of Christmas cheer.
Of course he converts them, and the theatre audience too (if any of them aren't already with him), for this is decidedly a feel-good show. His tale of the miserly old Ebenezer Scrooge who is taken back to look at how he lost his own sense of joy and generosity by the appearance of the ghost of his older partner Marley and the spirits of Christmas past, present and future is given a musical treatment that draws on familiar carols and popular musical hall and classical tunes.
With a cast of eighteen, most of whom also double as instrumentalists or puppeteers as well as actors and singers, Joe Fredericks' lively production packs the place with people as well as energy, especially in the joyful scenes at the home of Mr and Mrs Fezziwig (Andrew Williams and Judith Street) where Scrooge (Oliver Paterson, in youthful contrast to the watching Old Scrooge) makes the fateful choice that decides the path is life will take. Adam Stone makes a pleasant, ever-hopeful Bob Crachit with Heather Saunders as his missus. Jonathan Battersby makes a cantankerous Old Scrooge slowly seeing the light as he watches his own past and future on the trips organised by a female Christmas Past whom he sees as a tattered version of the Princess Cinderella of his childhood (Kilke van Buren), the mellifluous Welsh voiced Christmas Present (Richard Delaney) and Tiny Tm as Christmas Yet to Come (Finn Bennett at the performance I saw).
There is some clever puppetry, some sprightly dancing (choreography by Racky Plews) and the whole is stylishly dressed and mounted - though I don't think that even the reformed Ebenezer would go into the street or out to Christmas dinner in his night shirt. There are some scary moments that may frighten you as much as Scrooge but the tone is largely upbeat and while not lacking sentiments thankfully avoids sickly sentimentality.
A very popular show last year, this revival will put you in a splendidly Christmas mood, and the music sound so familiar that you almost feel you've had a singsong and certainly will have a warm glow, even without a glassful of mulled wine. I reckon Nigel Lister's ever present Mr Dickens certainly wins his bet if the audience has any say in deciding it.
At King's Head Theatre Tuesday - Sunday until 10th January, 2009
Reviewer: Howard Loxton