A Christmas Carol
Charles Dickens, adapted by Neil Duffield
Octagon Theatre, Bolton
(2007)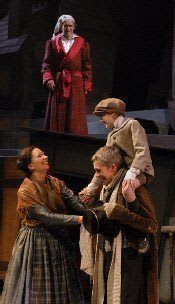 For its Christmas production, Bolton's Octagon Theatre has taken a departure from its series of David Wood adaptations of Roald Dahl with a new dramatisation of Charles Dickens's great short novel A Christmas Carol, commissioned from local scriptwriter Neil Duffield.
Duffield's adaptation is largely extremely faithful to Dickens's text apart from where some sections of dialogue have been given to different characters, with the addition of narration in verse delivered by a chorus of the ensemble. Whereas most novel dramatisations need to omit a large part of the original story, A Christmas Carol is such a short, dialogue-rich novel that it actually needs expanding to achieve the length of a play. Duffield's additions fit smoothly with the original text, together with the addition of some beautiful harmony carol singing (without any microphones to go wrong and spoil it) and a very impressive display of campanology.
Dawn Allsopp's set is a very impressive collection of crooked, angular rooftops, platforms and interior furnishings at odd angles and on many different levels, which looks great and integrates well with the action. There is no attempt to perform impressive effects for the appearance and disappearance of the ghosts, although the appearance of Marley's ghost, despite its simplicity, cleverly creates quite an impression on the audience. There are some nice flying sequences on Scrooge's bed when the whole stage seems to light up with stars.
The cast is led by Robert Pickavance as Scrooge, with a voice like a parody of Jonathan Pryce with a bit of Albert Steptoe thrown in, who is often good but also often overplays the clowning around, which happens in some of the smaller parts as well. Simeon Truby is very good in a wide range of parts from the ghost of Jacob Marley to the Ghost of Christmas Present as well as acting as musical director and playing the piano. Dan Willis gives a nice subtle performance as Scrooge's nephew Fred and as young Scrooge, as does Thomas Frere as Bob Cratchit. The ensemble is completed by Sarah Groarke and Pam Jolley.
The adult cast is supplemented in each performance by five child actors from local theatre schools, performing in two teams in different shows. They fit in well with the ensemble scenes, but don't always seem comfortable in speaking roles.
There is a great deal to enjoy about this production, but it does get a little dull at times when the pace lapses, and it seems that there has been an attempt to increase its appeal to younger children by 'mugging', or overplaying characters for laughs. However there are few better stories written for this time of year, and Duffield's new adaptation works well.
Reviewer: David Chadderton