Celebrity
Mary Luckhurst
Out of the Blue
York Theatre Royal
(2008)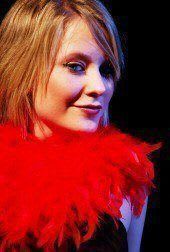 York University Professor Mary Luckhurst edited a book, Theatre and Celebrity, in 2005 and here she puts together snippets of the research into the show Celebrity. Performed by students in the company Out of the Blue, the production takes on the concept of celebrity from many different angles, combining film, music and theatre to reflect on these personalities of the modern age.
It seems that no celebrity show can be truly complete without the appearance of a Big Brother winner and here Mandy (Naomi Sheldon) 'just wants to be famous'. Around her buzz her image managers, grooming, assessing, predicting and manipulating her future, negotiating with one and other to find that her only talent-less hope to stay in the limelight is to go into pornography.
In another scene we see two incompetent criminals who have tried to dig up Charlie Chaplin's body to hold it to ransom. American movie stars take part in a chat show and come up with asinine answers. A tap dancer tries desperately to get his five minutes in the spotlight, a longwinded writer (Dominic Allen) tortures the film crew interviewing him by repeating every detail of his uninteresting life, and an Elvis devotee (Matt Springett) believes that the King still live and has spoken to him in a dream.
As Luckhurst says in the programme, "Celebrity has become a major life-plan, and many seem to think that nothing is required on their CVs." Interestingly there are darker scenes in which the writer explores a serial killer's macabre relationship with fame. A cult member (Jamie Wilkes) records a message for his family and hints at the organisation's plans for the future. Another scene features a press interview with parents and police looking for their missing daughter and looks at the way an abducted person's image can become iconic, which cannot but remind the audience of Madeline McCann.
This revue style format is an interesting choice to present these varying view points and takes the spectator on a ringside journey through the circus that is the celebrity spectacle. Their wide variety is both informative and interesting as well as somewhat unsatisfactory, as, like the two dimensional celebrities that come and go in two minutes, we never feel we really get to the bottom of their characters. In this way Luckhurst truly treats us to the celebrity merry-go-round and the pointlessness of the modern celebrity exhibition.
The young and energetic cast have fun with some stock characters like the self indulgent pop star (Ian McCluskey) fights with his body guards over his security, and the Jethro Compton's back lighting flashes before your eyes to dazzle you with visions of Elvis. Coming from the department of Film, Theatre and Television Out of the Blue reference all these media, however we are left intrigued as to the specific relationship expressly between theatre and celebrity. While these characters certainly put on a show we wonder what it is that so easily teaches them that only celebrity status will bring them self worth and how they have learnt the art of exhibition without talent.
Reviewer: Cecily Boys