Celluloid
Lloyd Eyre Morgan
Dream Avenue
Three Minute Theatre
(2011)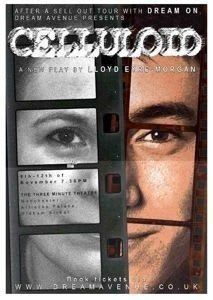 This is the 2nd production from the new company Dream Avenue. It follows Dream On in May of this year.
Writer / Director Lloyd Eyre Morgan again demonstrates his acute ear for dialogue and his deft ability to blend drama and comedy. The story this time is of Dawn, a fragile single parent, and her two children Nicola and Josh. To the outside world, Dawn is a successful medical academic, but behind closed doors she is prone to break downs with ensuing trauma for herself and her two children.
The play explores what could be behind Dawn's mental health problems and there are various ideas suggested. These include possible abuse from her father or perhaps that it is all planted as false memory syndrome by her slightly sinister therapist Dave.
Dream Avenue specialises in multimedia theatre, which is very much to the fore in this production. There are regular pieces of video footage which offer information otherwise hidden to us. These range from showing the two children when younger to how their mother was at that time and having an earlier breakdown. Later this technique is cleverly employed to show the romance between Josh and his new boyfriend Ryan and a very touching final montage shows what happens after the main action ends. These sequences were very well incorporated into the drama, sometimes commenting on the main action and other times moving it forward.
What we see is the gradual breakdown of Dawn as the flashbacks of the possible abuse become ever more powerful and she ceases to be able to cope. This leads to her hospitalisation and eventual therapeutic breakthrough where she confronts her father in her imagination and regains some control in her life.
At the same time as this main storyline unfolds, there are numerous sub plots. Josh, who is 15, takes his first tentative steps into exploring his sexuality online. Though this is risky, he eventually meets another young man and they develop a relationship. This was very tenderly realised. Josh is obsessed with film making and especially the horror genre. He spends much of the first half of the piece almost umbilically attached to his camera. One of the best lines comes quite early on where he explains that he likes filming so much as when it gets tough at home he can just cut away from that scene. The title of the play refers to this filmic obsession of both Josh and, it is suggested, his grandfather. What damage happens if we are so busy recording events that we forget to live within them.
Dawn's daughter Nicola doesn't appear to understand what her mother is going through. She also needs to spread her wings and is frustrated by what seems to her as her mother's over-dependency on her. Nicola escapes through alcohol and takes a huge risk when she has an experience of drug use which goes wrong. She is also the victim of the loutish Barnesy, which results in some graphic but mercifully-brief violence. Josh's friend Mikey was well played by Joe Gosling. He evoked the discrepancy between his own sense of being quite dashing and cool in sharp contrast to his appearance to us as quite nervous and gangly.
Zoe Iqbal as Christine is a gifted comic actress who was a major asset to this production. The fact that most of the laughs came appropriately from her performance is as much due to her comic timing and engaging stage pzazz as to the wonderful lines she had to play with. Christine thinks that she is sophisticated and wordly wise when she is least so. This is the basis for much of the comedy. There was a lovely interchange about what the use of poppers does to you which got a huge laugh and this reviewer's favourite which was when she says to Mikey that she doesn't fancy him but she is sexually attracted to him.
Solid support comes from Ben Rigby as the slightly dodgy therapist Dave. His part was effectively written and he played it so well that you really couldn't decide if he was credible or if he really had planted Dawn's memories.
Sian Hill as Nicola showed a good mix of teenage angst and yet that she did really care for her family underneath the angry bluster. Hers was perhaps the most difficult role to perform as she spent a large amount of time sniping at one character or another.
Daniel Booth as Josh was very believable in his flight into fantasy as a means of coping with the family's dysfunction. It was then very touching to see him begin to discover his sexuality and develop his first real relationship as opposed to his imaginary one with the straight Mikey. Janet Bamford as Dawn offered a strong central performance which very much kept the show on the road. She revealed to us the strain and the subsequent disintegration of a mother who loves her family but has not come to terms with the damage she suffered when young herself.
Bradley Cross offered a very fluid portayal of Josh's boyfriend Ryan. The two worked particularly well together where Ryan's worldly wisdom contrasted with Josh's naiveté. The video blog they make together on their jaunt in London was very touching and sweet. Christopher Faith was scarily convincing as the loutish and brutal Barnsey. Those of us in the front seats in particular felt the full power of his malevolence.
There was perhaps a slight flaw in that Christine who did seem to be pushing Nicola and Barnesy together did not see what the rest of us spotted from his first entrance. In other words that he was not someone with whom it was worth spending time. Christine does regret this later though. Michael Ross as Dawn's father gave an effectively ambiguous performance as most of his appearances were in flashback or dream sequences where it was deliberately unclear exactly what was true and what was distortion.
The 3 Minute Theatre is a lovely new venue and a great addition to the Manchester theatre scene. It used to be a shop on the ground floor of the iconic Afflecks Palace in Manchester's trendy Northern Quarter. The fact of there only being one unisex toilet in the premises leads to some unfortunate queuing during the interval. The wooden floor and exposed brick work make for an evocative playing area although it is a very intimate auditorium holding around 50 seats.
There is a slight platform aspect to the end of the room where the performances take place but the settings are minimally realised though effectively so. Two playing areas were set either side of the stage with a white screen in the middle for the video pieces.
There was a cinematic aspect to the scenes. Many of them were very short and the pacing was generally quite brisk and effective. The first half was significantly longer than the second half however and while this was fine it could have worked equally well with a slightly shorter first half and a longer second.
The ending was perhaps a bit too pat in that all was resolved rather quickly after Dawn's confrontation with her imagined father when she is hospital.
The relationships were however very well drawn and the balance between the central family drama and the comedy of the Christine and Mikey elements worked brilliantly. The packed 3 Minute Theatre thoroughly appreciated this fine alternately thought provoking and amusing drama as did this reviewer.
Lloyd Eyre Morgan demonstrated once again that he has a gift for truthful dialogue and coaching realistic and funny performances from a gifted cast.
This reviewer warmly anticipates his next original work as well as the film version of his earlier piece Dream On which is realised next year.
Reviewer: Andrew Edwards