Certain Dark Things
You Need Me
Corn Exchange, Newbury
(2010)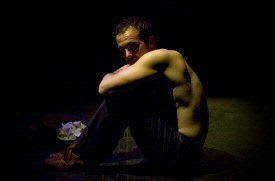 You Need Me is an international storytelling theatre company who specialize in performing 'in the round' which creates an intimate performing space with close contact with the audience.
Co-produced with the Corn Exchange in Newbury, their latest show Certain Dark Things played to full houses in last year's Edinburgh Fringe and was nominated for a Total Theatre Award.
The first act is set in Bilbao in 1959 under Franco's severe religious dictatorship and the brutal Spanish oppression of the Basque culture and language.
In this reworking of the piece Artistic Director Emily Watson Howes has made the whole play tighter with the narrative much sharper and the characters fully developed. The story explores the relationships within one family's struggle to cope with the suffocating repression and their own prejudices. The constant fear of being arrested and the tension it creates is palpable.
Miren Alcola was impressive as the stoic matriarchal mother, whose raison d'être is to protect her son Mikel, strongly played by Roger Riba. He is very nationalistic and enjoys playing the Basque game Pelota with his attractive blonde school friend Mari (Fran Moulds)
Mikel's father (Javier Lavin) is a political activist working for an underground movement. He introduces Mikel to Inaqui (Inago Ortega) and a passionate sexual relationship develops between them, a strictly forbidden and illegal liaison fraught with dangers.
The ensemble playing is simply splendid with some beautifully sung a capella Basque songs from the women and Seiriol Davies' cello music poignantly counterpoints the action.
The inventive staging uses an ingenious soundscape performed live by the actors with dripping water into metal pails and drumming fingers onto boxes to convincingly create a storm. A perspex sheet becomes a bus on a wet night and the resourceful cast movement created vivid visuals reproducing the warmth and village life in Spain.
The second act moves the action to Madrid in 1970. Mikel has married Julia, an English girl (Antonia Mellows), and returns home but tensions remain as the relationships between Julia and the mother become strained. Mikel's repressed sexuality is put to the test when he once again meets Inaqui and the toll of the many years of repression with betrayals and secrets are slowly revealed.
This was compelling dynamic theatre told with simplicity and genuine passion from a talented company. Highly recommended.
Reviewer: Robin Strapp