Chaika: First Woman in Space
Mark Westbrook
Acting Coach Scotland
theSpace on North Bridge
–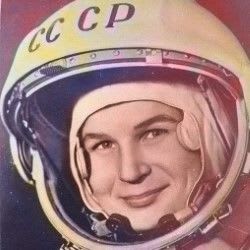 Having last year brought the life story of the famed Russian markswoman Lyudmila Pavlichenko in I, Sniper, Acting Coach Scotland has revisited the format, tweaking the formula to great effect. In this case, the Soviet woman in the spotlight is Valentina Tereshkova, the first woman to ever travel into space.
The audience is pulled along through the life of Tereshkova, from the loss of her father as a child, through her youth and time as a skydiver, before joining the Vostok Programme and training as a cosmonaut. The eight-strong cast each take turns to wear the name badge of Tereshkova and perform her story, showing a different facet of her journey along the way.
It's a thoroughly enjoyable performance, that elevates the simplicity of the production with a clever script that manages to combine fact with wit and humour. It's also refreshingly open about the political motives behind many of the factors that led Tereshkova to win out over her peers and to ascend beyond the confines of this Earth; yet in doing so, never takes anything away from her genuine accomplishments. Despite the myriad cast playing her, it's easy to engage with the character and grow to like the plucky, hard-working young woman; just as it is easy to feel for her when moments of genuine despair and catastrophe loom over her and her mission.
It's a fine production, well directed by Luke Kernaghan and performed admirably by all involved. Tereshkova might have broken ground by being the first woman in space, but this production certainly has looked to the heavens, and come back with something special.
Reviewer: Graeme Strachan