Chains of Dew
Susan Glaspell
Orange Tree, Richmond
(2008)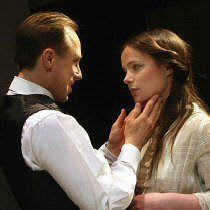 Given the easy chuckles and enthusiastic applause that greeted Susan Glaspell's provocative comedy on press night, it seems astonishing that this is the first and only revival of the play since its premiere at the Provincetown Playhouse on Cape Cod in 1922.
Indeed when Sam Walters decided to include it in his Orange Tree season of plays by women writers he discovered it had not even been published and he had to seek expert help to find a copy of the manuscript in the Library of Congress archives.
Glaspell flourished as a Provincetown playwright during and just after the Great War and her work, featuring women breaking the bounds of social norms, became required reading for gung-ho feminists
Her plot is fairly straightforward. Nora, a dynamic young New Yorker with a bee in her bonnet about birth control and the sacred right of women to have access to it, goes in pursuit of her lover Seymore, tracking him down to his home town of Bluff City where contract bridge, golf and the church hold sway.
There she proceeds to deliver her message to the conservative citizenry. But thanks to her drive and winning personality she soon wins the support of Seymore's young wife Dotty and of his widowed mother, who had painfully borne and raised a family of seven children.
In Kate Saxon's lively in-the-round staging, the play has the hallmarks of a commercially successful hit, deserving a longer life than the scheduled Orange Tree run. So why has it languished unseen for so many years?
The answer probably lies in that delicate question of 'birth control': two embarrassing words constantly hammered home by every character on stage — except the uptight Dean Davis (a neat cameo role for Alister Cameron) who departs in a huff after learning that Nora plans to deliver a lecture on the subject to the faithful, following his church vestry meeting.
Constant repetition was no doubt intended to take the sting out of the phrase, and there are neither surgical details nor practical demonstrations (save for a small stack of cartons labelled 'Diaphragm') to suggest what might be on offer were Nora given her head. But it was probably enough to warn theatre producers off taking a chance with the play, which is a pity because Glaspell has written three marvellous parts for women.
She deals a four-ace hand to her heroine Nora, trumped here by the hugely watchable, utterly adorable Ruth Everett who gives a starry performance of breathtaking amoral cheek combined with moral certitude, like having the ditzy Fraülein Sally Bowles and Flora the Red Menace all rolled into one.
Under Nora's tutelage Dotty, Seymore's submissive young bride, has her long tresses bobbed and is instantly transformed from bored kitten to a young woman embracing freedom and self-expression in a life-enhancing performance by Katie McGuinness.
Dotty's stepmother, beautifully portrayed by Helen Ryan, undergoes a quieter transformation, a witty revelation of the dark side of a woman who spends her days making rag dolls for charity, dolls which also deliver a subversive message to the world.
A New York editor (Charles Daish) and a visiting Irish poet (Gwynfor Jones with a nifty, if acquired, Dublin accent) are mainly there to enliven the political, sexual and literary debate, while Nancy Crane and Pia De Keyser, in elaborate 1920s costumes and hats, represent Bluff City's disapproving female establishment.
But the second performance of the evening comes from David Annen in the complex role of Seymore, a small-town banker and published poet, who longs to break away for a more rewarding literary life among the intelligentsia but is tied to his desk by the chains of the title.
I suspect his character is based on the American poet T S Eliot who in 1917 took up a post as a Lloyds Bank manager in charge of foreign accounts, a couple of years or so before Glaspell began writing the play, and was almost certainly known to her.
Annen cleverly suggests the many layers of a man with a rational recognition of his place in society and the wealth and security it brings, while stalking away to compose his densely structured poems in a back room. In fact these conflicting elements remain unresolved and a New York critic suggested in 1922 that the play should have been billed as a "grim, realistic comedy."
Happily what we really have is a bright, realistic satire, an immensely rewarding evening which merits a longer life — especially were there some judicious cutting to sharpen the conversational interchanges in the second half of the evening.
Reviewer: John Thaxter