The Chairs
Eugene Ionesco, translated by Martin Crimp
Ustinov Studio, Theatre Royal Bath
(2010)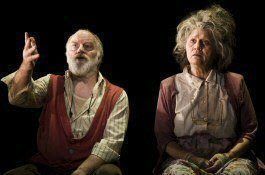 Anyone settling into their seat for an evening of Ionesco should know not to expect theatrical realism, clear narrative or action-led plot lines. Like the Absurdism of Beckett and Kafka, this is theatre which engages its audience in an entirely different way, with what are often complex and unsettling characters in uncomfortable situations.
Martin Crimp's translation of The Chairs, first produced at Bath by Complicitie and the English Stage Company in 1997, raises difficult questions about old age, ambition, success and wisdom.
An elderly couple are left alone as janitors to a crumbling edifice on an isolated island. The Old Man (Ciaran McIntyre) bemoans the tedium of his life, in which the couple pass every evening with the same bizarre games and stories. The Old Woman (Janet Amsden) dotes on her partner, though she grieves for the 'master' he could have become if only he'd had the drive. With an off-kilter eccentricity, Amsden joyfully proclaims that the predictability doesn't trouble her: "I refresh myself every evening".
As the evening progresses, the couple prepare for an ever-increasing list of visitors, arriving to play audience to the Old Man's words of wisdom. The guests are invisible to the audience but their presence takes the old couple through an emotional turmoil as they fill the stage with chairs.
This is a compelling revival, kicking off Andrew Smaje's penultimate season at the Ustinov in style. Janet Amsden and Ciaran McIntyre are convincingly absorbed in the delicate threads of their own troubled world, and the strength of their conviction in their legacy of wisdom is ultimately, for all its absurd confusion, very moving.
Maria Aberg's direction makes the humanity of this piece fly; she brings a tangible sense that the Old Man has genuine wisdom to impart, if only we could make sense of it in the Orator's (Geoff Nursey) perfectly unintelligible delivery.
The design of this production is also a triumph. Garance Marneur litters the set with chairs, suspended from the ceiling with ropes and pullies, which the couple pull down to fill what becomes their arena, their circus ring. David Holmes' lighting and Tom Gibbons' sound design complete the transformation of the set from what is at first a bleak industrial neglect, into the magical playground of the couple's troubled minds.
This is a perplexing piece, and, as with Waiting for Godot, it's one which doesn't necessarily bear too much explanation; it was never intended, after all, to be a story which tells itself. But this is a production which lingers, leaving you with a sense of the modern isolation of old age and a real sadness for the lost opportunities which we incur as a result.
Runs at the Ustinov until 4th September
Reviewer: Allison Vale