Charles Dickens' A Christmas Carol as told by Jacob Marley (deceased)
Charles Dickens, adapted by James Hyland
Brother Wolf
Two Sisters Arts Centre, Trimley St Mary, nr Felixstowe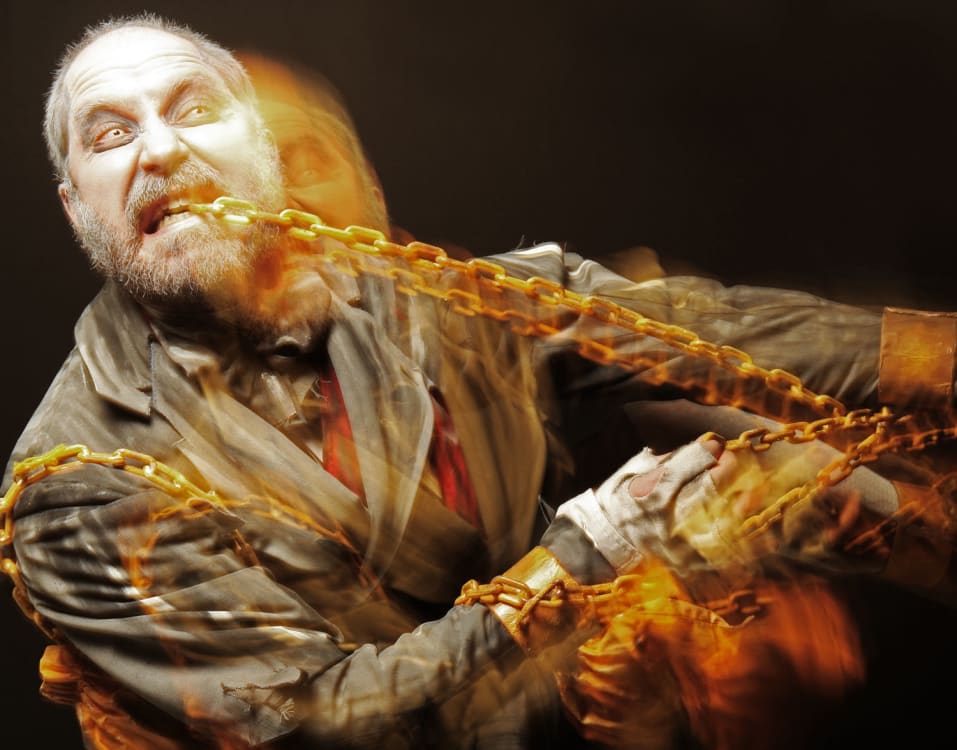 If it's December, you can bet any amount of money that somehow and somewhere there will be a production of Dickens's seminal Christmas classic being performed.
There must have been hundreds of different adaptations of it over the years from a 1901 silent film to the Muppets, and many have played Scrooge including Alistair Sim, Patrick Stewart and Michael Caine. On stage, there have been both straight and musical adaptations, and this was the very book that Dickens himself dramatised in the first of his famous tours of staged readings at Birmingham Town Hall in 1853.
But this is a year where theatres have struggled to put on anything with a large cast, so Brother Wolf's pocket adaptation is ideal. James Hyland turns his considerable talents to emulating his literary hero by performing all the characters in this well-known tale just by himself using the viewpoint of Jacob Marley's Ghost as Narrator.
On a bare stage set with just a chair and to the sound of the bells striking the hour, Hyland appears dramatically as Marley, all clanking chains and much groaning.
He divests himself of his chains to introduce us to the character of Scrooge—whom he then takes on with just a turn of his body—and the story begins, with Hyland transforming to each character from Bob Cratchit through fiancée Belle to Tiny Tim and all the Spirits of Christmas in between with a mere turn of his head, a different stance and another accent.
Inevitably, as each Ghost takes Scrooge on his journey, the scenes are somewhat curtailed or characters are left out altogether in order to condense the telling. Hence we do not cover Scrooge in his school days, or the waifs that live under the cloak of Christmas Present for instance, and Belle is only briefly presented. As the story is so well known, most of this doesn't matter, but I did miss some of the female characters, especially Ebenezer's sister Fan, who I think has quite an important relationship with him, and Fezziwig's wife and their jolly dance.
Nevertheless, there is plenty to draw you into this well-observed and crafted production and every effort is made to convey atmosphere and emotion, especially in the scenes at Bob Cratchit's house with Tiny Tim which brought a lump to many a throat in the audience.
Hyland is an extremely powerful presence on stage with a rich voice that he uses to great effect. Within 75 minutes, he creates the world Dickens wrote about with skill and precision and in doing so took us with him on Scrooge's journey of remorse and redemption.
But this is a dark telling of the story and there are times when it could be lightened with a little humour. In fact it was somewhat of a relief when we briefly met the old crone who steals Scrooge's sheets from his death bed and could chuckle at Hyland's rather comic portrayal of her.
Having said that, there is no doubt this is a masterful performance of this iconic tale, which drew us into Dickens's world and sent us home with a tear in our eye and a cry on our lips: "God bless us everyone."
And a hope that 2021 will bring in a better year than 2020 has been.
Reviewer: Suzanne Hawkes