Charley's Aunt
Brandon Thomas
A Theatre Royal, Bath, production
Theatre Royal, Newcastle, and touring
(2007)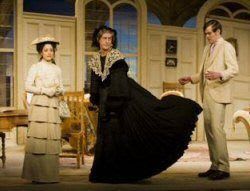 A glorious, sky-blue backdrop hangs and a suspended, arched garden wall (complete with hedge) create the wonderful scenery behind a beautifully pristine 19th century set. Charley's Aunt is a traditional farce with three acts each taking place in a different location. Christopher Woods 'layered' design is perfect for such a play and adds the right touch of tradition whilst appearing fresh and creative. Obviously no expense has been spared in this production with its splendid costumes, sparkling set and the essential, yet large cast of ten, as one should expect of any quality period production.
Charley Wyckham and Jack Chesney are undergraduates at Oxford University and are in desperate need for a chaperone so they can entertain Amy (Tatina De Marinis) and Kitty (Emily Pennant-Rea), respectively the niece and ward of Stephen Spettigue, an Oxford solicitor (Richard Syms). Much to his astonishment, Charley receives word from his guardian that his Aunt, whom he has never met or spoken to in his life, is coming to visit him and that she is coming by train arriving imminently. The boys grab this opportunity and send a telegram to Amy & Kitty inviting them for lunch to meet Charley's Aunt, Donna Lucia d'Alvadorez, who is a rich and widowed aunt from Brazil ("where the nuts come from").
All is well until Charley's Aunt sends a telegram to say that she has been detained on business, and not to expect her for a few days. The boys start to panic and persuade their friend, Lord Fancourt Babberly or "Babbs" (Stephen Tompkinson), to masquerade as Charley's aunt. This leads to great comedy as the audience sees him transformed into the "aunt". Further comedy and befuddlement contribute to the entertainment and finally ends with the traditional engagements and denouement.
This production by Mel Smith has all the right elements for a fantastic farcical show, yet somehow the piece never manages to achieve the integral atmosphere and pace needed for such a play. The etiquette and physicality of the period were lacking in many of the younger cast, mainly the two principal characters, Charley and Jack, who felt too modern. This did not sit well next to the magnificently centred and grounded Stephen Tompkinson and Marty Cruickshank, playing the elegant Donna Lucia Dalvadorez. Could this be a sign that the difficult craft of period farce is dying in our drama schools? One hopes not, if anything this play promotes how much it is needed!
Thus, the play shifted between the excellent and the mediocre, creating disappointment with moments lost and audience members interrogating their neighbours for repetition of lines lost because of some actors speaking through the laughs. Nevertheless, the audience guffawed in the right places of contrived predicament and were thoroughly enthralled by Stephen Tompkinson as they had never seen him before. Regardless of the muddled era business, Charley's Aunt is splendidly written piece of light entertainment and bound to make you titter!
Sheila Connor reviewed this production at the New Victoria Theatre, Woking
Reviewer: V Mitchell