Charlie And The Chocolate Factory - The Musical
Roald Dahl, book by David Greig, music by Marc Shaiman, lyrics by Scott Wittman & Marc Shaiman, songs from the motion picture by Leslie Bricusse & Anthony Newley
Neal Street Productions, Playful Productions, Hunter Arnold, Gavin Palin Production present the Leeds Playhouse Production
Palace Theatre, Manchester
–

Listing details and ticket info...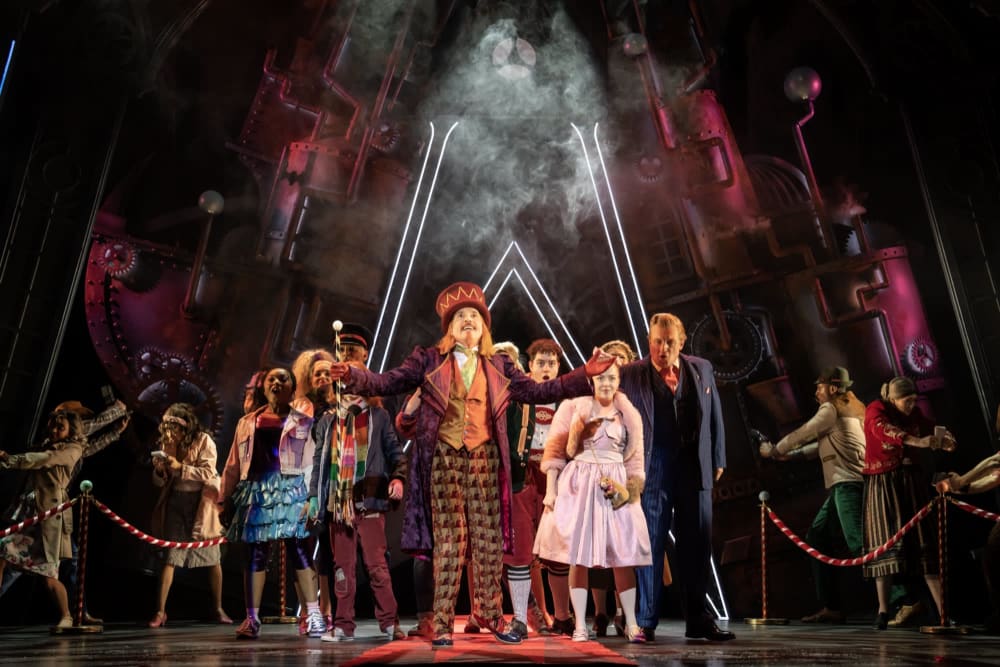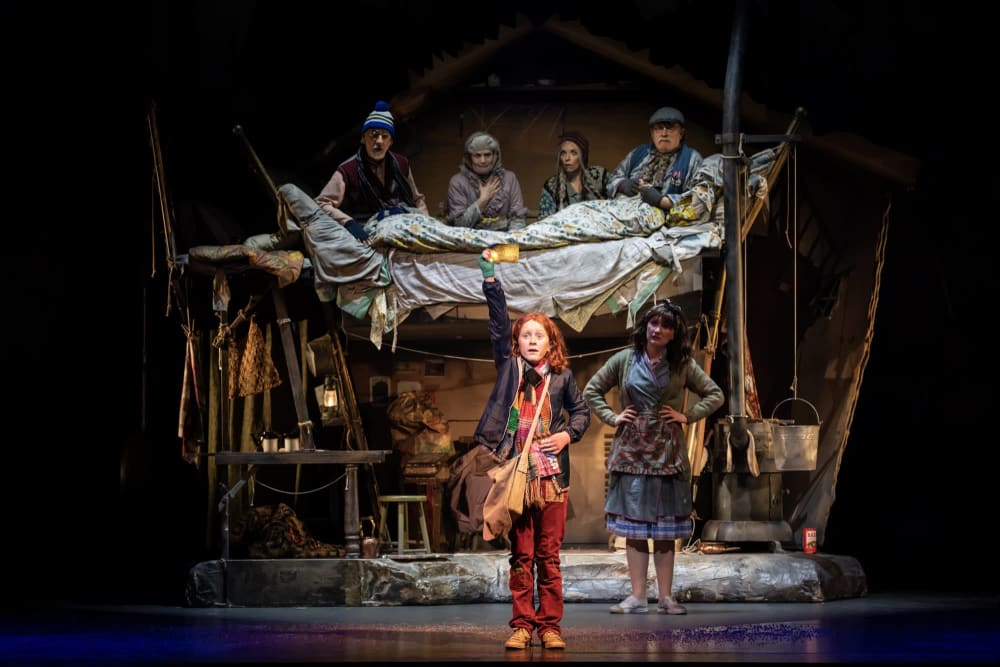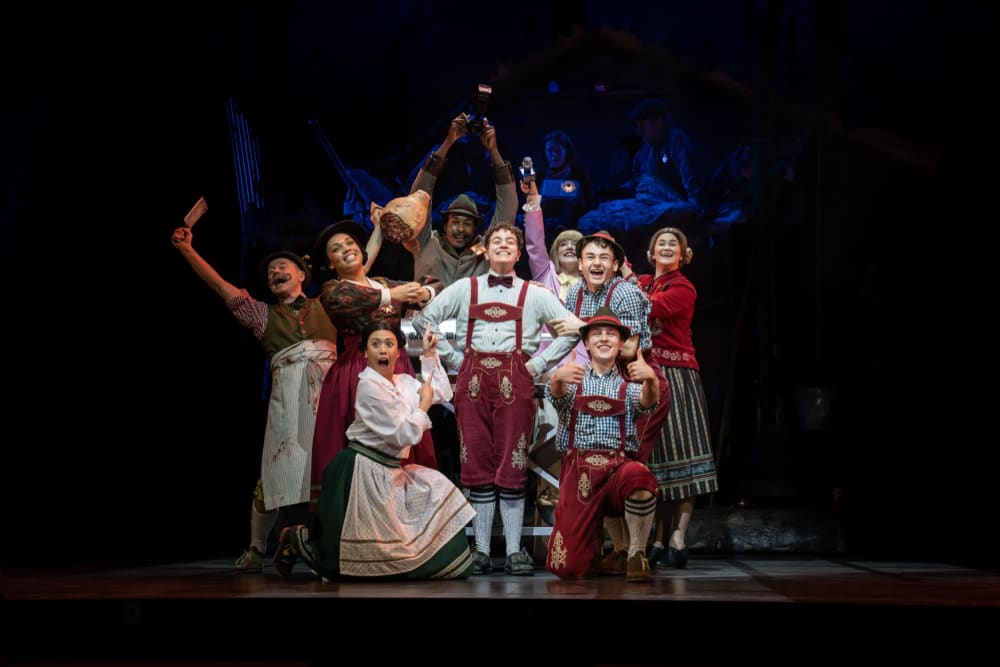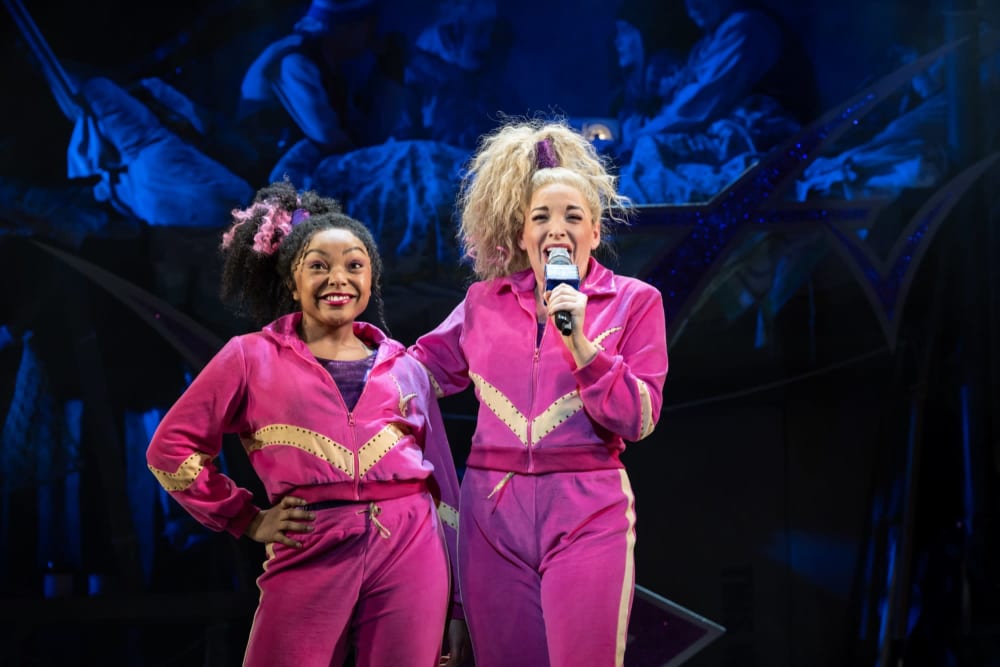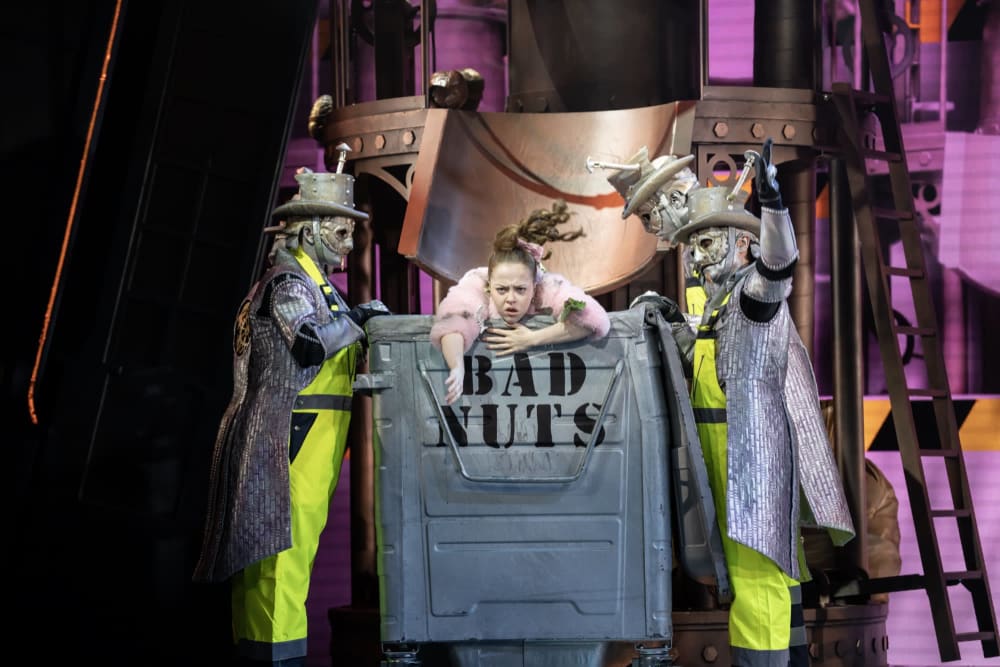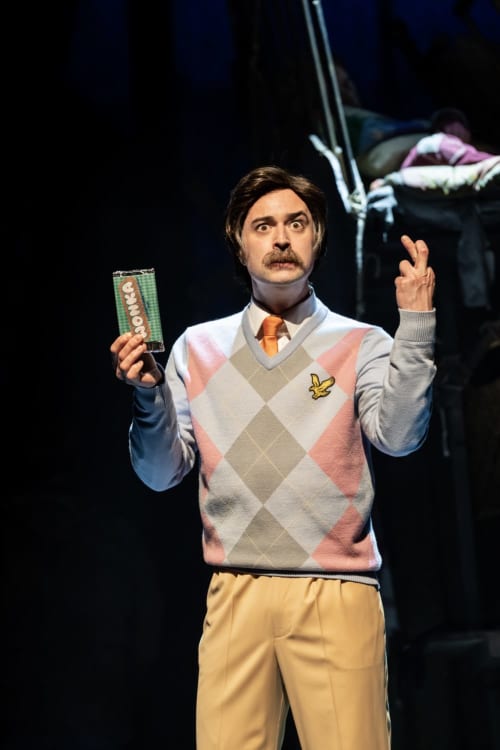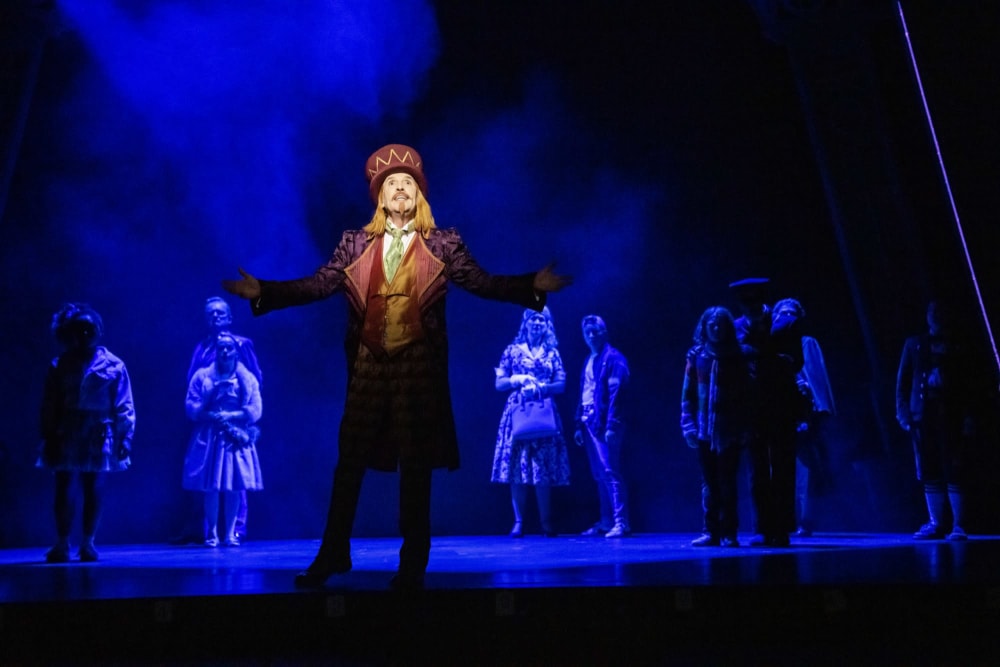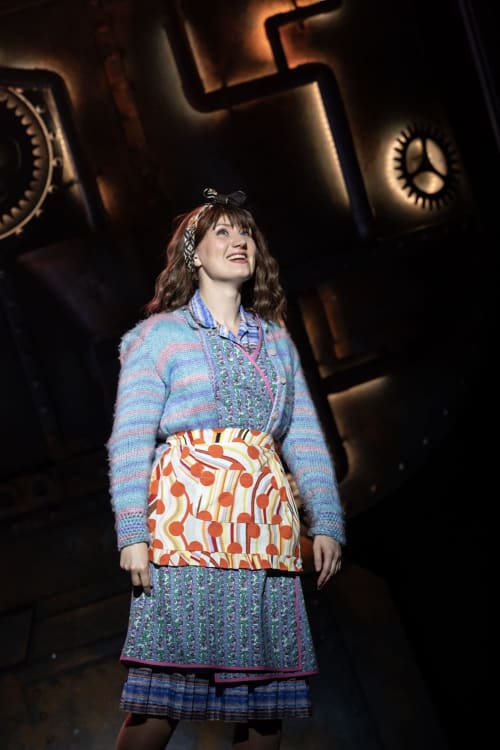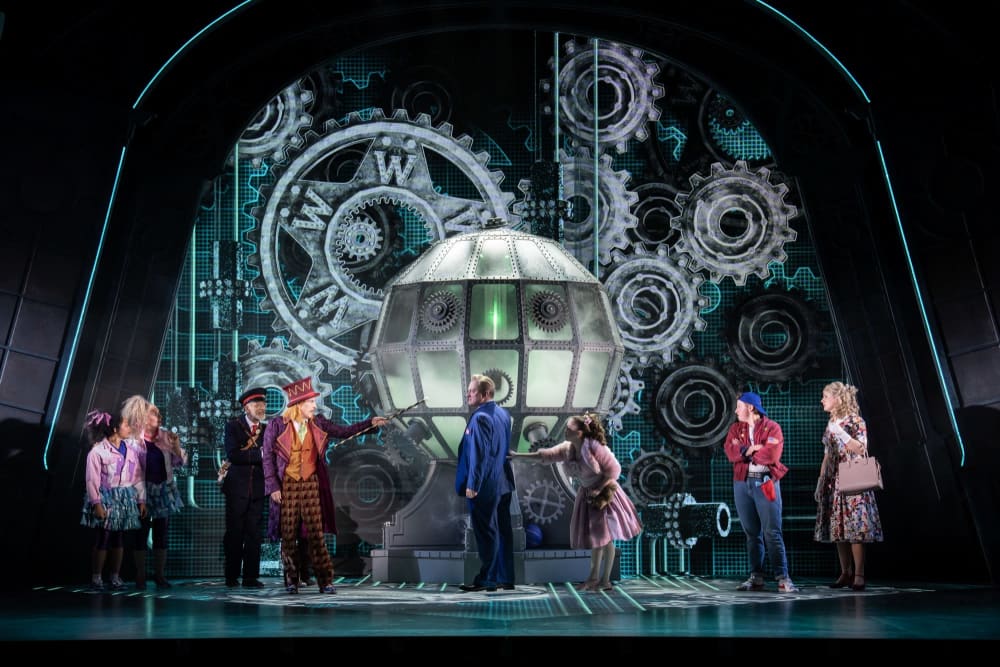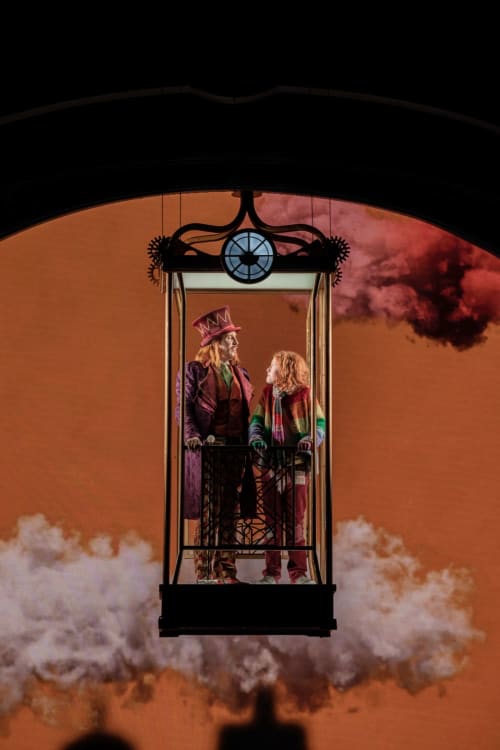 After the phenomenal success of Matilda, it seemed only natural to give this even more famous Roald Dahl's story a theatrical refresh from the version written by schoolteacher Richard George nearly fifty years ago. This adaptation brought together Scottish playwright David Greig with the songwriting team behind Hairspray, Marc Shaiman and Scott Wittman.
The audience enters to a stage full of junk piled up to look rather like the barricades in Les Mis. This is the dump where young Charlie (I think it was Haydn Court on press night—the one in the photos isn't one of the four mentioned in the programme) looks for 'treasure' to take back as presents for his grandparents, who share a bed in what appears to be the loft of their tiny house, where Charlie also lives with his mother (Leonie Spilsbury).
The opening section is very static, mostly taking place in that tiny loft, as they read in the paper about Willy Wonka opening up his famous chocolate factory to five lucky children who find golden tickets in their chocolate bars. Then Grandpa Joe (Michael D'Cruze) relates the history of the factory and how, after a bit of industrial espionage, the workers all left and the gates were locked, but it continues to produce chocolate. Even the crowd scenes don't feel particularly dynamic, as though they need either more people or more to do that's visually interesting.
The first visual action is when the first ticket is found, and TV presenter Jerry (Ewan Gillies) and roving reporter Cherry (Lucy Hutchison) go to Germany where gluttonous Augustus Gloop (Robin Simões Da Silva) and his family tell their story in a Tyrolean eating song. Each awful child (Charlie is the only one played by a real child) is introduced with their own song as the reporters interrupt Charlie's story with news of the next finder: gum-chewing Violet Beauregarde (Marisha Morgan), spoiled daddy's girl Veruca Salt (Kazmin Borrer) and TV-obsessed Mike Teavee (Teddy Hinde).
Gareth Snook is perfect as Willy Wonka, although he doesn't appear until almost the interval—except as a disembodied voice, heavily reverbed, coming from the factory, like Riff Raff in Rocky Horror. This Wonka is a real showman but with a childishness that can come out as both wonder and cruelty, mischievous but with an appealing glint in his eye.
After the interval, things get much more visual as we are taken around the factory, with some very impressive video projections on the backdrop and the floor from Simon Wainwright melding with Simon Higlett's set designs, with a few clever little illusions from Chris Fisher.
Of course things end well for Charlie and his family and not so well for the rest of Dahl's array of grotesque characters, all of which are realised efficiently by the cast.
However, it all feels just a little bland compared to the book that so excited me when we read it in Mrs Kenworthy's class in 1978, and which must still be exciting all those parties of schoolchildren who surrounded me on press night. The songs are efficient with some quite clever lyrics, but they aren't particularly memorable—especially compared to those taken from the 1971 film, "The Candy Man", "Pure Imagination" and "Oompah Loompa", although you need good eyesight to find the one mention of Leslie Bricusse and Anthony Newley in the programme.
So it's fine, the kids seemed to love it, but it's not what it could have been, and certainly no Matilda.
Reviewer: David Chadderton