Chasing Hares
Sonali Bhattacharyya
A Young Vic and Theatre Uncut co-production
The Young Vic
–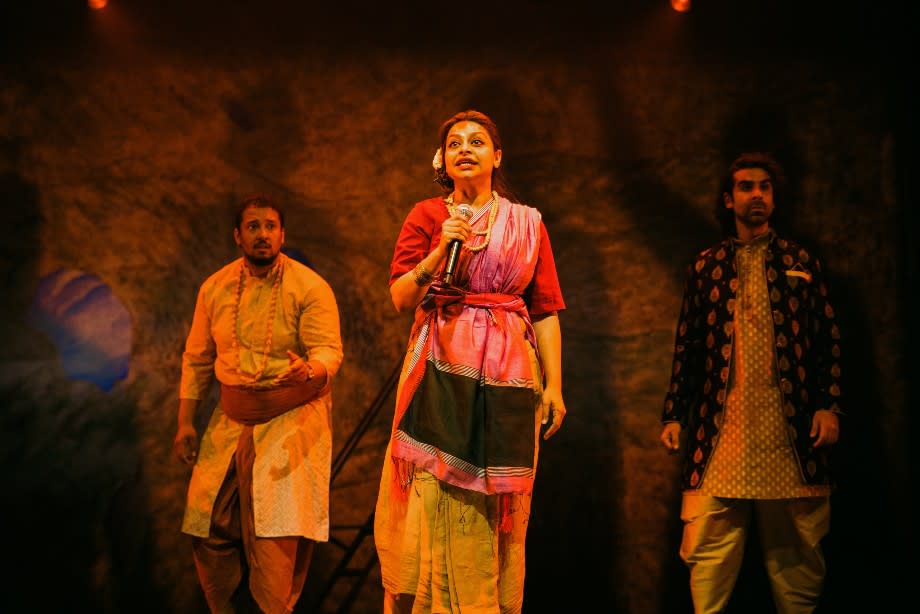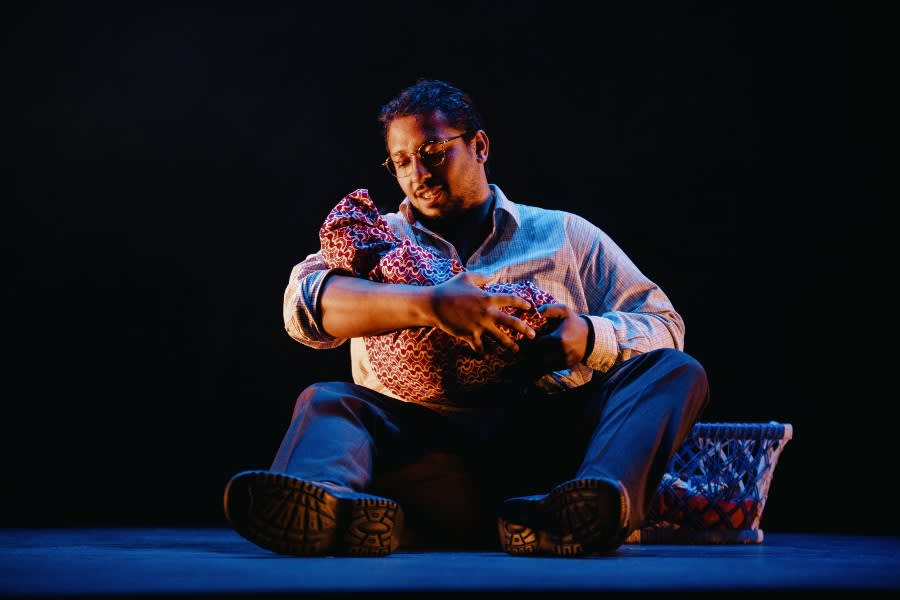 In theatre, the stories we show each other are always political. They are an explanation for our current dilemma, a guide to action and a moral compass in a turbulent world.
Sonali Bhattacharyya illustrates this in a play that takes us from the precarious zero-hours worker Amba (Saroja-Lily Ratnavel) in England waiting for her next paid job, to the similar struggles of her father Prab (Irfan Shamji) over two decades earlier in West Bengal.
It opens with Amba telling stories to her baby. As she does so, the figure of her father appears smiling proudly at a daughter who was doing exactly what he had done with her decades before.
The play then takes us back to that earlier time in West Bengal where he is telling gently radical allegories to his infant daughter Amba. Although he had a job as a machine operator, he has a background in literature and a passion for theatre.
Attending the performance of a local folk theatre, he enthusiastically goes backstage to chat with the actors. Impressing them with his ideas, they commission him to write a piece.
He is soon delivering very radical allegories of the heroic figure of Chandi stirring up animals to revolt against cruel local oppressors. The company's leading actor Chellam (Ayesha Dharker), who had been growing restless with their previous work, is excited and inspired by the political content.
However, the political content of his writing is lost on Devesh (Zainab Hasan) who funds the company and is in a relationship with Chellam. Devesh is just pleased that it works and helps keep his leading actor happy. Being the son of the local factory owner and keen to keep Preb on board, Devesh gets Preb a job as a supervisor in the factory and offers Preb a better home for his family.
The employer does some terrible things that include recruiting illegal child labour prompting him to side with workers in a fatal clash with Devesh.
But the baton of struggle for human rights is passed on to his daughter who, in contemporary England, is organising resistance to zero hours contracts and using her storytelling skills to inspire others.
This is a well-performed production of a play that won the 2021 Theatre Uncut Political Playwriting Award. Sensitively directed by Milli Bhatia, it tunes into some of the most pressing social problems of our time with characters that are both sympathetic and generally believable.
However, the stories told by Amba and Preb are not easy to follow and some of the events in the second, more exciting section of the play appear slightly improbable. Such things do happen, but in theatre, we might need a more dramatically convincing lead-up to the improbable.
All the same, the play is an accurate depiction of our troubled political situation that carries a message of hope about the possibilities of social change.
Reviewer: Keith Mckenna