Chasing Rainbows
Glenys Evans
Produced by Hijinx Theatre
Wales Millenium Centre and touring
(2009)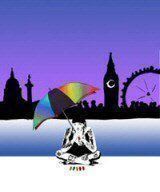 Cardiff-based Hijinx Theatre's latest touring production is Chasing Rainbows, a challenging play which tackles head-on the complex issue of the right to inclusion of adults with learning difficulties.
Glenys Evans was moved to address what she calls "the high ideals of Inclusion" after she was angered by the experiences of a young woman with a learning disability she cared about, who was faced with the "big bad world of chaos and uncertainty alone she had hoop-jumped life skills certificates and the mantra of choice and for what ?"
From her experiences, Evans has spun this masterful story of Hayley (Catherine Morris), a young woman with a learning disability making a journey to London with her care worker Carol (Julia Wyndham), where she will address a national Inclusion Conference. A chance encounter on the train with worry-worn MP Geoffrey Parker (Adam Timms) begins an adventure which pushes Hayley, Carol and Geoffrey out of their comfort zones, forcing them all to examine the heart of the issues of equality and inclusion. When Hayley encounters homeless Kit (John Norton), precisely the kind of "stranger" she has been taught to fear and avoid, Evans confronts that delicate line between personal safety and exclusion from the society the rest of us take for granted.
A strong cast benefit from Louise Osborn's sensitive direction and effective design from Mary Drummond ensures that this production, like last year's Full Circle, reaches a fully inclusive audience, as is its intention.
Supporting Hayley's emotional journey is a series of animations, created by Stuart Campbell, Martin Vick, Matthew Purnell, Kirsty Rosser, Sarah Toshack, Andrew Tadd and Leila Bebb, seven learning disabled adults working with digital animator Michael John Day. Their animations are worked seamlessly into the production, heightening its visual impact as well as lending both humour and poignancy.
Chasing Rainbows is the simple story of a young woman who gets lost in London. But its message is complex, and is at once uncomfortable and uplifting. How do you ensure the personal safety of learning disabled adults, whilst fully enabling their independence and inclusion? Doesn't independent adulthood involve a degree of risk for all of us? If we minimise the risk for learning disabled adults, how do we ensure we are not also minimising the life experiences?
"Chasing Rainbows" tours to Church Village, Ammanford, Pwllheli, Aberystwyth, Tenby, Newnham on Severn until 3rd July.
Reviewer: Allison Vale