Chatroom / Citizenship
Enda Walsh and Mark Ravenhill
National Theatre production
The Lowry, Salford, and touring
(2007)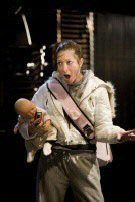 The National Theatre returns to the Lowry in Salford with a double bill of short plays by modern playwrights about teenagers from the National's Connections series of plays for young people to perform but with a professional cast: Chatroom by Enda Walsh and Citizenship by Mark Ravenhill.
Designer Jonathan Fensom seems to have given a nod to the school production origins of the plays with the opening set for Chatroom, which consists of a plain black stage filled with scattered orange plastic chairs. The play is set almost entirely in Internet chatrooms populated by middle class teenagers from Chiswick, and so everyone is sat alone delivering dialogue straight ahead rather than speaking to anyone directly.
While William proclaims his theories about the conspiracy behind children's literature to Jack in the Harry Potter chatroom, Eva and Emily discuss how they were betrayed by their childhood idol, Britney Spears, and Jim tells Laura, who acts as a kind of peer support counsellor, of his depression and suicidal feelings. When Jim wanders into a chatroom ruled over by William, spouting his theories of the modern world and his desire to do something to make his mark, William and Eva befriend Jim and try to manipulate him into harming himself, driving Emily and Jack away when they express doubts.
The set for Citizenship is only a little more complex, with stacks of plastic chairs more than high enough to give most school caretakers a coronary and a balcony leading right across the stage. In a secondary school where all the white boys talk with a pseudo Jamaican accent, Tom is in doubts about his sexuality and can't decide whether he wants to sleep with his friend Amy or if he is gay. He goes to his friend Gary, who is always called 'gay' by the others, for advice, but he isn't gay and in fact shows Internet porn on his MySpace site. So he asks his permanently stressed teacher De Clerk, whom he suspects of being gay, but he is frightened to talk about such things.
Both of these plays were written for the Connections project in 2005, which commissions ten plays each year from well-known playwrights for performances throughout the country by schools and youth groups, culminating in a final performance of each play at the National.
Walsh's play could easily have been quite dull to watch from its premise, but it is anything but. Although the pace is fairly leisurely for most of the time, it manages to be both very funny and quite sinister at the same time, showing how someone with a tendency towards cruelty to others could find it much easier to go much further in this faceless medium. Ravenhill's play, by contrast, moves at an exhausting pace for most of the time and deals with teenage sex and sexuality and the confusion and uncertainty that everyone feels about these subjects at this age.
There are great performances all round, with some very recognisable, if exaggerated, teenage character types. Steven Webb creates a thoughtful and open character as the teenage depressive in Chatroom, with George Rainsford as his arrogant, cruel tormentor. Rainsford plays a completely different character in Citizenship as Gary, who just laughs and smokes weed all the time, even when he is being insulted. The second play is led by Ashley Rolfe as the confused, innocent Tom with Michelle Tate as his tomboyish, staccato-tongued friend Amy. Contrasting parts again from Jade Williams as Kerry, who becomes obsessed with the doll that they all have to carry around to practise childcare, and Jaimi Barbakoff as Chantal, who carries the doll around by the head to Kerry's horror. Richard Dempsey is superb as teacher De Clerk who is so stressed he seems about to explode at every moment, much to the amusement of the leaders of some of the school parties in the audience.
This is a great look at teenagers in the early 21st century that touches on a few issues thoughtfully and is often extremely funny without being condescending to its subjects or alienating older audience members. It would be a great piece to take older school students to see, although there is a fair amount of swearing and sexual references. Any groups thinking of entering for Connections would benefit from seeing just how much can be achieved on a very simple setting. For the rest of us, it's just very entertaining and very well performed.
Cecily Boys reviewed this production at the West Yorkshire Playhouse, Leeds.
Reviewer: David Chadderton