Chatroom
Enda Walsh
Lyceum Theatre Youth Theatre at the Traverse, Edinburgh
(2005)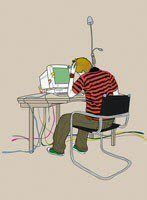 What is so refreshing about Chatroom is that it is a play which connects with issues every teenager faces, without becoming an "issues" play. Enda Walsh has created a poignant and effective landscape for his teenage protagonists, in which personal emotions and shifting alliances, both mainstays of adolescence, take centre-stage.
The story is about Jim (Steven Croall), a depressed teenager who's thinking of killing himself, and how his venturing into cyberspace affects his decision. Lines are delivered to the audience as each teenager sits in the anonymous safety of their own home. While the device gets tedious at times, and one longs for more movement and interaction between the characters, the separation also serves as a stark reminder of by how much online interactions can fall short.
The average time cast members have spent in with Lyceum Youth Theatre is about five years, and this shows to great effect because of the solid performances given by each. Croall is believably insecure as Jim (with the exception of a bizarre final sequence which strains believability, but given how it flies out of left field this isn't surprising), and the outstanding performance comes from Rachel Jackson, who plays Laura, the singular voice of reason Jim encounters on his cyber-journey. She delivers the emotional core of the piece, especially in a speech she gives near the play's climax.
As the malevolent William, Shaun Qureshi leans toward the melodramatic side of things, but it's unclear whether this was a clear character choice or an unconscious result of the teenager-with-a-mission dialogue his character has to deliver.
Running at about an hour long, Chatroom certainly fulfills the purpose of Lyceum Youth Theatre, as stated in the programme: it is "exciting, relevant and contemporary professional theatre for young people, by young people."
.
Reviewer: Rachel Lynn Brody