Chekhov at Christmas: The Proposal & The Bear
Anton Chekhov
1:11 Productions and Second Skin Theatre
White Rabbit Theatre
–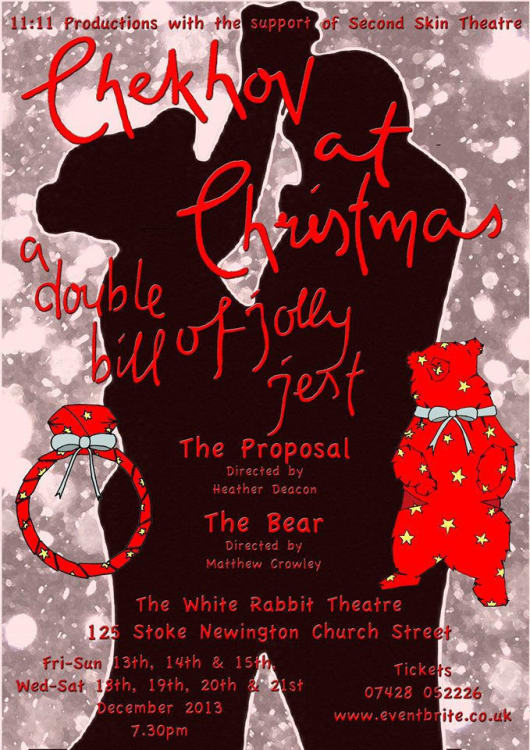 I saw The Proposal many decades ago as part of a triple bill of comedies at Birmingham Rep with a cast that included Eric Porter, Donald Pleasance and Caroline Hooper at an early stage of their careers.
I still remember it as very funny and have often wondered why this and Chekhov's other one-act plays are so seldom seen, so I was delighted to find 11:11 Productions and Second Skin staging these two, though they could so easily have added another such as The Anniversary and made it a more substantial programme instead of one running less than an hour.
These productions are described as "modern adaptations", though without scripts to compare I am not sure what changes may have been made. They have not transposed them to comparable modern situations that would make comic comment on contemporary life the way that Chekhov does and the directors of both plays have gone for a naturalistic presentation.
Perhaps stylisation at the close quarters of this intimate venue felt too much of a challenge but these are essentially comic capers that caricature attitudes of small landowners and the middle class towards the end of the nineteenth century.
Ashley Merat's wide-eyed, stuttering, tongue-tied suitor Lomov in The Proposal has something of the quality these pocket farces need but today's politically correct attitude to handicap gets in the way of laughing at him. The production needs to build in that permission.
Similarly, Sarah Kempton probably makes Natalya, the object of his attention whose competence in running her father's farm is what draws him not her looks, probably makes herself too attractive to suggest a girl, no longer young, who is desperate to get a husband. As her tippling father Tchubukov, Tony Parkin rightly makes him a bit befuddled by drink but a bit too lost to contribute sufficiently forcefully to the action. This is a play that should build laugh on laugh and there were far too few of them.
A real-looking fire place and over-elaborate furnishing suggests a pretension that this Tchubukov and Natalya did not match and did not encourage the cartoon-like exaggeration that the playing probably needs to make the play hilariously funny. Heather Deacon's direction does not really treat this as farce.
Matthew Crowley's direction of The Bear takes very much the same approach and, without Lomov's stutter to slow things down, is played so rapidly that there is hardly time for laughs even had they been forthcoming. Its biggest problem is that its cast is far too young and lightweight and makes no attempt to suggest otherwise. This is one occasion when old-fashioned greasepaint and ham acting might have helped. As Helena, Kellie Jane Walters hardly suggests the widow devoted to mourning a husband who has been consistently unfaithful over many many years.
Greg Blackford's Gregory is a well-dressed tenor rather than the bluff, rough country fellow who is the bear of the title. He turns up demanding payment of the money her husband owed him for which he has waited seven months already. Their shouting match leads to insults and escalates to a duel before Gregory realises he is suddenly attracted to this woman.
Again, it is not domestic comedy but a farce that escalates and the actors need timing and control to produce laughter. Chekhov called it "A Joke in One Act" and this cast takes it far too seriously. Even valet Luke (Liran Nathan) plays things far too smoothly.
Of course, it might work to treat things more realistically, but I think that would mean anchoring the adaptation more certainly in specific time and place, matched perhaps to modern attitudes and situations, and the actors playing the text as though newly thought and at a more leisurely pace than the helter-skelter delivery (of Blackford in particular) that seems driven by the effort to remember it.
Reviewer: Howard Loxton