Chekhov Shorts: Romance With a Double Bass and The Two Volodyas
Carol Rocamora
Lung Ha's Theatre Company
Tron Theatre, Glasgow
(2010)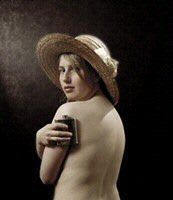 Looking for the perfect theatre experience? Then the Chekhov Shorts by Lung Ha's Theatre Company is for you.
Lung Ha's Theatre Company has been going strong since 1984, striving to provide and inspire opportunities for people with learning disabilities to become actively involved in the performing arts.
The two shows, Romance With A Double Bass and The Two Volodyas run at just twenty minutes each. The plays are written by Carol Rocamora and are inspired by two of Anton Chekhov's short stories. In the past Lung Ha's Theatre Company have mostly produced devised shows built on improvisations, and for many of the actors this is their first script-based performance.
The farcical and amusing Romance With A Double Bass kicks off the bill with a riverside thief getting the better of Pitsicato and the princess. A beautiful set designed by Jessica Worrall allows ample room for 'naked' follies while the four-strong cast provide chuckle-a-minute performances. Music from cellist Wendy Weatherby binds the performance into a lovely piece of theatre.
The second, The Two Volodyas pulls the audience into a much darker tale. Snow falls in the backdrop as Sofya and the two Volodyas down brandy from hipflasks and sledge through the forest. Old Volodya is rich. Young Volodya is skint. Sofya is miserable. Olga has escaped the wretchedness of this life only by locking herself in a nunnery. Yet this does not make for depressing viewing. Clever effects and witty lines give the tale momentum and a brilliant performance by Nicola Tuxworth ensures that the ending is both completely satisfying and yet, in true Chekhov style, completely unsatisfying.
The Chekhov Shorts are a fresh approach to theatre. The strong script, clear direction and memorable acting add up to a charming performance.
Reviewer: Alison Burns