Chess the Musical
Music by Benny Andersson and Björn Ulvaeus, book and lyrics by Tim Rice
Theatre Royal, Newcastle, and touring
(2010)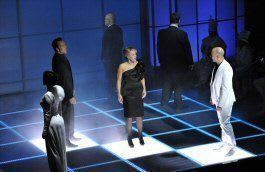 Director and choreographer Craig Revel Horwood and his frequent collaborator musical supervisor and orchestrator Sarah Travis have chosen, in this new production of Chess which premiered in Newcastle last night, to follow in what has become the Newbury Watermill tradition - a theatre where they have regularly worked together - and use a cast of mainly actor/musicians. In fact, all but one of the cast fit this description. It means that twenty of them play chess pieces: not a full set, admittedly, as there is only one rook, knight and bishop of each colour and there isn't a full set of pawns.
This means that the stage is often packed, which gives Horwood the opportunity to create memorable pictures, both still and moving, and it integrates the music and the acting/singing/dancing in a way which is very effective. He's aided in this by the work of set and costume designer Christopher Woods and lighting designer Ben Cracknell, although I must admit to not being sure about the somewhat camp fetish designs for the chess pieces and the very eighties New Romantics style of the Arbiter. Why he should be bare-chested throughout still puzzles me. Something of the eighties' style over substance perhaps? I suspect that both are the result of a desire to give a little specious raunchiness to the show which it really doesn't need.
Visually the production is sumptuous and spectacular - which clearly appealed to the first night audience - but it did leave me with a sense of it being a series of tableaux.
This is, I think, due to a basic flaw in the actual writing. There are three themes - chess the game, the Cold War and the love triangle between Freddie Trumper, Florence Vassey and Anatoly Sergievsky - and, of course, all three are inextricably intertwined. The show swaps between almost as many locations and between the themes. In a programme interview Horwood recognises this: he wants to centre on the love triangle and doesn't "want too much background plot" for that makes it difficult to tell the stories clearly. But you can't escape that background plot!
As a director with a flair for the eye- (and ear-) catching, Horwood has given us a series of songs which are superbly well performed and staged but which are a little detached from each other, so that the whole show feels like a staged song-cycle. Which in many ways is what it is!
However I don't want to take anything away from this production with these comments. It is visually stunning and the perfomances are all first class. Daniel Koek (Anatoly) particularly impressed me, but James Fox's Freddie, Shona White's Florence and Poppy Tierney's Svetlana were just a tiny smidgeon behind and both James Graeme (De Courcey) and Steve Varnom (Molokov) gave tremendous support.
Spontaneous bursts of applause punctuated the evening and the cast were given a standing ovation at the end. There's no doubt that it will have a very successful tour and a West End outing must surely be on the cards.
"Chess" plays at the Theatre Royal until 11th September before going on to Northampton, Edinburgh, Cheltenham, Aberdeen, Wolverha,mpton, Sheffield, Salford, Cardiff, Bradford, Sputhampton, Nottingham, Norwich, Plymouth, Milton Keynes, Truro, Birmingham, Southend, Belfast, Bristol, Woking and Glasgow, where the tour finishes on 9th April, 2011.
Sheila Connor reviewed this production at Woking
Reviewer: Peter Lathan