Chicago - the Musical
Lyrics by Fred Ebb, Music by John Kander, Book by Fred Ebb and Bob Fosse, based on the play by Maurice Dallas Watkins
The Hawth, Crawley, and touring
(2009)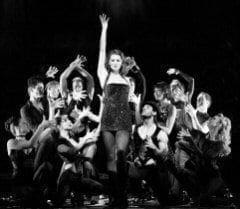 A show set in a women's prison with no fewer than six murderesses under the death sentence, the story exposing the corruption, avarice, greed, injustice and manipulation present in the legal system of Chicago in the twenties: would that make a successful musical? It would seem unlikely, yet this show which opened on Broadway in 1996 and in London in 1997 (the longest running Broadway musical in UK history and still going strong) has been wowing audiences constantly ever since, sending them out into the night singing.
Slick, dynamic and bursting with effervescent energy, this production is a fairly faithful reproduction of the original but with here and there some slight changes in phrasing and intonation - the performer stamping a little ofhis or her own personality on the role. This is most noticeable with Emma Barton as Roxy Hart, the night club singer who murdered her lover, her only regret being that the fame it brought her didn't last long enough. Barton, probably best known from her role in BBC One's EastEnders, expertly captures the brash and irreverent spirit of a girl desperate for fame and fortune, yet beneath her uncaring façade there are flashes of vulnerability and fear. And she can dance too!
Many of the cast biographies in the programme are very shor, indicating some fairly recent entries into the world of show business, but if they have much yet to learn it certainly doesn't show in this expertly directed (Walter Bobbie) and intensively rehearsed production. Statuesque Twinnie-Lee Moore, with the shortest list of all, takes the physically and emotionally demanding role of Velma Kelly as to the manner born, and reminded me very much of Ute Lemper who excelled in the first London production.
You can't really care about any of the characters - they are all too arrogantly self-obsessed - but there are two exceptions. Roxy's husband Amos (Adam Stafford) gained a few 'Ah's from the audience with his rendition of "Mr. Cellophane", unnoticed and invisible through life. Even his spotlight had difficulty finding him. There is, too, a chill in the air when Hungarian Hunyak (Miriam Elwell-Sutton) desperately pleads 'Not Guilty', her faith in the justice of 'Uncle Sam' sadly misplaced.
Any sadness however is soon dismissed as Kander and Ebb's music and humorously entertaining lyrics take over, the exuberant "Razzle Dazzle" followed by a quietly reflective song regretting the loss of "Class" between Velma and a golden-voiced Wendy Lee Purdy as Matron 'Mama' Morton.
That is perhaps the essence and triumph of the show - light and shade alternating - and always the music and dancing overwhelming any serious issues, with the cast doing full justice to Bob Fosse's stylised and stylish choreography, re-created here by Scott Faris. The orchestra, under the direction of Garth Hall, take up most of the stage and have their own eccentric style.
Despite his pleasant personality and infectious smile, Gary Wilmot convinces as the avaricious manipulative lawyer Billy Flynn, and one of the many high spots of the show, and very well played, is the journalistic interview with Wilmot acting as ventriloquist to Barton's 'dummy'. Wilmott holds the last note of "We both reached for the Gun" so long that the cast are desperately trying to hold their positions.
The first UK tour began in 2001, and often returns to the same venues year after year, yet still sells out each time - need I say more!
Touring to Manchester, Woking, Aberdeen, Milton Keynes and Southampton.
Andrew Edwards reviewed this production in Manchester
Reviewer: Sheila Connor