Chicago the Musical
John Kander, Fred Ebb and Bob Fosse
Sunderland Empire and touring
(2006)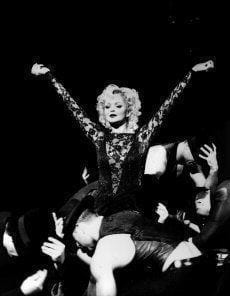 I have to confess that I am a great fan of this production of Chicago, which I first saw in 1998 in New York with the great Ute Lemper who created this production's Roxie Hart in the West End, and of Bob Fosse whose style the original choreographer Ann Reinking used. For this new 2006-7 tour that choreography has been recreated by Gary Chryst.
There have, if my memory serves me correctly, been some slight changes to the choreography but essentially the show remains as I first saw it: the same black box staging, with the band onstage; the same orchestration; the same costumes. Except for one change: for some reason Jennifer Ellison (Roxie) has been given a truly awful wig!
All that is left, therefore, for the critic to comment upon is how the current cast perform. As I have said often before, we have strength in depth in musical theatre in this country and I have yet to see a show in which there were weaknesses in the ensemble. This production is no exception: the fourteen-strong ensemble provide great support.
Jennifer Ellison and Dawn Spence (Velma Kelly) contrast well and the jealousy of each for the other is well shown. Ellison is less hard-edged than Spence - indeed, less hard-edged than previous performers I have seen in the role - which changes the dynamic of the relationship somewhat. Not better or worse, just different.
I was much happier with George Asprey's Billy Flynn than with the actor who played the part in the previous tour, John Altman. Although Flynn is devoted to one thing only, making money, there needs to be some surface warmth and attractiveness - in short, charisma - to explain his success with juries, and Asprey gives us this. Even we, the audience, are sometimes fooled by him!
With the rest of the characters (with the possible exception of Hungarian prisoner Hunyak) being utterly self-absorbed and, not to put too fine a point on it, unpleasant, the only one to benefit from an audience's desire to sympathise with and relate to someone is Amos Hart - easily manipulated, not very bright but essentially good-hearted. Dale Meeks makes the most of the character and even elicited a number of sympathetic "ahs" from the audience with his "little boy lost" look. All the more impressive because he is a big man!
With good supporting performances from Katy Secombe (Mama Morton) and M J Dugdale (Mary Sunshine), there can be no doubt that this cast will continue to please audiences throughout the tour, which lasts until September 2007.
Reviewer: Peter Lathan