Chicken Soup with Barley
Arnold Wesker
Nottingham Playhouse
(2005)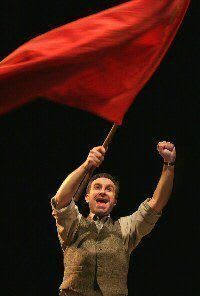 It was difficult to find out who was the more nervous: Arnold Wesker who admitted in the programme that he was "slightly dreading" being at a production of his seminal play; or the actors performing in front of the author.
You could understand Wesker's feelings because Chicken Soup With Barley is performed infrequently. But after seeing director Giles Croft's excellent offering, I was unable to comprehend why other theatres leave the script gathering dust on a long-forgotten bookcase.
Wesker intimates that it may be because Chicken Soup With Barley is about a Jewish family and Jews aren't very popular these days. But dismiss it for that reason and you're as anti-Semitic as the fascists of the '30s and '40s.
The play is about an immigrant family trying to become established in their adopted East End home - but it also catalogues the disintegration of the family over a 20-year period and how their communist ideals collapse in the ever-changing world around them.
Now, with a General Election only weeks away, Chicken Soup With Barley is especially topical.
The three-act play starts in 1936 with the Kahn family preparing to take to the streets to counter a planned anti-Jewish march organised by Oswald Mosley's British Union of Fascists. The family are excited as they join socialists, communists and Labour Party members who have running battles with the police.
They're all up for the battle apart from faint-hearted Harry who would rather read a book and have a cup of tea than face confrontation.
By act two (1946-7) Harry and his wife Sarah have moved to Hackney and are experiencing tougher times as Harry is struggling to stay in work while daughter Ada and son Ronnie have moved away to sort out their own lives.
The play concludes in 1956 after the Soviet invasion of Hungary. Harry has had two strokes and rarely moves out of his armchair while Ronnie, who had huge plans for himself, has become a cook in Paris - mirroring events in Wesker's life. Sarah is still a party member and fighting for the working classes. But by this time she's the only communist left in the family.
Harry, superbly played by Nottingham-born Simon Schatzberger, is transformed from a likeable idler into a shuffling, almost incoherent wreck.
Shona Morris is even more impressive as Sarah, the gritty, resolute mother whose answer to everything is to make a cup of tea. By the end, she really looks as though she's 20 years older, her movements becoming slightly slower as she has a slight stoop. She maintains her ideology right until the end; the final scene in which she tells Ronnie why you have to continue to fight for what you believe in is worth the price of admission on its own.
This really is a first-class production. Croft directs with panache and flair. Dawn Allsopp's set is evocative of the period and both homes come with non-matching armchair and settee. And at the start of each new act, Adam McCready's sound reminds you what was going on at the time. There's even the unmistakeable voice of Bob Danvers-Walker from pre- and post-war newsreels.
Occasionally there's a rogue accent and some of the pauses are a little Pinteresque. On the whole, though, Wesker must be delighted with this revival - the first significant UK staging of the play for two decades.
"Chicken Soup With Barley" runs until April 23rd
Philip Fisher reviewed this production on its transfer to the Tricycle, Kilburn
Reviewer: Steve Orme