Chigger Foot Boys
Patricia Cumber
StrongBack Productions with Tara Arts
Tara Theatre
–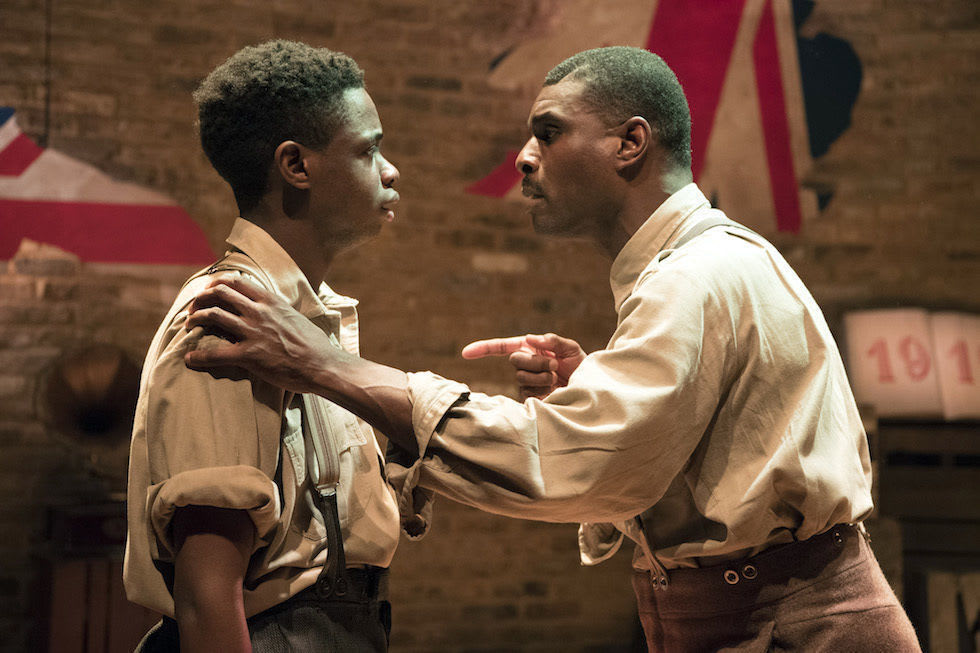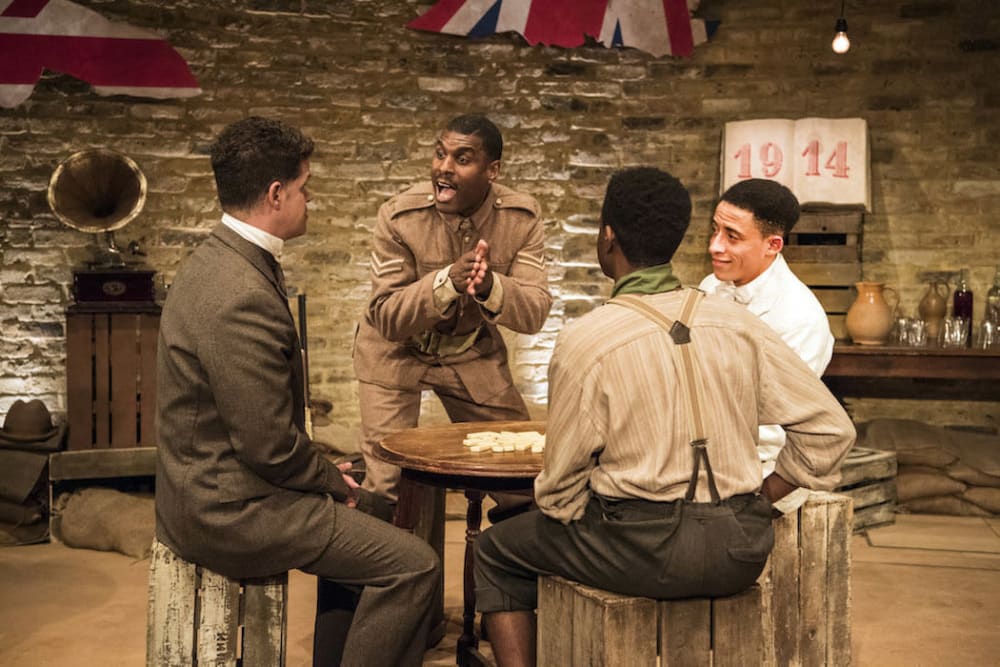 During the First World War, 15,600 men from the Caribbean served with the Allied Forces as members of the British West Indies Regiment. Two thirds of them came from Jamaica. As we continue to commemorate the centenary of that conflict, Patricia Cumper's new play is a reminder of that contribution from what was then a British colony, and of the way these volunteer recruits were treated.
It is set in a Kingston, Jamaica, in a rum bar near the harbour run by a woman called Medora. Here, a young country boy waiting for a boat back to Port Antonio meets up with an army corporal and a pair of brothers celebrating on the last night before the eldest sails for England to take up a place at Oxford.
It is 1914: rumour of European war is in the air but it is still in the future. From this stormy night with rain on the iron roof and thunder in the sky, the action keeps flashing forward to incidents in the conflict involving these men.
Though this is a work of the imagination, it is based on real events and carefully researched. The two brothers are Norman and Roy Manley, the first of whom, when colonial rule was ended in Jamaica, became its first Premier, introducing many reforms and improvements for its people.
A single act of 90 minutes gives little time for plot in the framing story beyond establishing the affectionate but strained relationship between Stanley J Browne's confident soldier Linton and Suzette Llewellyn's Medora who now has a liaison with a white man who has funded her business, contrasting town and country folk and establishing the Manley brothers' attitudes.
Director Irina Brown opens her production with the cast singing "Land of Hope and Glory" as they face the cut-out shapes of Jamaica and Great Britain, both striped with the Union Jack, encapsulating the respect the ruled had been brought up to give the Mother Country, an attitude not entirely reciprocated as later scenes will show as they are intercut with a domino game in which they all engage.
Ike Bennett, making his professional debut, gives teenage Mortise a lively innocence, his confidence partly bravado when faced with Linton's claimed superiority. There's a similar imbalance between the brothers: John Leader's Roy no fool while happily acknowledging his elder's intellectual attainment. As Norman Manley, Jonathan Chambers could possibly do with more projection and charisma, or is this more subdued presentation based on the real man's manner? While it may fit his mourning of his brother, a scene that seems to show his political awakening needs to be played more strongly.
Chigger Foot Boys does not bang on about colonialist attitudes and inequalities. Patricia Cumper makes her points through what she shows us, whether prejudices are based on town and country, on colour or on military rank. What holds attention is not so much the framing story as the revelations in the flash-forwards, each clearly identified by date as they move back and forth through time.
And the title? "Chigger foot" is a derogatory term formerly used for simple country folk, too poor to own shoes and therefore more prone to infestation by chiggers, a parasite that bores into the flesh. They were a source of cheap labour in Jamaica and of cannon fodder on the Western Front where they were used for menial tasks such as digging latrines like Mortie in this play who had patriotically joined up to offer his sharp-shooting skills. Black men were not made officers; Oxford-educated Norman Manley was a rare exception: he was made an honorary white man.
Reviewer: Howard Loxton