Children of Eden
Music & lyrics by Stephen Schwartz, book by John Caird
Sasha Regan for Union Productions
Union Theatre
–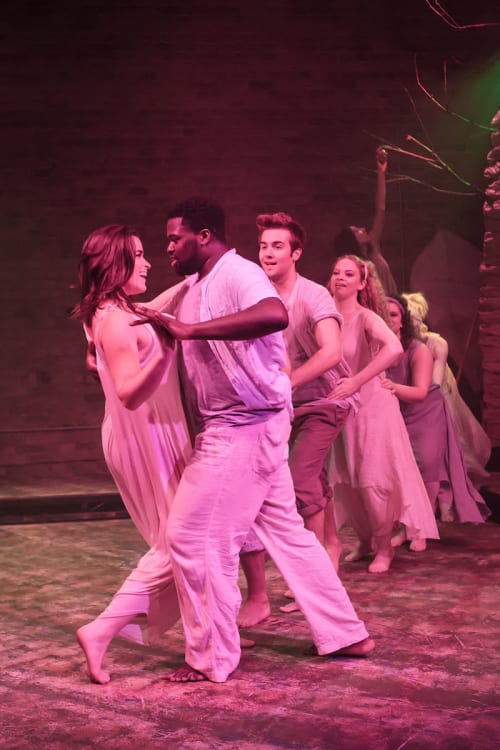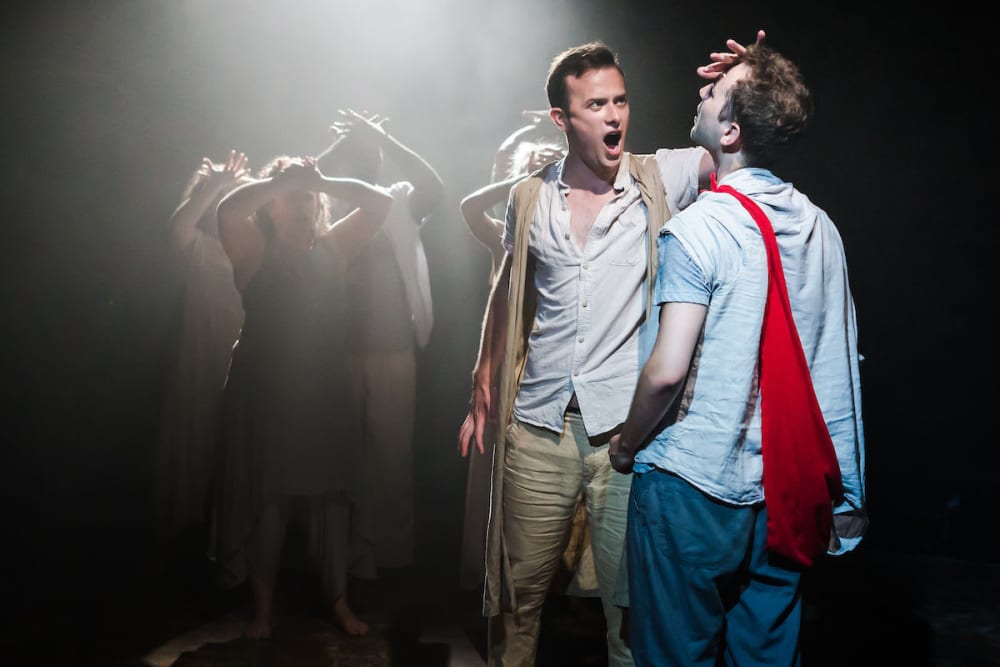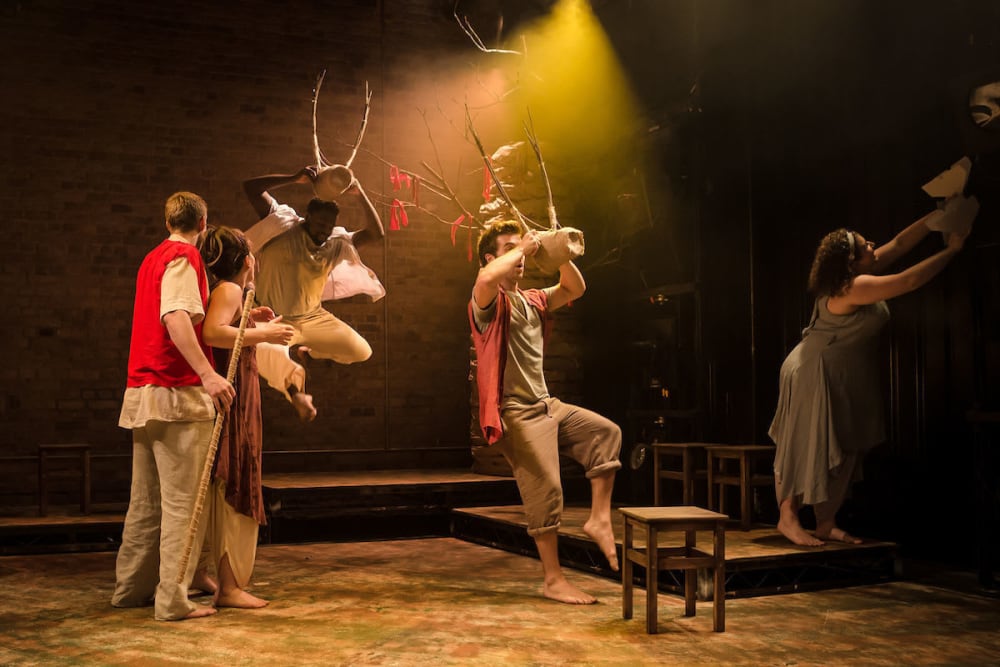 The original 1991 production of this musical, loosely based on the Bible stories of Adam and Noah, got poor reviews and ran only three months in the West End but this intimate revival, directed by Christian Durham, is delightful.
The first act goes from the Creation to the death of Eve and then jumps seven generations to open the second act with Noah completing the building of the Ark. It is a picture of God the Father not in the New Testament sense of the Trinity but as the primal parent. His creations never call him God but literally Father. Children of Eden is a picture of patriarchy presenting the same difficult relationship between parent and children for First Father, Adam and so down to Noah.
According to Wikipedia, the show is a favourite production for churches, synagogues and schools in America, which is rather surprising for this is a script that ignores many of the few facts given in Genesis and seems on the side of inquisitive humanity.
Having made Creation, this Father may tell it to "worship me" but he has made Adam and Eve as people to join in his games, people to play with, and with childish petulance packs them off when they won't play by his rules.
From the time Father issues orders not to eat fruit from one tree in the garden and Eve asks "If it's not good why did you put it there?" this is a Father who doesn't give answers.
Initially, He wants to expel only Adam, says He will make him a new better wife—but Adam won't part from Eve. His plans aren't working. "They will keep me company, they will keep me young" the Father sings when he has made them but by the time we get to Noah he admits he's got old.
In act II, it is the Father who, condemning a bloodline not individuals, seems to invent racism, it is the rebellious humans who show, yes: humanity.
John Caird's book doesn't attempt to solve the Biblical anomalies, such as where do Cain and Seth's wives come from? Cain sees other humans when he goes off exploring and so too does Adam, though he's kept it secret. Faith demands acceptance but the after-flood future seems to lie with those who ask questions. "You must be the Father now," Noah's wife tells him; humans must make their own choices.
This rethought family story boasts a rich score with a succession of joyous and touching numbers that range from ragtime and revivalist to canticle-like snatches and the hymn-like title song "Children of Eden". Its cast of 11 and a band of 4 give it as much energy as any large-scale production, probably greater clarity, and sing strongly throughout.
At first, the choral opening of "Let There Be" swamps Joey Dexter's Father but his performance soon grows in strength and stature, a steely-eyed characterisation. Stephen Barry's obedient Adam and Noah have an appropriate edge of intimidation while Natasha O'Brien's Eve and Mama Noah is confidently confrontational.
A fresh and wide-eyed Abel and then Ham, Daniel Miles also adds sparkle to the ensemble and Guy Woolf follows his adventure-seeking Cain with a gentler romantic Japheth, while Kris Marc Joseph completes the family as Seth and Shem.
Samantha Giffard and Susie Chaytow play Ham and Shem's ark wives and Nikita Johal gives Yonah, Japhet's Cain-marked beloved, the submissiveness that all these fathers want, though in "Stranger to the Rain," singing about her situation, there is a hint of resistance.
Verity Burgess leads the company in Lucie Pankhurst's lively choreography, especially joyous with the introduction of the animals and their naming and then their arrival at the Ark. Designers Kingsley Hall and Darcy Collins have created an imaginative menagerie, that are a particular delight, and juvenile figures for Cain and Abel that the company handle to great effect.
Gabriel Mokake is a slinky, sinuous Snake, tempting Eve in "In Pursuit of Excellence" and adding a rich African sound to the storytelling ensemble, especially in the second act opener "Generations".
This version of Children of Eden differs from that of the original staging. Schwartz and Caird's changes may have just made it better but this chamber treatment works and perhaps the straightforward honesty of what the work offers is better matched by a simple and intimate production.
Reviewer: Howard Loxton