Children of Darkness
Edwin Justus Mayer
Essential Theatre Company
Leicester Square Theatre
(2010)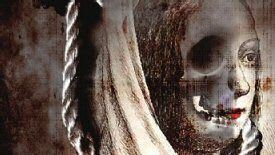 Words, words, words, talk, talk, talk, cant, cant, cant. Edwin Justus Mayer (1896-1960), the American playwright, is a wordmonger, to put it mildly; and his play, set in Newgate Prison, is written in the over-flowery manner of the early 18th century.
Newgate Prison (which stood where the Old Bailey Courts now stand) has been the inspiration for good dramas, such as Daniel Defoe's Moll Flanders, John Gay's The Beggar's Opera, William Hogarth's paintings and Charles Dickens's novels, including Oliver Twist, A Tale of Two Cities and Great Expectations.
Mayer is the author of The Firebrand, generally thought to be his best play, and some 47 screenplays. He worked with the great comedy director Lubitsch and most notably on To Be or Not To Be, the 1942 film set in wartime Poland with Jack Benny and Carole Lombard.
Children of Darkness had its New York premiere in 1930 at the height of the Great Depression. It was successfully revived in 1958 with the young George C Scott and the young Coleen Dewhurst, his future wife.
The plot is based on Henry Fielding's The Life of Jonathan Wild the Great, a satire published in 1743, which drew parallels between the infamous thief, thief-taker and organised crime lord Wild, and the infamous and eminently corruptible Prime Minister, Robert Walpole.
The play is set on the eve of Wild's execution in 1725. His hanging at Tyburn (near modern Marble Arch) was one of the big box-office attractions of the decade. The public turned up in vast numbers to see him swing - just as they had done the previous year for Jack Sheppard, another notorious thief, famed for his amazing multiple escapes.
Mayer's prison inmates include a Count, played by Ashley Gunstock, a young poet played by David Eaton, and a Lord, who has murdered his wife and his wife's bastard son (the role which won George C Scott an Obie), played by Joe Shefer.
The three men (well acted) want to bed the chief jailor's daughter. Meanwhile, the jailor (Don Cotter) wants to trick Wild into giving him £300 by making him believe he can get him a last-minute reprieve from the gallows
Children of Darkness is a curiosity and one which only the very curious will want to see. It is essentially a period conversation piece and it really does need the full 1720s costumes, wigs and make-up to justify its revival, an expense director Eric Richard and the Essential Theatre Company obviously cannot afford.
Reviewer: Robert Tanitch