Childsplay
Created by Rachel Grunwald & Helena Thompson
S.P.I.D.
Normand Park, Lillie Road, London, W14 9PA
(2011)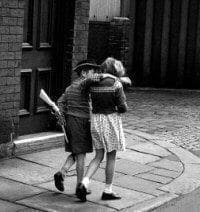 Described as 'an interactive journey through outdoor games across the ages', Childsplay is indeed just that: an outdoor promenade played on the grass and play areas of this small north Fulham park.
It is performed by an engaging group of talented and enthusiastic young actors (Nicholas Ako, Josh Allen, Aaron Gordon, Natasha Hill, Jamie Oliphant) who seem prepared to risk if not life certainly limb in the vigorous physicality of their playing. (There was an injury already at the first performance and contact with the hard asphalt surface of a basketball/football pitch must have given others at least bruising!) .
Taking their audience on a trip like a set of airline stewards, complete with safety instructions indicating exit routes, and issuing a set of headsets to complement their own performances, they rapidly engage each one of us, making spectators into participants.
Decade by decade, from the 1950s to the present day, they explore the games that children might have played, recreating many of them before our eyes, and often look back further through the centuries sharing information about a particular game's predecessors and their origins.
Cued by the cast, each member of the audience plays a synchronised soundtrack that may provide an appropriate musical and effects background that matches the cast's physical action together with a montage of interviews in which local people of varying ages describe the games they played when they were young.
What did you play when you were young? You get the chance to demonstrate your favourite skipping pattern or singing game and everyone joins in for games of marbles, 'French and English' or bowling hoops with an invitation to participate in others too. In the audience I saw it with, participants from seven to seventy were all having a great time, myself included, and I'm sure everyone came away with things they did not know before.
It is not in any ordinary sense a play, though the cast are playing characters not themselves, and I suppose you could call it a sort of illustrated lecture - but what an entertaining one! There is nothing boring about this show; it will keep you happily involved for all its 80 minutes.
If it is as cold as it was today you'll need to wrap up warmly, though there is a thermos of hot tea to counter any chill afterwards, when you will also get a chance to record your own memories of childhood play and add to the research this project has already collected.
Plays Saturdays and Sundays only at 12 noon and 3pm until 13th February.
Book through Riverside Studios.
Reviewer: Howard Loxton