The Chinese State Circus
The European Entertainment Corporation under license from The Gandey Organisation.
Derngate Theatre, Northampton, and touring
(2008)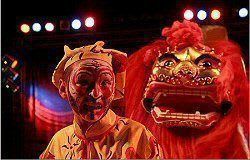 For fun, skill, amazement and pure amazement, the Chinese State Circus at the Royal and Derngate comes highly recommended.
A family show which is led by an impish monkey character, who dances around the stage showing great athleticism and energy, this is a circus that blends the traditional with new styles, a theatrical, dramatic performance that presents outstanding artistry.
With the Olympic year upon as and obviously so important to the Chinese, this show seemed to be a presentation of the excellence and ability of the native performers. There were a collection of cultural references that almost gave this Circus an educational edge, a Chinese cultural history lesson if you like. This for the most part worked well, though only just - much more may have tipped the balance.
The real joy came in the various 'acts.' The incredible plate spinners (a Chinese tradition, we were informed) balanced and juggled a collection of pottery as they adapted their bodies - even walking on top of each other's heads at one point.
This was followed by a performed who juggled a huge clay plot. This drew gasps of expectation and excitement from members of all ages in the audience. His incredible skill seemed to belie the laws of gravity as he made the hard pot seem soft.
There seemed to be a 'wow' factor with every new act and as much as you tried to act adult and cynical, the circus soon drew the child and the wow from you. The contortionist turned and twisted her body into every shape imaginable - some ugly, some beautiful, all quite extraordinary.
These were performers at the top of their game - masters of their trade. The strength and endurance from the Shaolin Wu-Shu Warriors, for example, was admirable - a collection of committed athletes performing dangerous tasks including breaking bricks and metal rods over their heads.
What made the show special was the variety of the acts. The Lion Dance, for example, at the end of the first act was comic, bright and theatrical - using brilliant, man-size costumes with wide-eyed lions coming to life that made wide-eyed children squeal with delight. They were expressive, loveable puppets and added a theatrical influence to the production.
As mentioned there was emphasis on the Olympics and this was clear in the hoop diving, swinging poles and 'Olympic nation' finale. The fitness, timing and physical ability/agility of the performers was supreme. The Sensual Silks, an aerial acrobatics act that combined traditional skills with a modern twist, was performed with expert conviction.
A brilliant performance, a skillful circus that not even the sickly, slightly kitsch singing finale could ruin. I would highly recommend the Chinese State Circus to anyone, young or old who wish to see a high quality International circus.
Touring to Swindon, Douglas (IoM), Liverpool, New Brighton, Knutsford, Rochdale, Wakefield and Huddersfield
Reviewer: John Johnson