Chippy
Joe Bennett
East Riding Theatre, Lyttleton Arts Factory
East Riding Theatre
–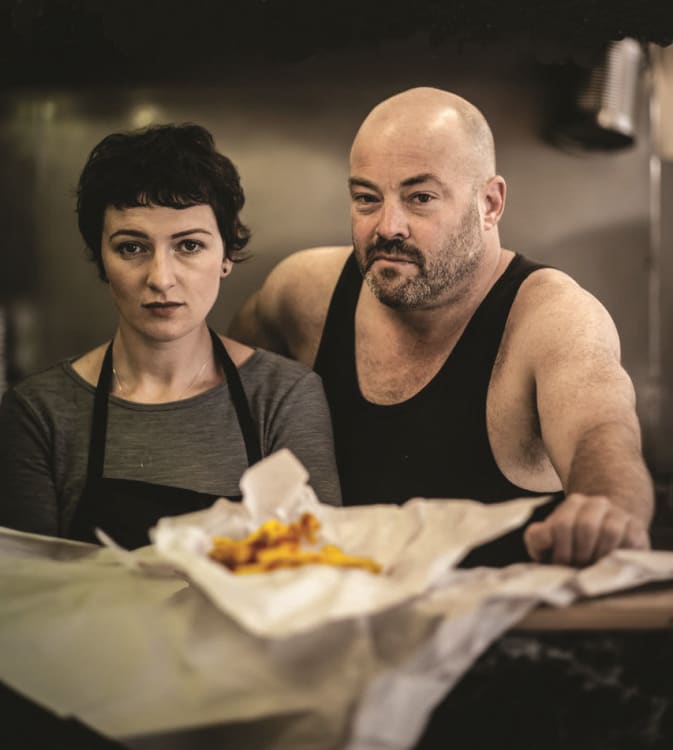 The latest production from East Riding Theatre, Chippy by Joe Bennett, is a joint venture with the Lyttleton Arts Factory in New Zealand. Over the last four years, the two relatively new theatre companies have formed a relationship which enables artists to work in each other's regions on specific projects. Hence we have the first version of the play, set in Beverley and co-directed by ERT Artistic Director, Adrian Rawlins and LAF Creative Director, Mike Friend. Next year, the piece will be performed in New Zealand.
Mack and Beth, lovers of jazz and each other, run the second best (out of two) chip shop in Beverley. Mack is happy to carry on, but Beth feels her life is being wasted. The ailing owner, Duncan—an unseen presence—periodically knocking for attention from the upstairs room, has left no will. When he dies, apparently of natural causes, Mack is devastated but Beth relieved. However, their dilemma arises when they receive the good news that they have won The Golden Chip award: Yorkshire's finest chip shop accolade. If they have to leave the shop, they can't enjoy the spoils from the increased business the award brings.
In the roles of Mack and Beth, Tom Trevella and Hester Ullyart convey the frustrated passions, anxiety and ambitions of a couple who yearn for more than their fates have offered. The portrayal of their strained yet mutually reliant relationship is far and away the best part of this production.
At the moment, Chippy feels like an idea that is still in development. The obvious links with Macbeth seem contrived and forced rather than germane to either situation or characters. If we're delving into the world of vaulting ambition, superstition and murder, suspense needs to be woven far more into the structure of the play and its pacing. The first act is too long and ponderous, the second, whilst much better, shifts uneasily between farce and self reflection. The movement sequences, whilst well executed by the actors, seem 'stuck on' to the situation instead of arising from it.
Fundamentally, Chippy feels like a play at war with itself, unsure whether to fulfil the remit of a dark farce on the one hand or a tragedy on the other. That it succeeds in being neither should give the creative forces behind it reason to pause; there is huge potential here but much work needs to be done before it moves to the Lyttleton Arts Factory next year.
Reviewer: Richard Vergette