Chitty Chitty Bang Bang
Ian Fleming, book and lyrics by Richard M. Sherman and Robert B. Sherman, adapted for the stage by Jeremy Sams
New Victoria Theatre, Woking, and touring
(2009)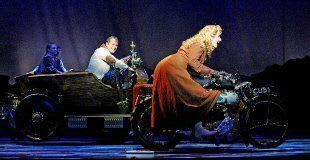 Good all-round family entertainment is no way to describe this show - although that is exactly what it is - but presented, performed and staged with zing, pizzaz and exuberant joy, together with technical expertise, attention to detail and perfect timing, it becomes a thing of wonder and a joy to behold.
Under Adrian Noble's direction this fast-paced show runs like well-oiled clockwork - but definitely not the Emmett inspired clockwork of Caractacus Potts' hair cutting machine which is happily bought by a turkey farmer (name of Matthews) as it will kill, pluck and cook all in one operation. You can imagine that the man who first tried it was not best pleased.
Everyday life is here in a very pantomime style setting - a single father trying to make ends meet, two young children missing their dead mother (somehow avoiding over sentimentality, despite the lullaby "Hushabye Mountain" as they drift off to sleep), dealing with bureaucracy, and a family pulling together to overcome all obstacles.
The star of the show, however, is very definitely the car. Beginning as a battered old wreck where the children play, Caractucus magically transforms it into a machine that even Fleming's James Bond would have envied, and complete with AA badge, just in case! It floats, it flies, it practically answers to its name, and the Baron of Vulgaria (Edward Peel) just has to have it for his toy collection and details a couple of spies to steal it. These two, Nigel Garton and Richard Ashton, are a comedy double act in true Vaudeville style, their ridiculous antics a delight to the children, while subtly slipping a few more adult jokes, although nothing risqué.
No expense is spared in a lavish production whose constantly changing scenes are stylishly imagined by designer Anthony Ward, with equally ever-changing costumes matching the mood or theme of each scene. David Morgan's choreography too is appropriate for each venue - clockwork precision for the workers in the Scrumptious sweet factory (girls in candy-striped dresses), joyfully energetic for the fairground setting of "Me Ol' Bamboo", while the wicked Baroness who hates children can manage an equally wicked Salsa with full and exotic backing accompaniment. The Baroness is Kim Ismay, her very expressive features showing every emotion - to hilarious effect.
Darren Bennett is a very likable, cheery, friendly Caractucus and the two children, Josie Griffiths and Anthony Jenkins, are amazingly natural in their roles for ones so young, with the former in particular appearing totally at home on the stage. The singing voices of these two blend most beautifully.
The love interest is Truly Scrumptious, very much a happy, healthy girl-next-door type, although very probably an heiress which could come in useful in the circumstances. She is played with delightful freshness by songbird Rachel Stanley.
The enormous cast - more than thirty strong, not counting the multitude of children - are accompanied throughout by an almost equally large orchestra - not to mention packs of assorted dogs who surprise everyone as they rush on and off, with Chocolate Labrador Edison making his stage debut, and as Chitty flies off into the distance, with its passengers happily waving, we know that good will triumph over evil, injustice will be reversed, there will always be a happy ending and all's right with the world ---- at least until we read the papers tomorrow morning!
Touring to Aberdeen, Glasgow, Stoke-on-Trent, Oxford, Bristol, Nottingham, Milton-Keynes, Wimbledon, Southampton, Manchester, Edinburgh, Hull, Liverpool, Dublin, Belfast, North Wales, Northampton, Bournemouth - and finishing in Southend on 20th November, 2010.
Reviewer: Sheila Connor