Chitty Chitty Bang Bang
Music and lyrics by Richard M Sherman and Robert B Sherman; adapted for the stage by Jeremy Sams, based on the MGM/United Artists motion picture, from the story by Ian Fleming
Theatre Royal, Norwich
(2009)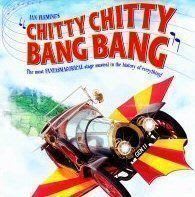 "The most fantasmagorical stage musical in the history of everything!" They set their target pretty high with that one, but there are moments during this show when you think you might actually be watching one of the great feats of theatrical achievement. One is made to think of those poor Victorian melodrama actors who were so often killed on stage by whatever contraption was trying achieve an illusion on stage: vast sheets of mirror, hung to make ghostly reflections, treadmills for horses to gallop on - which would break down and the send the horse and its rider crashing off stage. And explosions so many explosions. Irrelevant of what ever else you may think of Chitty Chitty Bang Bang, the fact they could make a show about a flying car is in itself an achievement.
But the rest of it? Well, the songs are well known and right from the off it's great to be part of an audience who know what to expect and are looking forward to it. They sing, they clap, they have a lovely time. I haven't seen the film since I was very little and couldn't remember much of the story. As a result I was surprised at how young an audience it was meant for, and yet this felt like quite a grown up musical. Its not strictly a kids' show, but it really is silly. The comedy double act - Goran and Boris - are real end of the pier stuff.
The big dance numbers do exactly what they say on the tin, and none of the songs are sickly sweet enough to be off-putting, nor are they great star turns. Again, they move things along nicely and the cast are all strong and not at all showy. And the kids as the Potts children (Eleanor Shaw and Anthony Jenkins when I saw it) were great. Headmics will always be an issue - not coming up at the right time and frankly not being good enough, but I suppose you have to live with it. It's so great to see a touring show with a full orchestra instead of a CD that the atmosphere was there anyway.
But for me the winner of this show was the design. Both costume and set were scene after scene brilliantly imagined and realised. The Vulgarian court, with is S.S. style flags, the eastern European village scenes, the sweet factory, the Child Catcher's horrible outfit - all made for some breathtaking visual moments, and combined with excellent directorial tricks brought more humour and depth to the piece than the story alone.
But the car It's all about the car. I remember very early in the West end production when the car broke down it made the news in London, and ever since then I have wondered what all the fuss was about. But last night I saw a car take off and fly in the theatre. I have no idea how, and after I'd stop trying to work it out I just accepted it, and sat open mouthed, ever so slightly teary, as everybody around whooped and cheered. I was a child in awe every time it took off. And that, however old you are, surely is the point.
Until 5th September, then around UK until July 2010
Reviewer: Henry Layte