Children of Hercules
Euripides, in a new translation by Kenneth McLeish
The Steam Industry
The Scoop
(2005)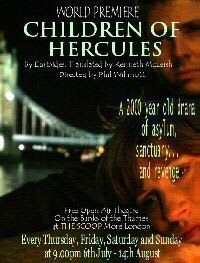 A careful search of the London theatrical archives suggests that this open-air production by Phil Willmott for The Steam Industry's summer season could well be the London premiere of Euripides' short but gripping tragedy Hercules' Children, written a year after the prize-winning Medea, and first staged in the early days of the Peloponnesian War, around 430 BC.
This is certainly a world premiere for the late Kenneth McLeish's audience-friendly translation, lending the tragedy a powerful contemporary resonance. It shows the ancient Grecian dramatist dispensing with those tedious classic choral interventions and getting to grips with ordinary human passions and frailties, but also revealing women of intelligence and strong character, prepared for self-sacrifice or revenge.
The reference books tell us that Euripides wrote it as a reminder of the gratitude due to Demophon, king of Marathon, who gave asylum to Hercules' orphans when they were being hounded across the Greek peninsula by Eurystheus, the brutal king of Argos.
But in this version it also becomes a theatrical cliff-hanger, leaving the audience to deliver the coup de grace to a villain already condemned to death by Hercules' mother, here played with vengeful spirit by Ursula Mohan.
This late night sixty-minute show with free admission, plays in The Scoop, a 'brute modern' amphitheatre, a hole in the ground alongside London's City Hall and within eye view of Tower Bridge. And as the riverside lights begin to twinkle at sunset the area is swept by down-winds from the building above, blowing clouds of dry-ice across the performing space.
Stepped stone seating is relieved by thin foam cushions on hire along with the programme sales. No need to book — the only problem is finding one's way to the venue from nearby Tooley Street with its limited on-street parking.
That said, the staging and performances are totally gripping. Willmott himself portrays an urbane, modern-dress Demophon whose preference for fair play and democratic decision-making becomes a stumbling block when dealing with the capricious Greek gods and the warlike threats from Argos.
Finally, after his communing with the soothsayers in the Temple, dominated by glamorous Ally Holmes as the dark-voiced spokeswoman for Zeus, the fates are sealed. The gods will agree to his giving asylum to Hercules' surviving youngsters. But in return they demand the sacrifice of a high-born virgin, a place readily taken by Kerry Skinner's Makaria in a passionate performance strongly reminiscent of last year's Iphigenia at the National Theatre.
A touching portrayal comes from veteran actor Robert Donald who plays Hercules' best buddy Iolaos. He gave a helping hand with the twelve famous Labours, but is now an old man acting in loco parentis for the displaced family, while preparing to gird his loins to join battle with the enemy.
And without giving away too much of the plot it is fair to mention that, in answer to a prayer, Iolaos is magically rejuvenated to launch one last gallant assault on Eurystheus (Stewart Alexander), a figure of terrifying power, in hand-to-hand combat using staves, tricks and kicks, thrillingly choreographed by fight director Marcello Marascalchi.
Willmott's staging gives the piece a gritty sense of classical authority, which for Euripides completists will make the show a must. But on a warm summer night it's also an absorbing way for adult audiences to pass an hour in the company of a 20-strong troupe of skilful actors strutting their stuff on a bare platform by the light of flambeaux and discreet theatre lighting.
Performances of 'Children of Hercules' (playing in repertory with 'Treasure Island') take place each Thursday, Friday, Saturday and Sunday at 9pm, until August 14th.
Reviewer: John Thaxter