Chouf Ouchouf
Zimmermann & De Perrot
Groupe Acrobatique de Tangier
Queen Elizabeth Hall and touring
(2011)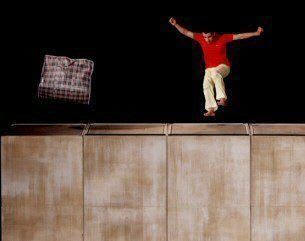 Chouf Ouchouf is a transliteration of the Arabic which means "Look, and look again" and this is a physical theatre show that makes you watch intently. Swiss team Dimitri de Perrot and Martin Zimmermann have created a format that showcases the acrobatic skills of this Moroccan company of twelve and frames them with an evocation of the vibrant life on the streets and in the souks of the city of Tangier.
There is music and song, a lot of humour and movement that occasionally breaks into dance. The scenery, consisting of tall mobile towers that form a wall or separate to line a street, become Tangier's rooftops or turn to become vendor's stalls, is beautifully choreographed and wittily used to create some of the show's most delightful and clever effects.
There is a warm-up session going on as the audience assembles, everyone in blue exercise outfits, their somersaults, back flips and cartwheels already impressing the audience, but when the lights go down and the show proper starts they reappear brightly clothed, the men at first bare-chested, with colourful costume changes taking place as the moving wooden towers mask them from sight.
This would be a pleasant show to watch even without the company's acrobatic skills. With them it becomes riveting. Their pre-show feats are nothing to what follows as they move things up notch after notch, sometimes highlighting a particular performer's talent but almost always working as a group as they build pyramids of people, spin in the air between other lines of movement, perform prodigious balances and gyrations, fall from the heights to be caught by their colleagues or rise high in the air from a cloth held by the others that serves as a trampoline.
One man will circle the stage in alternating cartwheels and somersaults with the speed, energy and grace of a ballet dancer doing those jetés and tours en l'air in Le Corsaire. Another turns a handstand into a sinuous display of muscular movement and then rigid balances that seem unsustainably controlled. One chap delightfully sends up muscle freaks by showing off some pectoral popping.
These aren't acrobats saying aren't we amazing, more people showing off a little to friends. There is none of the artificial glitter and body-hugging Lycra leotards of the traditional circus troupe. From baggy shorts to hijabs, baseball cap or fez, this feels like street life, they are not trying to be glamorous and show-biz. A mixed bag of ordinary people, not especially handsome, some better looking than others, but all, even the lugubrious fellow on the banjo, almost all of what the do demonstrating their dependence upon and trust in each other exuding a friendly warmth. Chouf Ouchouf is a show for all ages to enjoy.
At QEH until 25th April then: Hall for Cornwall, Truro 28th/29th April, Nuffield Theatre, Southampton 2nd - 4th May, Corn Exchange, Brighton Dome 7th - 9th May, Norwich Theatre Royal 13th/14th May 2011
Reviewer: Howard Loxton