A Christmas Carol
Lou Stein, music by Dave Carey and lyrics by Lou Stein
Chickenshed
Chickenshed
–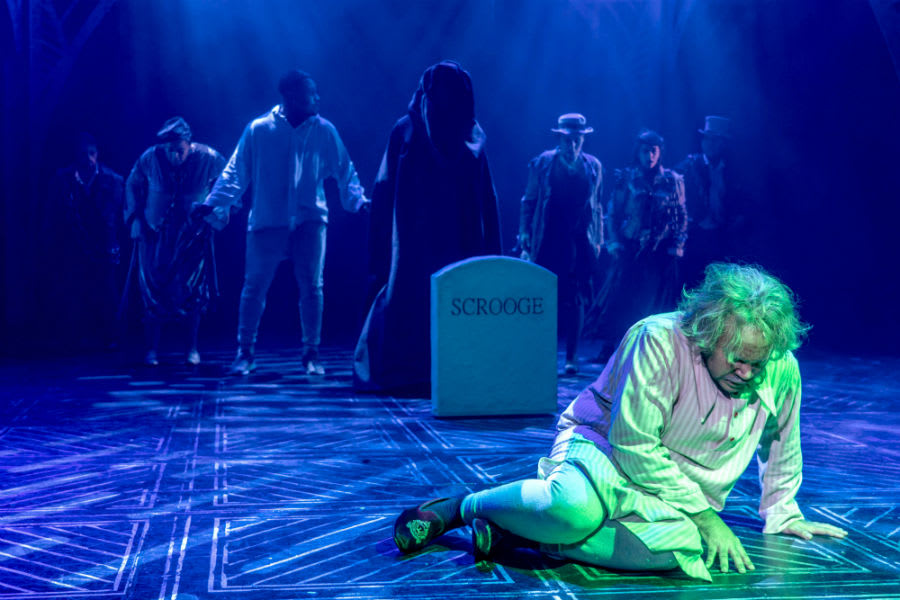 Scrooge peddles furiously past a very modern-looking city skyline. This is the 1930s and change is in the air.
He can see it in the workers protesting, their fists clenched upwards, the women buoyed up by winning the equal right to vote, now marching with a demand for equal pay.
None of this shakes the resolve of Scrooge, proud that his high rag trade profits pay low wages.
Ashley Driver gives a scowling, often humorous performance as the no-nonsense boss brought to his senses by ghostly visitors in the night.
To one of them he says, "you're quite cheeky for a ghost."
Even so, they begin to have an effect as he is taken into a past where his earlier self enjoys the very festive party of his former employer the amiable Mr Fezziwig (Bradley Davis), where women in the green sash of the suffrage movement rub shoulders with workers and men in black dress suits.
The clincher is of course the terrifying figure of the silent Ghost of Christmas Future (Will Lawrence) who shows him a world where he has died, mostly unloved, with the poor selling off his belongings.
And if that section is mostly gloomy with people in the street talking about Hitler and a possible war, it opens with some remarkable upbeat marchers asking in song, "whose side are you on" and insisting we "stand up for what is right."
They too will shape the Scrooge who wakes on Christmas morning to a world he decides to change.
The distinctive architectural style of the set is Art Deco and the warm engaging music of 1930s jazz is dotted across the show with the ghost of Marley (Paul Harris) singing to Julian Marc Stringle's fine saxophone.
If jazz is dominant, there are also other forms of music including some funk from a lively carpet that suddenly springs to life and a very moving performance by Ramona Isaacs of "Belle's Ballad".
Perhaps most remarkable are the choral harmonies of nearly two hundred young people in the yellow rota (there are three other rotas to be seen on other nights) whose striking choreographed scenes alone are worth the trip to the theatre.
And it all works its magic on Scrooge who decides to be generous to his employee Bob Cratchit's (Finn Walters) family of over twenty singing children and agrees to spend Christmas with his nephew.
He even announces he will pay women and men the same wages.
Now that does take him ahead of his time. And why not? This is a Chickenshed Christmas Carol.
Reviewer: Keith Mckenna