Christmas Crackers
Tamsin Daisy Rees / Henry Lawrence / Olivia Hannah / Jamie Morren
Live Theatre
Live Theatre, Newcastle
–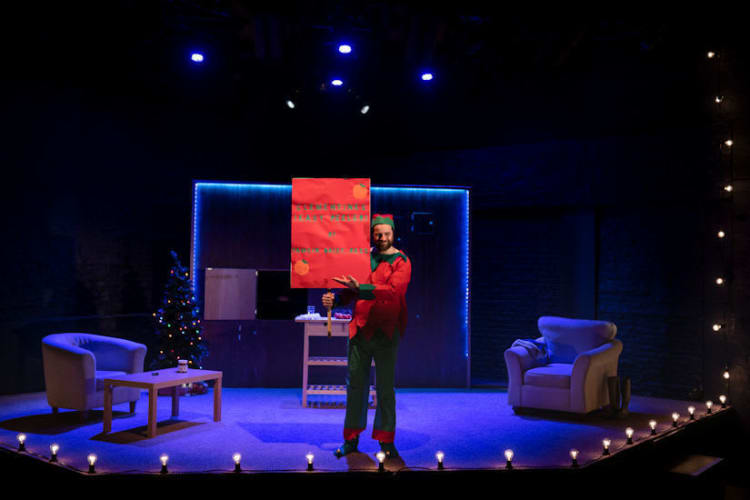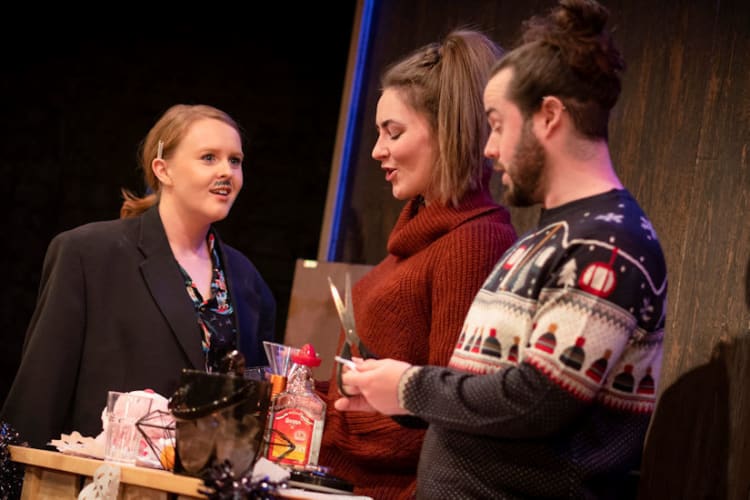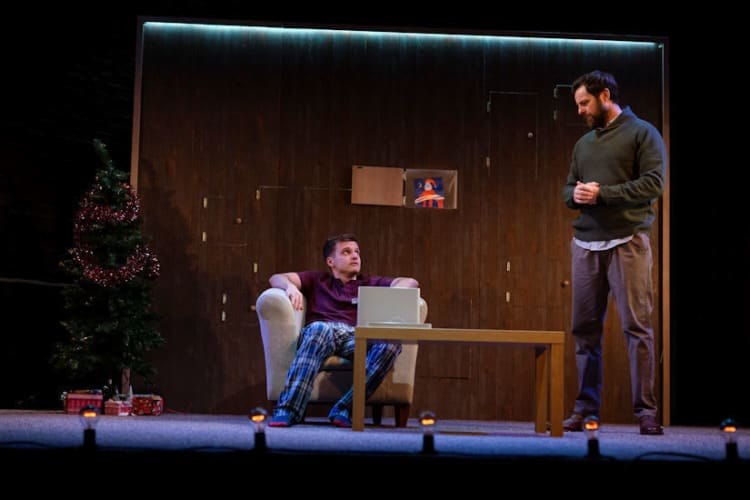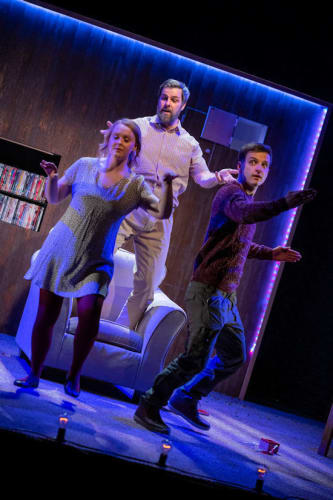 I shall resist the temptation. I know it's approaching Christmas but bad jokes and even worse puns are the province of panto, not straight theatre, so I shall not say that this is a real cracker of a Christmas show. Definitely not!
Although, actually, it is.
Christmas Crackers is four short plays by four young Live Theatre Associate Artists, performed by a group of five actors under the direction of Artistic Director Joe Douglas or Creative Producer Graeme Thompson. Each play is Christmas themed, although they are rather more realistic (shall we say?) than the jolly happy merry Christmas of popular myth.
Each audience member is given a programme as they enter but to make sure there's no misunderstanding about what we're watching, a rather grumpy looking Christmas Elf, occasionally forcing a smile, parades across the stage holding up a sign giving title and author, rather in the style of the old time boxing ring where a glamorous young lady would walk around with a sign telling us what round it was. For some reason that glamour seemed to elude Micky Cochrane, our helpful elf.
Clementines (Easy Peeler) by Tamsin Daisy Rees
Joe Douglas directs Katie Powell (Tess), Sam (Dale Jewitt) and Charlie (Sarah Balfour) in a story of three siblings preparing to go out to the school Christmas show that Charlie, already in costume—a jacket which is far too large for her with moustache painted on her face, looking like a rather comic Adolf Hitler—is to perform in but things keep getting in the way, things like squabbles and unexpected revelations.
It's a good piece to start with because it is very funny—in fact, hilarious at times. But it also has a lot to say about families, especially the young, and their relationships.
Grounded by Henry Lawrence
A two-hander, directed by Graeme Thompson with Daniel Watson as Eddie and Micky Cochrane as his father Martin, Grounded is a more serious piece but not without humour. There's been a bust-up at home and Eddie, sulking outside, has found a pigeon with an injured wing near a chippy and has brought it home in a chip box. He's called it Chips.
Dad discovers this. Might it be a means of healing the rift or the cause of further strife? No spoilers here but neither Sellotape, staples nor glue seem to Martin to be the way to heal a broken wing.
It's a nice contrast to the hilarity of Clementines but both share the same serious focus on family relationships.
Home for Christmas by Olivia Hannah
He (Dale Jewitt) says he really is Santa but Amy (Katie Powell) reckons he's just a homeless beggar and she doesn't see why he should be allowed to gatecrash the party, even if it is Christmas. But it's hardly the happiest of Christmas parties anyway. There are so many undercurrents going on between Amy and the others (Sarah Balfour as Lex and Daniel Watson as Jack) and Lex's potent punch is certainly not going to help. But no one could expect…
(I'm not going to tell you—I don't want to spoil it—but what a surprise!)
Graeme Thompson directs this very funny and perceptive play about relationships.
Marbles by Jamie Morren
Morren's play, directed by Joe Douglas, uses all five company members. Although not without some (wry) humour, it is a serious and moving look at relationships, memories and nostalgia, that way of looking at the past with the feeling that things were better then, that now doesn't quite live up to what has been or to what we hoped it would be.
Marbles are, in fact, a very apt metaphor, for these little (and sometimes not so little) balls of glass and the games played with them call forth such memories for those, like Grandad Pat (Micky Cochrane), of a certain generation—remembrance of things past and all that they meant...
Four plays inspired by Christmas, each taking a different viewpoint and leading us on different, albeit in some ways quite similar, emotional journeys, performed by an excellent company of five who squarely face up to the challenge to their versatility and succeed.
Nice work, too, from the directors and the rest of the creative team. And who would ever expect to see an acknowledgment to "Laura's Fish and Chips (Whitley Bay)" and to "Mr Thompson's Wardrobe" in a theatre programme? Somehow that just seemed to me to reflect the light and friendly atmosphere in the theatre. Happy Christmas indeed!
Reviewer: Peter Lathan