Christmas with the Hobs
Becci Sharrock, music by Bridie Jackson and animation by Sheila Graber
Alnwick Playhouse, Maltings (Berwick) and Queen's Hall Arts (Hexham) with CaroleW Productions
–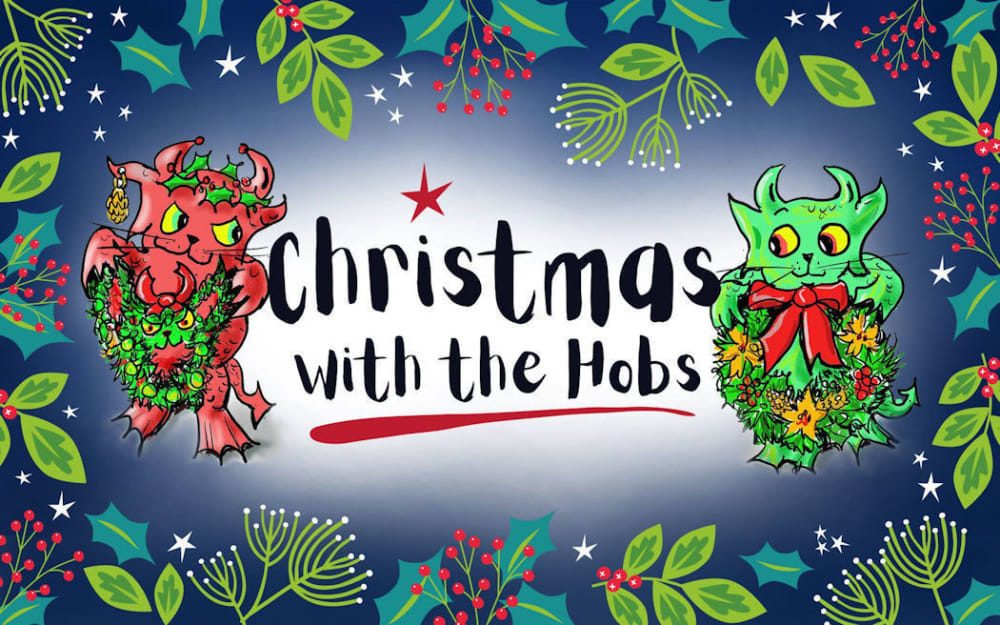 There's something old-fashioned—in the very best, reassuring sense—about this Christmas animation for children: a warm, comforting story about what is truly important about Christmas.
It's Christmas Eve and Tyler (voiced by Joseph Casling) and Eliza (Jude Nelson) are waiting at Nana's (Jacqueline Phillips) for Dad (Lewis Jobson) to come from work at the old people's care home to take them home so Christmas can really begin. But there's a problem! Dad phones to tell them that there's a shortage of staff and he is going to have to do an extra shift, so they'll have to stay at Nana's overnight.
Disaster! There's no tree, no decorations and, worst of all, no presents in the morning if Santa doesn't realise they are there!
I'm not telling any more of the story except to say that the answer appears in the form of two tiny characters, the Hobs, magical creatures who are definitely not Elves. Oh, the glimpses we receive into the politics of Christmas! Did you know that the Elves ruined Christmas? The Hobs—Naughty (Lewis Jobson) and Nice (Viktoria Kay)—help the children rescue Christmas.
And I am not spoiling anything by saying that everything turns out right in the end because it's a Christmas story so of course it does!
Clearly, Becci Sharrock's story is aimed at children of primary school age who will find it absorbing and entertaining—and no doubt would love some Hobs of their own. And Bridie Jackson's music, which consists of new songs as part of the story (words on-screen so the audience can sing along) and almost ethereal versions of much-loved Christmas Carols, adds to the enjoyment.
I'm no expert on animation (understatement!) but I found the technique that Sheila Graber uses here unusual and compelling. Working from a shooting script, she took photographs of each scene, worked on the pics with pen and black ink, and animated by zooming, tracking and cutting.
In these stills, the 'actors' are Daisy Hymers (Eliza), Henry Macdonald (Tyler), Nana (Jen Miller) and Dad (Grant Macdonald). The Hobs, however, are traditional animations and Graber's impeccable technique means that the realism of the photographs, tempered by the pen and ink additions, blend seamlessly with the detailed drawings.
As I say, it's a technique new to me but it's one which I really enjoyed.
Reviewer: Peter Lathan