A Christmas Carol
Charles Dickens, adapted by Joanna Volinska
Horla Theatre Company
New Wimbledon Studio, then Trafalgar Studio 2, London
(2005)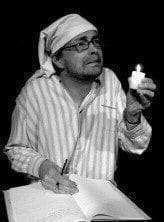 Charles Dickens' favourite ghost story is a big hitter in the West End this Christmas with Patrick Stewart's solo performance at the Albery and Tommy Steele's musicalised Scrooge at the Palladium.
But those who prefer the story taken straight off the page in a fully realised staging will be better served by Joanna Volinska's fine adaptation for the Horla company, at the newly-opened Trafalgar Studio 2.
First previewed at the New Wimbledon Studio, it remains surprisingly true to the Dickens novella, enjoying the added benefit of excellent original carols, seasonal songs and lively dance from a musically talented young cast which, together with its tale of human misery transformed into benevolent joy, makes this the perfect alternative to pantomime.
The only departure from Dickens' format is the use of Joanna Hickman's Tiny Tim as storyteller, a device that eases us gently into period and plot but which also foretells the happy outcome.
Seasoned actor Andrew MacBean, in the central rôle, is no icy skinflint with a pinched nose and shrivelled cheeks. Instead his Ebenezer Scrooge is a well set up but thrifty merchant banker who enjoys a plate of good stew in the local tavern, and whose ensuing nightmares of past and present Christmasses, and Christmas Yet To Come, will change him forever from brusque, shrewd indifference to abundant philanthropy.
The other members of the ten-strong cast demonstrate amazing versatility, trebling and quadrupling in the three dozen or so supporting parts. Of these, none is more astonishing than Chris Courtenay who plays the fifteen-bob a week clerk, Bob Cratchit, but moments later returns in clanking chains to become the ghostly presence of Jacob Marley, Scrooge's long dead business partner.
The opening arrangement for Alistair Green's inventive production, set on a stage bare of all but a few sticks of furniture, is a pair of wardrobe mistress's clothes rails, subsequently wheeled around to provide doorways and hiding places for characters about to make their entrance.
Most of the costume changes in fact take place offstage, and the use of these hanging clothes as sliding doors was not without its hazards at the first press night. Clothes slipped from their coat hangers, or clattered to the floor, a problem the actors overcame with professional aplomb. But the director assures me this will be resolved before the West End opening.
For talent spotters there are several outstanding examples of versatility. Neil Catchick plays the Ghost of Christmas Present as the perfect embodiment of Yuletide abundance, but is also a crafty, terrifying presence as the rag and bone man who picks over the dead Scrooge's sheets, nightwear and effects, as well as an ebullient Mr Fezziwig — the host with the most.
I would also predict a busy future for Rebecca Naylor, who combines a cool grasping Landlady and Charwoman, with various Lady Bountifuls, tavern vulgarity and demure womenfolk. And I much enjoyed Alison Ward's motherly portrayal of Mrs Cratchit, proudly revealing a well-cooked goose and her Christmas pudding, while deploying only empty dishes and a pudding basin. Bravo!
This all makes for an evening to cherish, especially for grown-ups and young adults, its ability to chill and cheer in equal measure making it one of the best among this season's Christmas entertainments.
At the New Wimbledon Studio until 17th December, then at the Trafalgar Studios from 20th December to 7th January
Reviewer: John Thaxter