Cider With Rosie
Laurie Lee, in a new adaptation by Daniel O'Brien
Theatre Royal, Bury St. Edmonds production
Yvonne Arnaud Theatre, Guildford, and touring
(2010)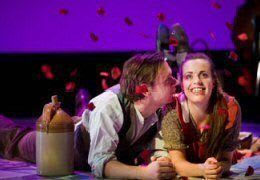 Laurie's Lee autobiography, memories of his early formative years spent in the relative seclusion of a Cotswold village just after World War One, is full of lyrical, musical prose which makes the narrative sing along joyously in spite of the poverty which surrounded him - something he never noticed at the time. Director Abigail Anderson has chosen to reflect the music in this stage version, employing some extremely talented and versatile actor/musicians and with the help of original music composed by TJ Holmes as well as some popular tunes of the time.
The six performers each have a named character, but they are people of many parts and constantly swap gender as well as character and age as they portray not only Lee's immediate family (a loving but disorganised mother coping as best she could for her large brood) but numerous other inhabitants of the village - mostly strange but fascinating people and usually very funny, particularly the two grannies ('er upstairs and 'er downstairs), each constantly complaining about the other and banging a broom on the floor/ceiling to emphasise their complaints.
At at time when a cottage could be rented for 3/6d a week and life in the village moved at a leisurely pace (eight miles per hour being the fastest speed possible, as it had been from the time of the Romans) these performers are anything but leisurely, frantically rushing from place to place, changing props as they go and trying to cram in as many episodes of Lee's early life as possible within the time. This does rather result in a frenetic first act, and anyone who doesn't know the book would have a hard time keeping track of events with no real story to tie them together, simply a random collection of memories. The second act is much calmer, and it is Lee's dialogue here which rises above the action to enthral, music and lighting contributing as we move through the seasons.
If Social Services had been around at that time there wouldn't have been a child left in the village, let alone some of the dubious characters they encountered. Left mostly to their own devices the children learnt from life itself, and the language is rough, slightly bawdy, yet still with a childish innocent acceptance of whatever life had to offer, not omitting the darker side of existence - death, both natural and violent is part of life, and the memories also touch briefly on the injustices of a society ruled by the class system.
The many scene changes would have been impossible to accomplish, so designer Dora Schweitzer has simply hung a mixture of 'suggestions' from above - chairs, watering can, wheelbarrow and hanging branches etc. - and standing below is an enormous bookcase and a ladder to represent anything from a schoolroom to a charabanc.
The performers - Devon Black, Antony Eden, TJ Holmes (who can make his cello sing and talk), Amy Humphreys, Joannah Tincey and Liam Toben - cannot be faulted in their performances endowing their multitude of roles with enthusiasm, boundless energy and exceptional musical talent - yet I have to be honest: I really preferred the book.
Touring to Chipping Norton, Huddersfield, Buxton, Worcester, Bury St. Edmunds Oldham, South Holland Centre, Winchester and Oxford
Reviewer: Sheila Connor