Cilla The Musical
Jeff Pope
Bill Kenwright and Laurie Mansfield
Curve Theatre, Leicester
–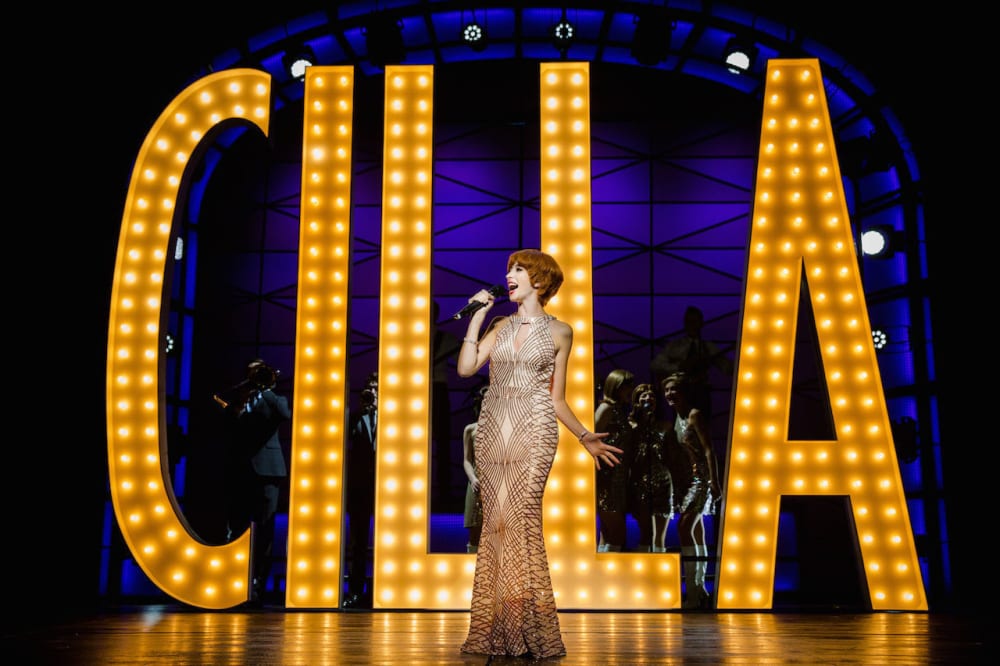 Everyone loved Cilla Black, or at least felt they knew her: flame-haired girl next door, a diamond in the rough, forever proud of her Northern credentials. She had a belter of a voice, and was a charming performer and hostess in front of a live audience and a TV camera.
A graduate of Liverpool's beat scene, rising from coat check attendant at The Cavern Club to super-celebrity status, Cilla's story is a classic rags-to-riches journey out of Merseyside. Pleased with award-winning writer Jeff Pope's 2014 TV drama Cilla (starring Sheridan Smith), the real Cilla gave her blessing to Pope and executive producer Robert Willis (her son) to go ahead with a stage version. Sadly, she died in 2015 before she saw this version of her life story, but it has proved popular with audiences since its opening in September 2017.
If you're a fan of Cilla's music and the sounds of the swinging '60s, you'll not be disappointed. The company perform many of the musical numbers on stage, with Cilla's mates John, Paul, George, and Ringo (Michael Hawkins, Joe Etherington, Alex Harford and Bill Caple respectively) particularly entertaining. All the hits of the era are here, pop pickers: The Beatles' versions of "Twist and Shout" and "Roll Over Beethoven" and Gerry and the Pacemakers' "I Like It".
However, this is a show all about Cilla and Kara Lily Hayworth delivers her songbook with power and passion, as well as an impressive representation of her Mersey vowels. Unfortunately, the sound balance didn't seem right with the band overpowering Hayworth's strong vocals during many of the songs. As a result, the quieter "Liverpool Lullaby" is easier to appreciate, rather than the power ballads such as "You're My World" for which Cilla is more well known.
It comes as a surprise that, considering Pope's great skill as a writer on TV, stage and film (Philomena, Lucan and Little Boy Blue), the dialogue is clichéd, telling the action rather than showing it—rather too many "I feel so nervous", "this is everything you've ever dreamed of", and "this is a moment I'll always remember". There are a handful of running gags, but these have a rather flippant tone.
Cilla The Musical covers the period from her discovery at The Cavern Club in the early 1960s to her first BBC TV series in 1967. We also meet Bobby Willis (Alexander Patmore), her on/off manager (second fiddle to Brian Epstein), who became her husband in 1969.
Bobby is devoted to Cilla who seems unsure of her feelings for him. Her famed steely resolve surfaces when she demands he sacrifices his own singing career to look after hers. I found Patmore shows the greater determination here, sure that he must be with Cilla despite her wavering. Perhaps surprisingly, Hayworth and Patmore's duet of "You've Lost That Loving Feeling" feels the most emotional expression of their relationship.
Andrew Lancel gives a pained performance as the troubled Brian Epstein and his one solo number "You've Got to Hide Your Love Away" provides a limited opportunity to hear his good voice.
Through use of light-rigged high proscenium arches and teak sliding walls, Gary McCann's set manages to convey the contrasts between Cilla's humble beginnings living above a barber shop to her triumphant performances live at the London Palladium. The Cavern Club scenes are enjoyable, although the cramped intimacy, heat and sweat of this iconic venue has more of a roomy, airy feel in this production.
Take this show for what it is: a chance to hear some of the great popular songs of the '60s, sung well and performed with heart and exuberance.
Postscript: hats off to wigs designer, Richard Mawbey. All the cast wear one at some point during the show and, whilst I'm not sure what the collective noun for wigs might be (a forelock, or maybe a crown?), this is a fine collection.
Reviewer: Sally Jack