Cincinnati and The Broccoli Incident
Don Nigro (Cincinnati), John Clancy (The Broccoli Incident)
Scamp and Clancy Productions
BAC
(2005)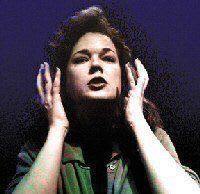 Not having been to Cincinnati and knowing little about it (other than Mark Twain's quip that he hoped to be there when the world ended as it's always twenty years behind everywhere else), I was a little worried that I'd miss the significance of the title of this gripping play. But I need not have been concerned. Writer Don Nigro and performer Nancy Walsh make it very clear.
The play takes the form of a lecture that Susan, a University Lecturer in her late thirties, is giving to her students. But from the outset, something is wrong. Susan is far from calm, she bursts into the lecture theatre in a state of high agitation. She tries (and fails) to light a cigarette and far from teaching, she begins to take us (her students) through her tortured life via a lecture about whether other people exist.
The source of Susan's decline into madness is the death of her daughter in a house-fire which triggers unresolved guilt. Her family life shattered, she moves away from Cincinnati in an effort to rebuild her life. But she cannot escape her nightmares, which include a dream that someone is trying to kill her. She meets a man with "kind sad eyes" in a playground who gives her the reassurance she needs that Cincinnati is still there and hasn't gone away. She draws some comfort from this until she later imagines him conspiring to "dismantle Cincinnati" with her boss and colleague in the University. This leads to her final break-down.
Walsh's performance as a woman about to descend into a state of madness is excellent. The nervous shake, the trembling voice, the rambling sentences all feel horribly real. She draws us into her anguished world and when she dissolves into tears at the end it feels less like a performance and more like we have just eavesdropped on a very private pain. As well as emotionally communicative, she is technically very assured with a powerful voice and a masterful control of pause. She speaks at break-neck speed to get across the idea of a mind in turmoil (so much so that it took a while to adjust to this at the beginning of the piece).
But the writing is not unrelieved gloom. There are lighter moments too such as when she parodies her boss, a woman who clearly doesn't know how to handle the situation but is determined to be cheerfully sympathetic. She compares Susan's tragedy to a house-fire she'd heard of where a dog was killed - indicating Susan's pain much have been "so much worse"! We get the impression that Susan's retreat into her own little world must be in some ways a release from these inappropriate platitudes.
The play deservedly won a Scotsman Fringe First Award when it was performed at the Edinburgh Festival in 2002.
Cincinnati is preceded by the short monologue: The Broccoli Incident written and performed by John Clancy and is a lighter prelude to the main dish. It concerns a moment when he comes face to face with the green vegetable he loathes and is forced to try some by his wife. This becomes an "incident" when he realises that the broccoli is quite palatable. He begins to question who he is and what he stands for. With his hatred of broccoli gone - what is left? He becomes, he feels, a more malleable person and this impacts (for the better) on his career. But the question remains, is this just a vegetable or a mid-life crisis?
Clancy and Walsh are the husband and wife team behind Clancy Productions, the international theatrical touring company based in New York. They won a Fringe First in 2000 for Americana Absurdum, a satire on the American Dream.
Reviewer: Bronagh Taggart