Cinderella
Phil Willmott
Hiss and Boo and Corn Exchange
Corn Exchange, Newbury
–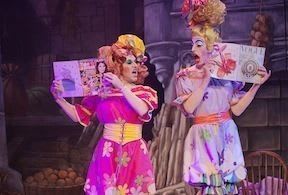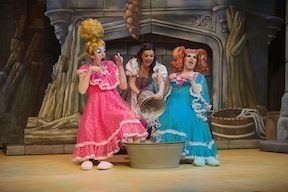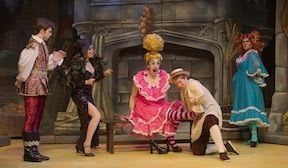 The Corn Exchange and Hiss and Boo have a resounding success on their hands with this year's fun-filled family pantomime Cinderella written and directed by Phil Willmott, a joyous start to the festive season.
There was a real buzz in the decorated auditorium as youngsters waving their colourful swirling wands and their families eagerly awaited the start.
It's largely a new cast this year, which is a refreshing change. To the strains of the "Dam Busters March", the genial, loveable Bea Holland, our feisty Fairy Godmother—or FG as she likes to be called—arrives in a puff of smoke, all glittery and wearing a pink aviator pilot's helmet, and soon establishes a wonderful rapport with the audience.
Amy Murray is a splendid Buttons, but in this panto is in the guise of a mouse. She is totally convincing and dances beautifully, the sub plot of a romance with a lady mouse is an inspired touch.
We are soon transported by "wish power," of course, to Newbury Bottom where the orphans have been staying at Hardup Hall where we meet Billy Bumpkin with his catchphrase, "alright my lovers" with the audience enthusiastically responding, "Alright Billy." Matthew Grace has become an institution in this role and he just gets better each year.
Making their panto debuts are the delightful Helena Sowe as Cinderella and the impressive Stephen Kirwan as the handsome Prince Charming. They both sing and dance superbly well and, of course, fall in love.
Natalia Campbell, in a sequined gown with feather collar, is the sexiest wicked stepmother, looking all the world like Cruella de Vil from 101 Dalmatians, that I've seen and, by gosh, can she do a mean mamba—a dynamic performance throughout.
Her outrageous daughters, Tia (Richard Foster-King) and Maria (Joseph Wicks), are the consummate Ugly Sisters as they bicker and fight with each other and make Cinderella's life a total misery. Their outlandish costumes are an absolute delight.
There is good support from Jack Beatson as Fred the footman and the young company of dancers, with slick inventive choreography by Holly Hughes.
All the traditional elements of panto are there in abundance including a slapstick routine, the ghost sketch, oodles of audience participation and a magical transformation scene revealing Cinderella's glass coach.
There is of course a happy ending as the whole audience enthusiastically learns a song to sing at Cinderella's wedding.
Mark Aspinall's lively, rich score of pop songs hits the right note and Guy Dickens's inventive lighting is spot on, oh yes they are.
Special mention must go to James Maciver's wondrous costumes that are utterly fabulous and give the show a sparkling, professional sheen.
The Corn Exchange has built up a loyal following for its Christmas pantomimes and some of the audience were queuing at the box office during the interval to buy tickets for next year's Jack and the Beanstalk, praise indeed.
This is an absolute cracker of a show that was thoroughly enjoyed by all and truly celebrates the spirit of Christmas. Highly recommended.
Reviewer: Robin Strapp