Cinderella
Will Brenton
Imagine Theatre
Fairfield Halls, Croydon
–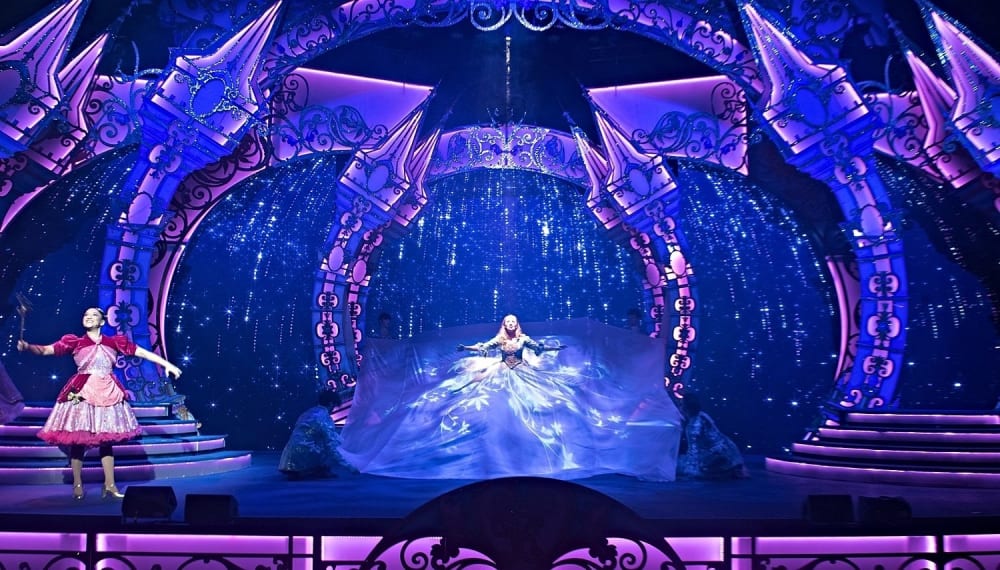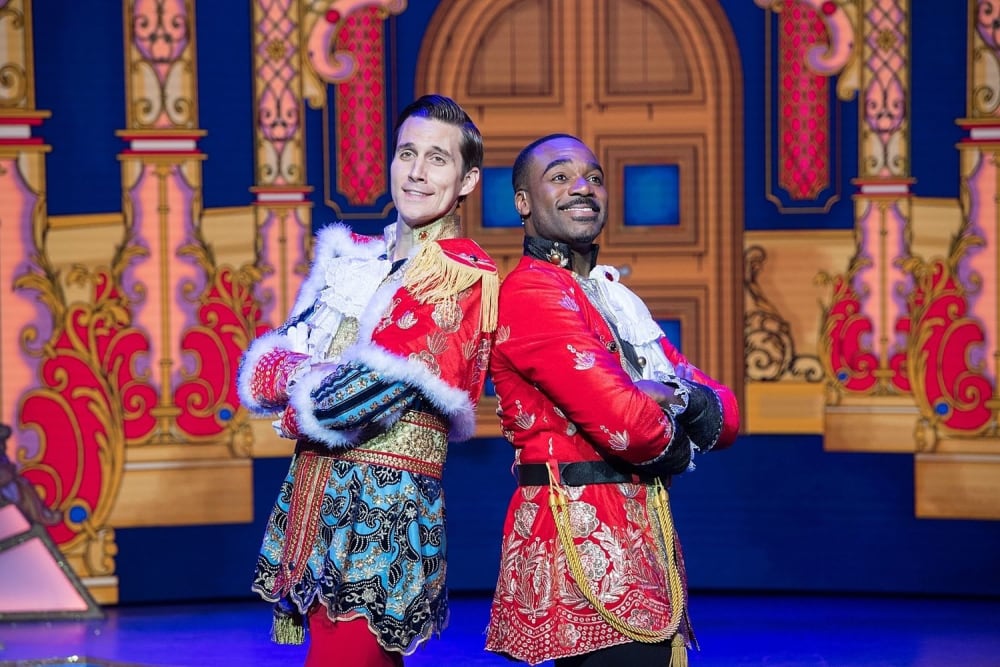 When Fairfield Halls closed its doors three years ago, many wondered whether they would ever reopen? Fast forward to 2019 and a grand transformation has taken place, not only of the venue itself, but of Croydon's festive pantomime.
It's most certainly a case of out with the old and in with the new as Evolution Productions and the Ashcroft Theatre make way for Imagine Theatre in the Phoenix Concert Hall. Such a sharp shift in space demands radical rethinking for staging, but luckily talented designer Mark Walters is on hand to ensure the experience is a magical one.
Rather than attempt to construct a false proscenium, Walters has designed a pantomime that blends rock concert stadium, theme park arena and television studio in one. Three stage areas are flanked by large LED screens framed by turret-like portals which transform in the blink of an eye via animated backdrops.
Animation is nothing new in pantomime and has been used effectively to project Carabosse's dragon and many an underwater sequence, but the approach to design a production in its totality via the medium is still quite rare. Whilst the Stag Theatre, Sevenoaks and Compass Theatre, Ickenham have both embraced the approach, Cinderella marks the first time a major producer has turned to the form.
Overall it works well, with scene after scene effortlessly dissolving into the next. Continuous animation in the form of revolving windmill blades, running water and fairy sparkles add movement to the usual static set and create a scenographic approach suitable for the iPad generation without ever veering into computer-game graphics or PowerPoint territory.
Where the style suffers slightly is in Cinderella's grand transformation scene. Part of the magic rests in the wonderment of seeing physical objects change in front of the audience's very eyes. With animation, anything is possible and it falls upon the screens to deliver the majority of the sequence, with projection casting magical patterns over Cinderella's dress and half a coach sliding on to ensure the performer has something to step inside before transmuting to a digital avatar and flying away.
For their first pantomime in the venue, Imagine Theatre has pulled out all the stops. Not only is the set impressive, the new sumptuous costumes glisten upon the stage with a solid script from Will Brenton ensuring narrative remains king.
They've also assembled a stellar cast with Tim Vine making a welcome return to pantomime as the lovable Buttons, even if, as he remarks, the lovelorn Comic narrative is a little questionable given his age.
Vine is an expert in the artform with his customary punning lifting every scene and introducing that all-important absurdity and anarchy into the show. Whilst a rendition of the "Twelve Days of Christmas" may take act one into the slightly long stakes, his co-stars Jason Marc-Williams and Alistair Barron as Ugly Sisters give the number plenty of life with their gravelly, grotesque, gruesome gurning gals acting as comic fodder to Katie Cameron's wicked Baroness Hardup.
As an excellent Fairy Godmother, it's a shame Cat Sandion's enchanting Immortal isn't afforded more stage time in a role that becomes somewhat sidelined, bookending the show save for a scene in which she tests Cinderella's kindness.
The same can't be said for Ore Oduba's Dandini, who, as the Prince's Equerry, is always on hand to teach him some moves after winning Strictly Come Dancing in 2016. The script makes great use of his skill and celebrity, which never feels forced and embraces a long line of dance-related musical numbers including "Dancing in the Street", "Dancing Fool", a Gloria Estefan mashup featuring "On Your Feet" and "Conga" and a hilarious folk dance which sadly ends rather abruptly as romance takes it course.
In the roles of Cinderella and Prince Charming, Grace Chapman and James Bisp capture the essence of love at first sight perfectly and ensure the romance narrative is treated with respect. Both excellent singers, unfortunately the amplification of the band often overpowers the lyrics and adds to the concert-like feel of the evening in such a vast, open space.
A pantomime full of energy harnessing technology to drive pantomime forward, Cinderella is a fitting way to mark Fairfield Halls' grand re-opening and put Croydon firmly back on the pantomime map.
Reviewer: Simon Sladen