Cinderella
Maxie Peters
The Geordie Panto Company
Gateshead International Stadium, Gateshead
–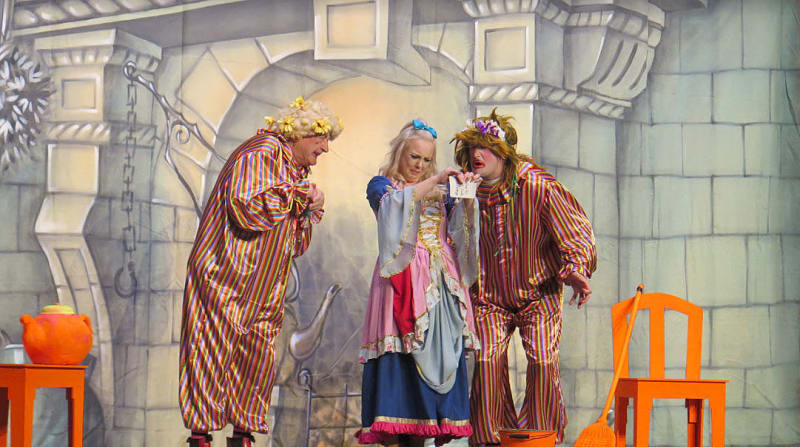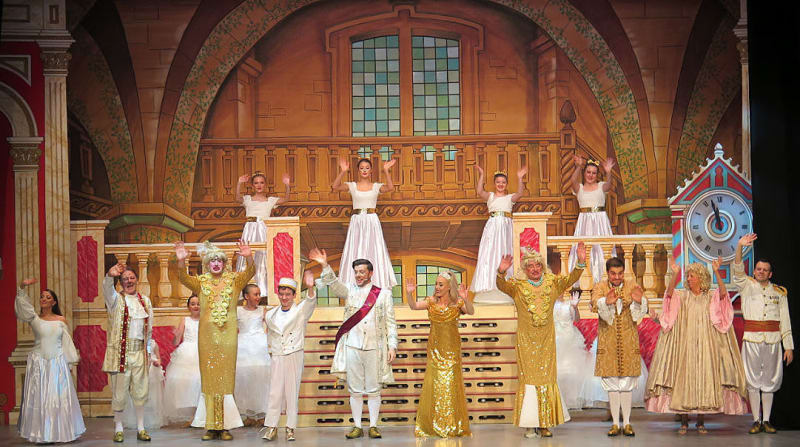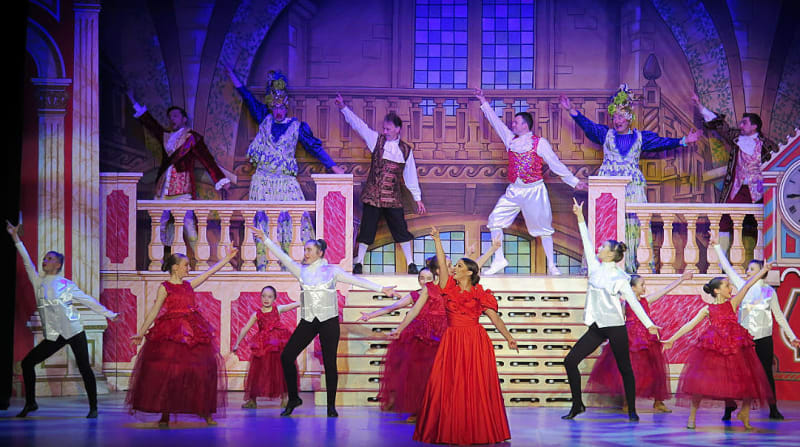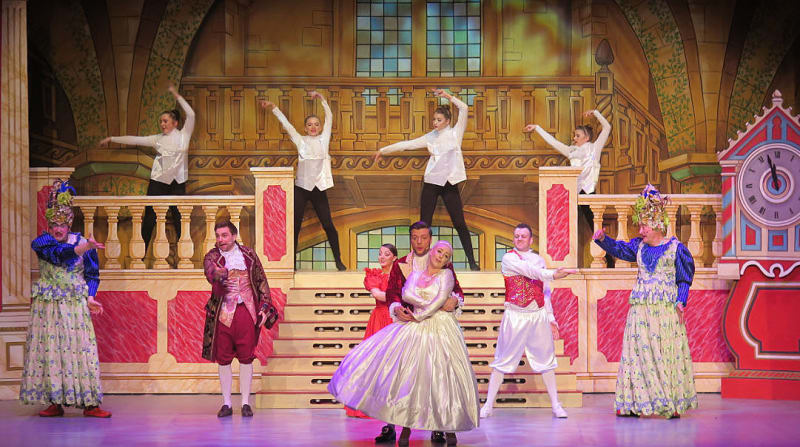 In 1995, the Tyne Theatre and Opera House went into liquidation and the newly formed Newcastle Panto Company rented the theatre from the liquidators to present a panto. That arrangement continued until 2016. In 2017, it moved to Gateshead International Stadium (changing its name to The Geordie Panto Company in the process) and here it still is, in the big sports hall which has been converted to a 750-seater theatre for all of December.
In the last ten years or so, especially in the larger venues, technology has made huge changes to panto with, for example, most shows opening with constantly colour-changing moving lights sweeping across the auditorium as the overture plays. It gets the excitement—and not just the kids' but the adults' too—going straight away and they're in the mood the moment the curtain goes up.
Not here. This is a no-technical-frills panto: only two moving lights that I saw, no flying, no animatronics, no 3D projections. However, it does have something I haven't seen in a panto for… I've no idea how long! Decades possibly. A UV scene. I fondly remember dancing skeletons, and that perennial favourite, the under-sea scene with fish, sea-horses, sharks and shrimps dancing to "Under the Sea."
I'll not tell you what dances here. I don't want to spoil the surprise, the amazement of the children and that warm glow of nostalgia from the adults—or some of them anyway!
The sets are mainly cloths, but well-painted, bright and attractive cloths, and they are matched by the costumes.
Cinders (Emily Swan) is sweet and nice, sings and dances well and the audience love her, which is just as it should be. Her love interest, Prince Charming, is Jamie Brown who is far from just the pretty boy the Prince is so often played as being. A strong and versatile actor (a Shakespeare specialist, no less), he set a few female hearts fluttering in addition to that of Cinders!
His sidekick, the put-upon Dandini, is another strong straight actor, Jacob Anderton, and he brings more individuality and character to the part than it often has.
Lewis Jobson's Buttons, I am reliably informed by my companion, a lady of a certain (i.e. my) age, is "cute". It's true, and that cuteness endears him to the audience so they are so supportive of him in his unrequited love for Cinders. His expression when she kisses him on the cheek ("I'll never wash that cheek again") drew such "aws" and "ahs" of sympathy from the audience. The kids really love him and their excitement when he came among them was almost at take-off scene level!
But what of the Uglies, Shaz and Trace?
Oh! Ugly. Horrible. Nasty. They are everything these repulsive creatures are meant to be, only more so. Maxie Peters (Sharon Ugly), who has played Dame for more years, I imagine, than he cares to remember, is joined by Finbar Healy (Tracey), son of Brendan Healy (who was one of the company founders back in '95), in his first show with the company proving that he has inherited his father's talent, and together they are everything the Ugly Sisters should be.
Baron Hardup, father to Cinders and stepfather to Shaz and Trace, is Bob Stott in the first panto performance I have ever seen him in without a frock! Like Maxie Peters, he's been a stalwart of the NE panto scene for more than thirty years (almost always as Dame)—and it shows!
The cast is completed by Angela Chard as the Fairy Godmother, who does everything a Fairy Godmother should do, and ten talented young dancers (ranging in age from—I imagine—seven to teenagers) and two professional dancers, Sherrie McKale and Dan Constanzo, a very versatile duo. I was particularly taken by the "Thriller" routine, although I couldn't for the life of me see what it was doing in Cinderella. All, however, was revealed, to my and the audience's great delight!
I have to say that there was probably one song too many, but that's a common fault in panto. It does, though, hurt to see the kids' attention drifting away. A song too many = visits to the toilet: Lathan's first law of panto.
And that bloody "Baby Shark" was back! Although I have to say that, led by Buttons (proper name Numpty Norman, a Geordie Panto tradition), the kids were out of their seats, dancing and singing at the tops of their voices, so perhaps we can forgive its revival—just this once!
Reviewer: Peter Lathan