Cinderella in-the-round
Christopher Wheeldon
English National Ballet
Royal Albert Hall
–

Listing details and ticket info...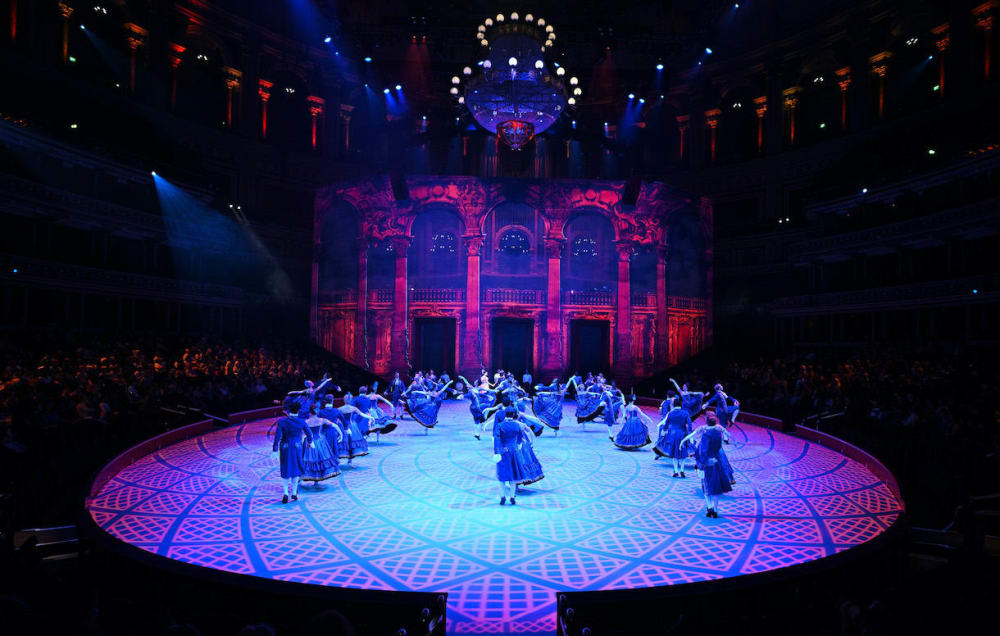 The Brothers Grimm's Cinderella is a miserable tale of abuse, abandonment and redemption thanks to the intervention of the fairy world changing the destitute heroine's fate. Christopher Wheeldon's version for the English National Ballet's season at the Royal Albert Hall neither sugar-coats, nor digs deep into the wells of such disturbing, abusive themes. Apart from eye-pecking birds and a sturdy thwacking on the foot with a mallet by a pernicious stepmum wedging the lost slipper onto stepsister's foot, it's a fairly light-of-touch production, blissfully free of Disney wand-waving sparkle and glitter.
"This is not pretty fairyland," says my daughter, who feels slightly short-changed on the large, puffy dress front as well as the fact that in this production, there is no fairy godmother and the ugly sisters here are far from toxic—just a bit batty, in a bespectacled, endearing way, rather than pantomime scary.
In their place are four earnest, stony-faced fates, donned in royal blue—propelling Cinderella towards her destiny, literally lifting her into the air, elevated above mere mortals. Slightly more Cirque du Soleil than macabre underworld messengers.
The ravishingly visual production with superb video projections flooding the space, designed by Julian Crouch with lighting from Natasha Katz, does allude to, if not fully embrace, the darker shadows in the original tale. The ballet opens at the grave of Cinderella's mother. Cinderella appears, as if a hallucination herself—delicate, wispy and vulnerable, performed by lead principle Shiori Kase, who puts in a precise, effortless performance that errs on the side of reticence at first.
As light as a feather, Kase spins and frowns, forlorn and downtrodden following the opening scene paying tribute to her mother's grave. Passion and glitter, albeit restrained to a yellow, short costume and billowing sheet that doubles up as carriage and cloak, comes late and in short spurts towards the end of the ballet, where she delivers each swoon and sway, folding into her lover's arms with the delicacy of a porcelain doll. Evil stepmother Hortensia, played with Machiavellian, witchy, drunken wit by Eireen Evrard, may try and break her, but the powers that be have other ideas for her glorious arrival into society.
Meanwhile, her prince (Lorenzo Trossello), danced with just the right dose of swashbuckling machismo, balks at the idea of an arranged marriage, so swaps places with his best mate Benjamin (a bouncy and foppish Henry Dowden).
Prokofiev's heart-rending score never fails to rouse the emotions, but it is a shame that the orchestra, finely led by Daniel Parkinson, is mostly hidden from view, apart from limited visibility in the ball scene, confirming indeed the music is live, not pan-piped out into the cavernous Royal Albert Hall.
The second act works best in the form of the royal ball, under a gargantuan chandelier (loaned by Cameron Mackintosh). Katz's seductive pools of light pinpoint golden-clad Cinderella and her prince amongst almost 50 swirling dancers in royal blue. The entire cast swing and circle in grand swathes of movement and colour filling the vast, cavernous space in the most immersive moment of the ballet. Close up in row four, you could be a guest at the royal ball.
The last act opens with an entire village lined up for the missing slipper—women with smelly feet or ticklish toes are side by side with the birds, giant heads and conkers—yes, there are conkers as characters in Wheeldon and Crouch's imaginary space.
Finally, true love wins through, and the lovers jeté joyfully over a set that bursts into spring bloom and floods the stage in every imaginable shade of green.
The ballet is a joy to behold visually, but more focused on spectacle than mining deep emotional depths. Wheeldon's delicately choreographed pas de deux sequences are beautifully realised, with Trosello's energetic buoyancy and gusto merging into Kase's willowy elegance, but such delicate moments are sometimes lost in the grand space that suits the ballroom scene best.
Yet as Kase soars, raised high above the ground by her four Cirque du Soleil minions, you can't help but be swept into her journey from ball to discovery from ashes to crown. Doom and gloom recedes and happy endings with forgiveness as a theme is the ballet's parting gesture.
Reviewer: Rachel Nouchi