Cinderella
Paul Hendy
Sheffield Theatres with Evolution Pantomimes
Lyceum Theatre, Sheffield
–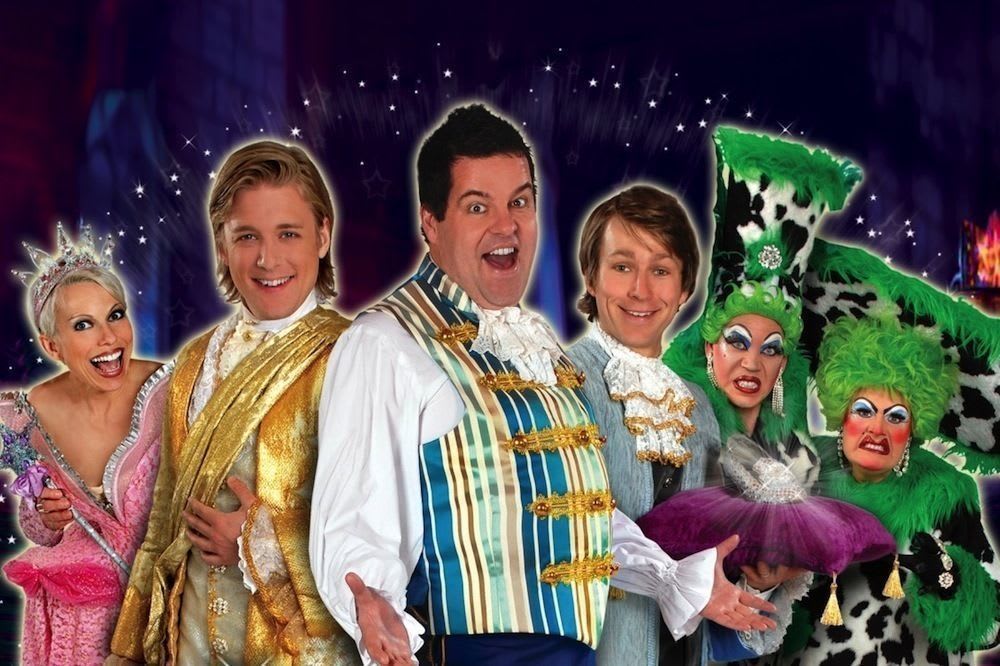 This is a Christmas cracker of a show. Never a dull moment.
Sheffield Theatres teams up again with Evolution Productions, which has established an outstanding reputation for 'superior, bespoke pantomimes'.
Writer / director, Paul Hendy, has produced a fizzling script, full of topical and local allusions, references to current TV shows (X Factor, Strictly) and popular music, including a Gangnam Style dance routine. There is something for everyone.
There are jokes for the kids and jokes for the grown-ups, innocent on the whole but perhaps veering a bit too much towards the camp. I am never keen on humour which excludes children with a nod and a wink and an ask your father, tee hee. A joke which appealed to everyone is the appearance of Jessica Ennis (Damien Williams in drag) as the most recent Sheffield 'icon': rapturous and sincere applause from a proud audience.
The production starts with a bang and continues at a breath-taking pace. Traditional Lyceum elements are included like the ghost scene ('It's behind you!'), the reading out of birthday messages and an audience sing song, starring three charming small girls. Damien Williams (Buttons) encourages participation and controls audience response with a big voice, boundless energy and consummate skill.
Cinderella is the most romantic and iconic of traditional pantomimes, rags to riches, girl gets her prince, good wins over evil. The transformation scenes linger in a child's memory for a lifetime, and in this production they are stunning, especially Cinderella's departure for the ball at the end of Act 1. How is it done? It must be magic!
The visual appearance of the production is a delight. Complex set changes are achieved effortlessly (or so it seems), and the costumes are a feast for the eye. Helga Wood is credited with set and costume design, including Cinderella's wonderful ball gown, but Ian Smith and Michael J Bachelor, who play the Ugly Sisters, have designed and produced the endless sequence of outrageous costumes and enormous wigs worn by Lyceema and Crucibella. They are splendid pantomime dames but, to my mind, their outfits almost steal the show.
Sue Devaney is an earthy fairy Godmother with a Bolton accent and a pink frock who spends more time in the air than on her feet. Her flying skills are impressive, and she also establishes a warm relationship with the audience through good-humoured and expressive delivery of a witty script. 'I've always wanted to say this', she says. 'You shall go to the ball!'
Kate Quinnell is a beautiful but feisty Cinderella, and Jonathan Ansell a suitably handsome prince. They sing well together and Ansell has several solo numbers which add to the pleasure of the evening. There is excellent support from Ben Faulks (CBeebies and much else) as Dandini, and the multi-talented David Westbrook as Baron Hard Up.
The music (director Andy Booth) creates a party atmosphere and provides a dynamic forward momentum to the production which amply supports the song and dance routines performed by the small group of adults and team of children (choreographer Aaron Frances).
This is an extremely enjoyable, colourful, good-humoured pantomime, which had the audience clapping on their feet by the end of the show. The children in the audience seemed entranced as well as entertained by it.
Cinderella continues at the Lyceum until 6 January.
Reviewer: Velda Harris