Cinderella
Paul Hendy
Evolution Productions
Marlowe Theatre, Canterbury
–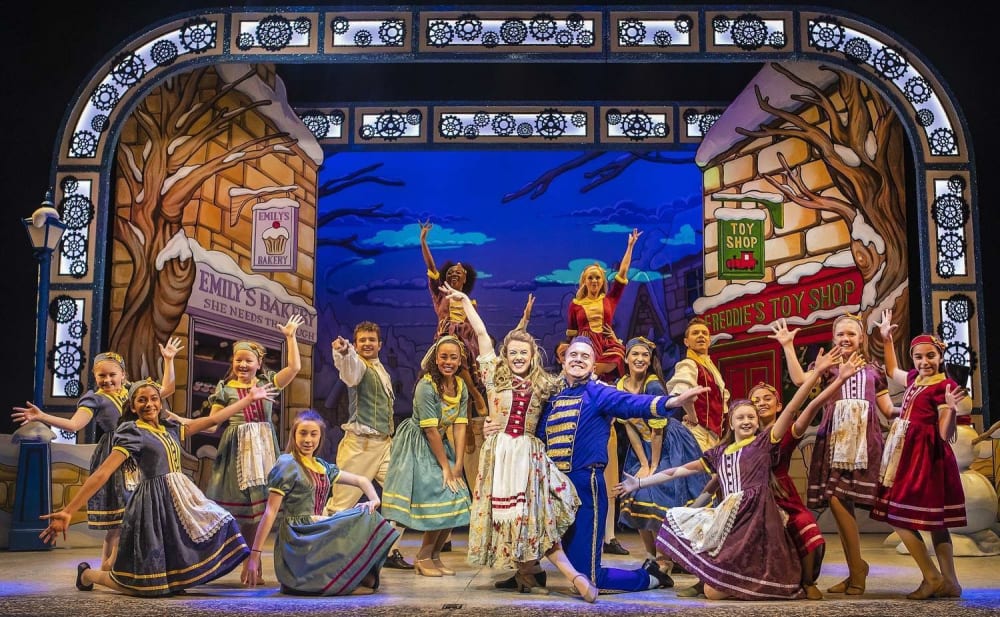 When the new Marlowe Theatre opened in 2011, Cinderella heralded the start of a glorious new era for the venue. Now seven years on, the title returns to the stage celebrating the best of pantomime and regional theatre.
Often a somewhat problematic role, Cinderella is so frequently portrayed as a forlorn maiden whose only way out of servitude is to meet a dashing Prince. Evolution Productions have updated the tale for the 21st century, firmly asserting that women should never be regarded as objects to serve men.
If anything is to define the 2018 season, it is that writers, producers and directors are finally tackling the genre's inherent racism and sexism. No longer is it permissible to stage shows without thinking of their content using tradition as an excuse.
Paul Hendy's vibrant, pun-laden script provides Cinderella with a strong voice and plenty of confidence to stand up to her wicked, bullying stepsisters. When confronted with abuse, Cara Dudgeon's empowered Principal Girl reminds the gruesome twosome that "it's not okay to disrespect, degrade and bully me".
But Hendy doesn't end there with his refresh of the age-old narrative. A witty intervention by eight-year-old 'Muriel' provides the performance with a clever reflexive frame. Interrupting the show when Patrick Clancy's bumbling Baron suggests Cinderella find herself a Prince, Muriel remarks that "women don't need a man to look after them" and receives some of the strongest cheers of the evening. When Cinderella informs the audience that she is off to do the cooking, Muriel intercepts proceedings again to explain that she is only doing so out of choice and as a result empowers everyone in the audience to be who they want to be and break free from societal norms and expectations.
Pantomime's survival can be attributed to its willingness to evolve and Evolution Productions effortlessly weaves in a contemporary voice with some new tweaks to the genre's accepted and anticipated conventions. The legendary Marlowe Theatre ghost gag bench literally flies in to an electric reception whilst a whole host of ghosts do their best to frighten Dandini, Baron Hardup, Buttons and the Ugly Sisters. The crystal slipper receives an extra layer of audience participation as audience members help prise the never-ending stocking off a hopeful bride and even the Marlowe's happy patrons are given the opportunity to slip their foot in the magical shoe that will ultimately reunite the Prince with his loved one.
2018's Cinderella sees CBeebies' Mister Maker Phil Gallagher reunited with Marlowe regulars Ben Roddy and Lloyd Hollett, who this year take on the roles of Ugly Sisters Donaldina and Melania. Grotesque and comic, the two deliver their material with the perfect balance of bullying and belly laughs as Gallagher's lovable Buttons tugs at the heart strings. Gallagher achieves the fine line of navigating both funny and forlorn which results in an even greater sense of shared community and involvement driven by the show's Comic.
Their punrun of 35 consecutive Disney characters to describe the Prince Charming's relationship with Cinderella is a lesson in comic timing; however, in a production with such a strong moral tale, it does seem somewhat odd that the Ugly Sisters never get their comeuppances and it's left to a rhyming couplet to reveal they miraculously changed their ways. Likewise, a subplot that sees Sally Lindsay's hip-flask swigging Fairy Twinklethistle set a task to receive her wings and wand appears superfluous when she has the power to freeze time and fly without them.
Effective silk work from Duo Fusion brings shades of the aerial ballet back to the pantomime stage as Oliver Watton's pitch-perfect Prince Charming enjoys time alone with Princess Crystal. Casting Harry Reid of EastEnders fame as Dandini works well and provides many a comic opportunity to highlight the class divide between the royal and his valet, whilst also reminding us of Cinderella's original funnyman before Buttons came on the scene.
Full of thought, fun and fairytale magic, Evolution Productions's Cinderella is a pantomime tale fit for our time honouring the past and celebrating the present.
Reviewer: Simon Sladen