Cinderella
Michael Harrison and Brian Conley
Qdos Entertainment
Mayflower Theatre, Southampton
–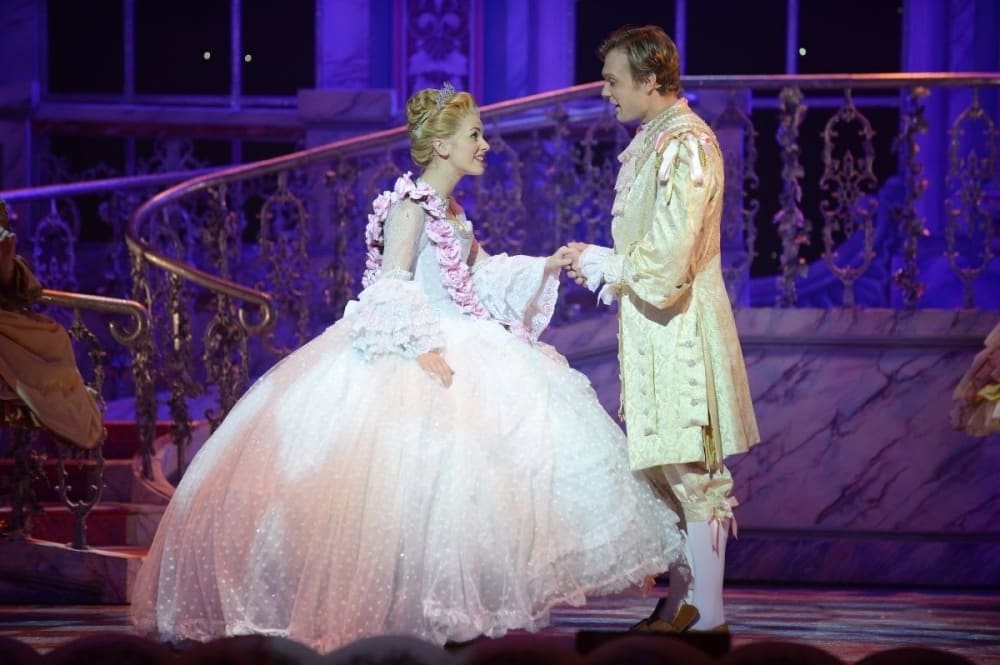 When Brian Conley took to the Mayflower stage in 1993's Cinderella, little did Pantoland know that he would go on to own the role of Buttons and join names synonymous with pantomime stretching back to Grimaldi's Clown and Dan Leno's Dame.
Conley is one of the world's great showmen. A bursting bundle of energy, he is constantly set to 'all systems go' and gives a level of performance almost unmatchable. Whether shouting "Hiya Kids", asking for a "Hip, Hip, Hip", engaging with comedy patter, garnering 'Ahhs' in a moment of pathos or throwing himself about the stage in the name of slapstick, Conley almost defines pantomime.
Last seen in Birmingham in 2011, this year's show with Conley headlining has had a few tweaks. Baron Basil has been bumped off so there is no father figure as such looking after Cinderella. Of course every Principal Girl needs a Fairy Godmother and having launched his pantomime career at the Birmingham Hippodrome last year, Gok Wan moves south to take up the role.
As the Fairy Gok-Mother, Wan exemplifies the joys of well thought out celebrity casting. Not only rooted in his role's name, his personality and celebrity persona shine through in the production as he embarks on Pantoland's biggest transformation. This ease of integration as he and his fellow characters allude to What Not To Wear, Gok's Fashion Fix and How To Look Good Naked make him perfect for the role as his warm and charismatic Fairy waves his wand over proceedings, a celebration of 21st century pantomime's casting diversity, even if it does leave a principal cast with only one actress.
Throughout pantomime's history, Drury Lane's Augustus Harris and the London Palladium's Val Parnell have helped carve its evolutionary course as they drive the genre forward, embracing change and honouring tradition. Qdos Entertainment's Michael Harrison is part of this pantomime lineage and, along with the Twins FX, has re-invented the transformation sequence as a high octane piece of pure theatricality using technology to create a stunning spectacle.
This year's production sees a sparkling pumpkin carriage soar over the audience as Cinderella waves to the crowd on the way to the ball accompanied by pyrotechnics, lasers and an excellent lighting design from Ben Cracknell.
The show's stellar cast includes Martin Ramsdin and David Robbins as a pair of outlandish Ugly Sisters, Chris Ellis-Stanton and Dan Burton as the dashing Prince Charming and his fine voiced equerry Dandini and Lauren Hall as the lovable Cinderella, all demonstrating the skill required in pantomime, supported by a talented ensemble of ten dancers.
Each and every move of Andrew Wright's choreography is delivered with passion and intensity by the ten strong team, whilst the Mayflower Orchestra under the direction of George Dyer creates an electric atmosphere in the theatre's grand auditorium, where a party-like spirit prevails.
A pantomime with its finger firmly on the pulse, Cinderella is a super-charged stunning spectacle full of sparkle and stars.
Reviewer: Simon Sladen