Cinderella on Ice

The Russian Ice Stars / Wild Rose
Royal & Derngate
–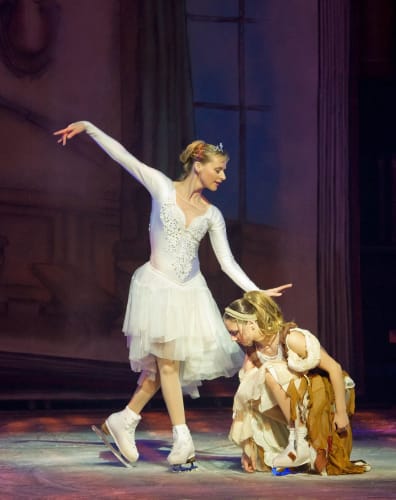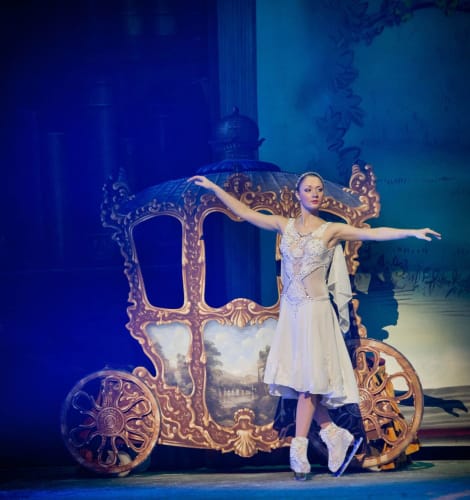 Cinderella On Ice in some ways is a title that doesn't really do the actual performance any justice. It sounds tacky and shiny and like a Saturday night talent show. The reality is certainly sparkly but has far more substance.
The standard is extremely high with acrobatic performers flying above the stage and into the auditorium and performers twirling in circles and break neck speed. It is difficult to fault the technique and skill on display.
Perry scenic's impressive backdrop of a fairy tale book turning as the scenes progress works nicely, though perhaps might have been used more often. The sense of grandiosity is suggested by the overall design, yet does feel slightly flimsy at points (Cinderella behind the cardboard coach waiting to be dragged off is typical of this).
Where credit must be due is to choreographer Boris Myagkov. The performance does feel like a well made ballet throughout—with the pas de deux moments between Cinderella and the Prince being particularly strong.
It is also encouraging to see some slightly surreal moments: the dark, shadowy clock cogs work well to build the tension of Cinders being home before midnight. Sergei Smirnov as the Wicked Stepmother in drag adds a comic, perhaps panto–like dimension.
The use of different styles perhaps keeps the performance alive and interesting; without the variety, one does wonder whether the entertainment would suffer. Alexander Belokopytov and Ekaterina Belokopytova's acrobatic 'Court Jesters' are obviously added for effect, but what an effect. Their moments are circus-like and bring cheer to the watching audience.
The spectacle of indoor ice on stage is matched by a lovely rapport between our two protagonists. Valeria Voronyeva's Dainty Cinderella and Valdis Mintal's Prince Charming move well together and manage to communicate joy and love without words.
A performance that has plenty of 'wow' moments, that follows the story faithfully without ever dragging on for too long. Though this kind of performance may not be everyone's bag, it has a great deal of magic to offer.
Cinderella on Ice tours until April 14th; more details can be found at www.wildroseltd.co.uk
Reviewer: John Johnson