Cinderella
David Nixon
Northern Ballet
Palace Theatre, Manchester
–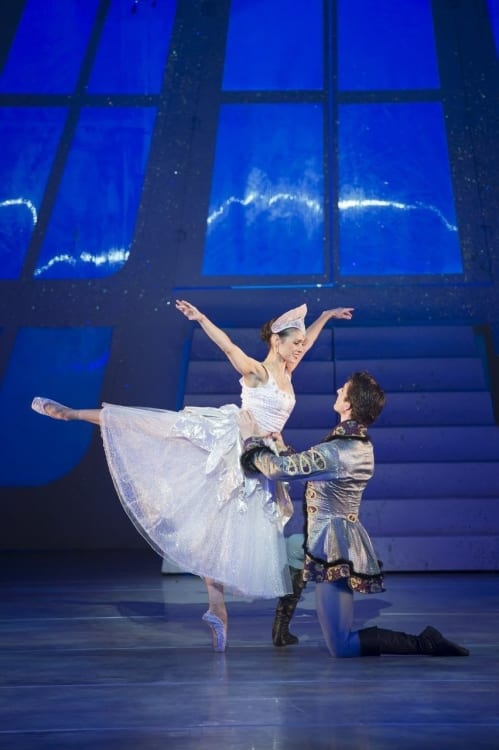 The first of the Christmas season maybe... but don't expect anything in the pantomime line.
Instead Northern Ballet brings a Cinderella for our times, a young lady who wins her Prince as much on her own terms as her shoe size. In creating this fresh new take on the legend artistic director David Nixon also makes it both a grown-up love story and a child's fairy tale.
It comes across in the very palpable sense of joy that American ballerina Martha Leebolt brings to the title role and especially the courtship dances of the royal ballroom scenes. Also in the opening act in which her younger self (performed on opening night by Antoinette Brooks-Daw) is overcome by falling-down giddiness when she first meets her future love.
Time and again Nixon's immeasurable talent for balletic story-telling shines through this production. Like one or two other recent dance versions, his Cinderella starts from scratch to explain why her character is consigned to child abuse and servitude from an early age.
In this respect it makes for a menacing stepmother, rather than outright wicked, and stepsisters more guilty of being haughty than ugly. Jessica Morgan, Hannah Bateman and Rachael Gillespie revel in all three character roles.
It's a plot that may need a little explanation to younger theatregoers but they'll have no problem at all with the rest of the story, especially the abundant magic brought to the performance.
Whether it's a ballet dancing bear, or the conjuring, juggling and balancing acts, and transformation scenes that owe more than a little to Disney, here is a production that proves good old theatrical enchantment can still beat Hollywood special effects.
The scenes on a frozen lake would have you believe the Palace stage had iced over.
Philip Feeney's glorious score, his second take on Cinderella for this company—this time with its own aural tricks—adds to a feast for the senses.
This Cinderella may have taken a year to reach this side of the Pennines but it's been well worth the wait.
Reviewer: David Upton