Cinderella
Alan McHugh
Crossroads Pantomimes
Richmond Theatre
–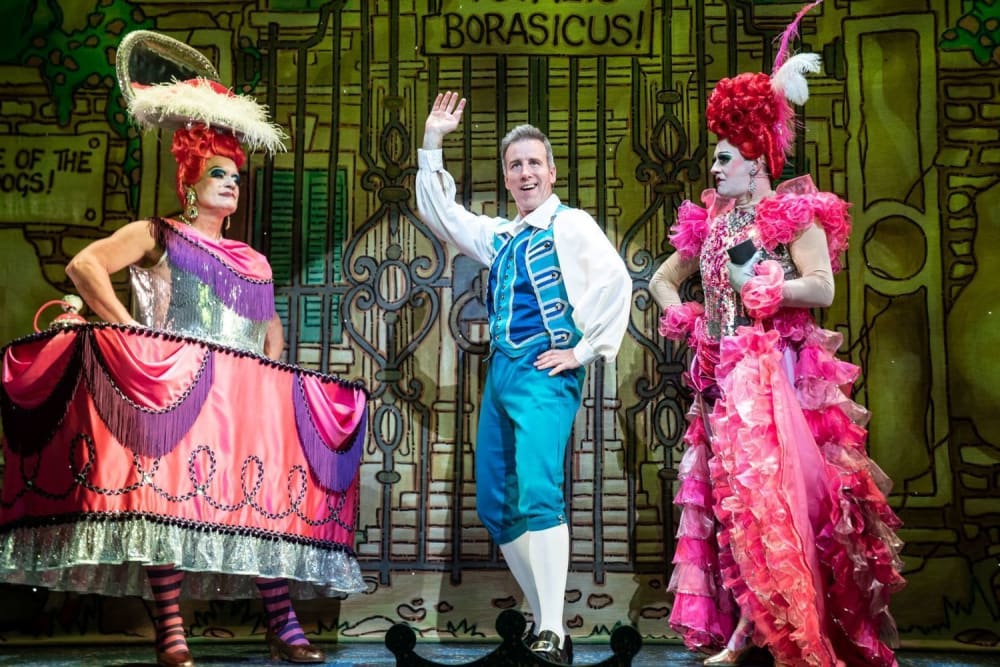 The history of pantomime is steeped in tradition. From booing the Villains to Fairies always entering stage right, these conventions ensure its continuation and set it aside from other performance genres. At Richmond Theatre, the panto handbook has been faithfully consulted with Cinderella a prime example of a Happy Ending for all.
There's an air of old school charm about director Steward Nicholls's production which sails along as the rags to riches story plays out, much helped by the presence of this year's headliner Anton Du Beke.
Fresh from Judging on Strictly Come Dancing, Du Beke's Buttons harks back to the showmanship of yesteryear in a lineage that wouldn't see him out of place alongside Bruce Forsyth or Tommy Steele. The audience can relax in his presence as he takes them through the narrative and gets many a chance to demonstrate his superior dance skills.
But it's not all glittery paddles and choreography, Du Beke also surprises with an Alexa-inspired sequence as the Ugly Sisters recall Buttons's previous girlfriend using pop song soundbites. From "Baby Got Back (I Like Big Butts)" to puns about the aftereffects of a particularly potent curry including Frozen's "Let it Go" and The Police's "Don't Stand So Close To Me", it's all good old fashioned fun that has the children in the audience giggling with glee.
Rosemary Ashe's glittering Fairy Godmother also brings an air of the good old days to the role. A superb comic actress, her Fairy channels headmistress and cheeky Grandma in the true vein of musical comedy with her impressive voice adding great energy, wit and emotion to proceedings.
But for all the warm nostalgia of bygone heydays, including Jonny Weston's Dandini who might just be the secret love child of Su Pollard and John Inman, Oonagh Cox's Cinderella brings spirited freshness to the role. Brimming with optimism, Cox understands exactly how to play the Principal Girl's truth and never veers into caricature, sickly sweet or passive Princess. She is also one of few Cinderellas who manages to heartfully navigate the Buttons relationship, which needs some twenty-first century tweaks by scriptwriters should producers keep casting performers in this way.
Unfortunately, the combination of Alan McHugh's script and Stewart Nicholls's direction never affords Edward Chittick's Prince Charming the same ability to become a fully rendered character, leaving him rather cold and arrogant. Likewise, a front cloth scene that sees Dandini ask the Fairy Godmother for directions falls flat due to a mixture of confused overcomplexity and pacing issues.
Exquisite timing, however, is at the forefront of Darren Bennett and Bobby Delaney's Ugly Sisters, who provide a masterclass in the roles. Rough, gruff and hungry for someone buff, the two bring great physicality to the Villains, ensuring they work with their many outlandish costumes to achieve the greatest comic effect. Channelling gruesome and garish right up to the line, never overstepping it, the glee in their eye and twinkle in Du Beke's when sharing stage time ensures the production remains lively as they keep each other on their toes, much to the delight of the audience. Whilst Bennett and Delaney's Sisters prove themselves a force to be reckoned with, it is somewhat odd that Beatrice and Eugenie are still popping up as names a decade after the princesses' headwear caught attention at the royal wedding.
This Cinderella may not break the mould or set the world on fire, but it provides a cosy night in at the theatre full of warmth, charm and style.
Reviewer: Simon Sladen