Cinderella - The Panto With Soul
Peter Rowe
Clwyd Theatr Cymru
Anthony Hopkins Theatre, Clwyd Theatr Cymru
–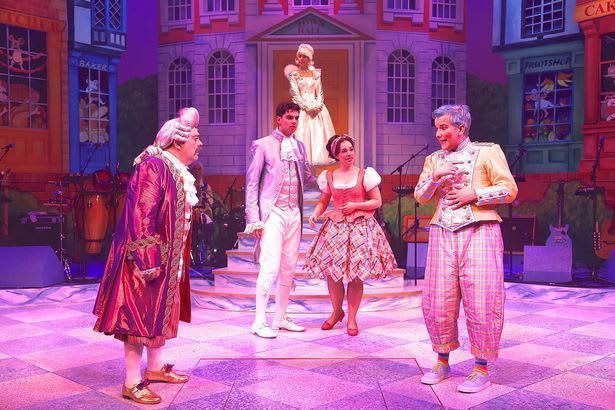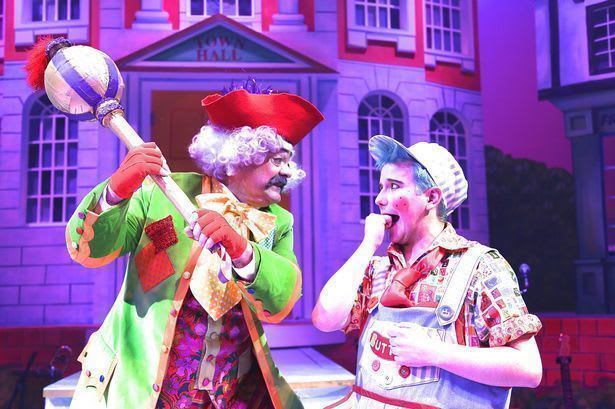 These are dark days in more ways than one so it was reassuring to approach Clwyd Theatr Cymru, standing as it does looking down on the town of Mold, and see the building illuminated with a cheering snowflake design.
The pantomime season is well and truly open and this year's offering of Cinderella sees the return of some established Mold favourites and the sight of a full house with anticipation in the air was ample evidence that the audience knew what to expect.
On entering the Anthony Hopkins Theatre, the quality of the production is immediately evidenced by Judith Croft's outstanding set design which initially portrays a fictional Town Square of Mold, but which transforms spectacularly into a Grand Ballrooom complete with clock ticking round to midnight. This combines with clever use of lighting and crystal-clear sound to ensure a show of the highest standard is delivered.
Phylip Harries entering the stage is always a welcoming sight and for a change this year he is cast as Baron Hardup rather than a dame, confiding in the crowd that he's had "an operation". The Mold stage is made for Harries and he is soon busy working his magic on the audience, even convincing recently departed Artistic Director Terry Hands to leave his seat and begin making his way to join the cast onstage before sending him back as "we haven't got time".
Also returning is James Haggie as Buttons, who's crazy-voiced characters are always a great favourite with audiences, as is his powerful singing voice that never fails to impress. Lindsay Goodhand is again an essential part of the production, this time as Fairy Funlove, and, alongside the rest of the cast, demonstrates her versatility playing a range of musical instruments as the rock and soul classics are performed impeccably.
The 'Rock-God' element is provided by Daniel Lloyd's Dandini, all the way from the West End (of Rhosllanerchrugog) and his voice and charisma certainly enhance the evening. Amy Penston supplies the necessary touch of evil as the scheming Rubella De Zees while Joe Vetch as Prince Charming lives up very well to his character's name. Playing opposite him, Nicola Martinus-Smith is particularly impressive as Cinderella in her Theatre Clwyd debut.
However, these evenings are never complete until the entrance of the dames and Dan Bottomley's Hernia along with Alex Parry's Veruca bring all the necessary bawdiness you could require. Performing a series of songs and dance routines that swing between the absurd and the macabre, they are the seasonal Hinge and Bracket from Hell.
Director Matt Aston has certainly delivered the essential festive feel-good experience with this production and anyone in the North Wales region should look no further for a seasonal theatre visit but be aware that the word is out and tickets are selling fast.
Reviewer: Dave Jennings